Sunit Sinha's Punjabi Film Ranj in cinemas from 10th June 2022: Set in a small village in Punjab, and Delhi, 'Ranj' is a story of Amanpreet, who is driven to despair in a hostile megacity.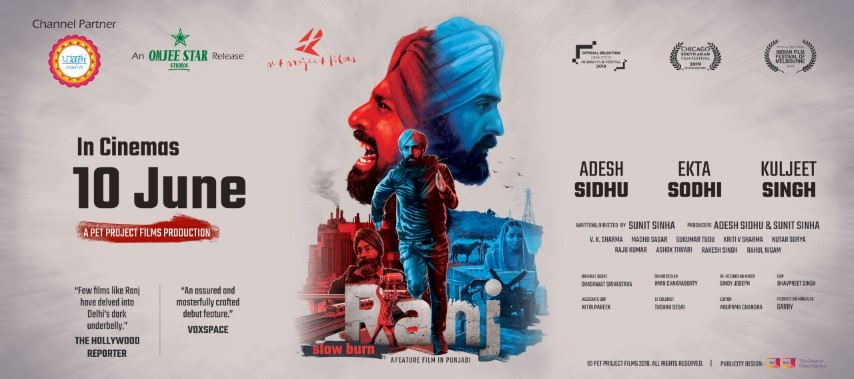 Written and Directed by Sunit Sinha, the feature film tells a murky tale of an individual's struggle with the burden of familial and worldly expectations.
Made under the banner of Pet Project Films, and produced by Adesh Sidhu & Sunit Sinha, the film stars- Adesh Sidhu in the lead, Ekta Sodhi, Kuljeet Singh in pivotal roles, and V. K. Sharma, Madhu Sagar, Kriti V. Sharma, Sukumar Tudu, Rakesh Singh, Nutan Surya, Raju Kumar, Ashok Tiwari and Rahul Nigam in supporting yet critical roles.
The English title of the film 'Slow Burn' reflects a pile-up of infuriating thoughts and insecurities of a young man who feels isolated in an oppressive city, and pushed to the limits by its brutally-indifferent inhabitants, leading him to perpetrate violence on himself and others.
The movie is critically acclaimed and has had several screenings, including at the Jio MAMI 21st Mumbai Film Festival, 10th Chicago South Asian Film Festival, 15th International Film Festival of Thrissur, and 8th Indian Film Festival Melbourne. Additionally, the movie won the Best Director 'Special Award' at the 7th Woodpecker International Film Festival.
Talking about the film, Sunit Sinha said, "Owing to various factors that result in a serious lack of alternative sources of income, the rural youth of Punjab are left with no choice but to migrate to a big city for livelihood. Using this as a backdrop, Ranj dwells on the struggles of a youth, who loses his path in life after migrating to the megacity, of Delhi. We wished to explore the theme of urban alienation, that not all individual stories in big cities end in success; quite a few must deal with the dark underbelly."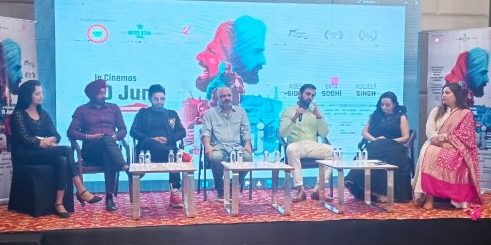 Talking about his character, Adesh Sidhu said, "Amanpreet is just another village boy who is satisfied with his life in the village, but then as compelled by circumstances, he unwillingly migrates to Delhi for livelihood. It's a unique character in itself. Having seen the villages of Punjab to living in the metros helped me connect with the character's psyche and understand his predicaments. I fell in love with the script and immediately decided to make somehow this project happen with Sunit Sir."
Media partners of Ranj movie are Punjabi Star live Event Management Pvt.Ltd which is a pioneer enterprise in the entertainment industry. Punjabi Starlive is an eminent leader who is now well known for Artist Booking, online Music, Films & Video Release with promotional events, digital & internet branding cum marketing of events, movies, albums, TV shows, and artists, through social media and online advertisement.