NewZNew (Comic) : Read Surinder Singal Barnala Ke FILMY KUTAPPE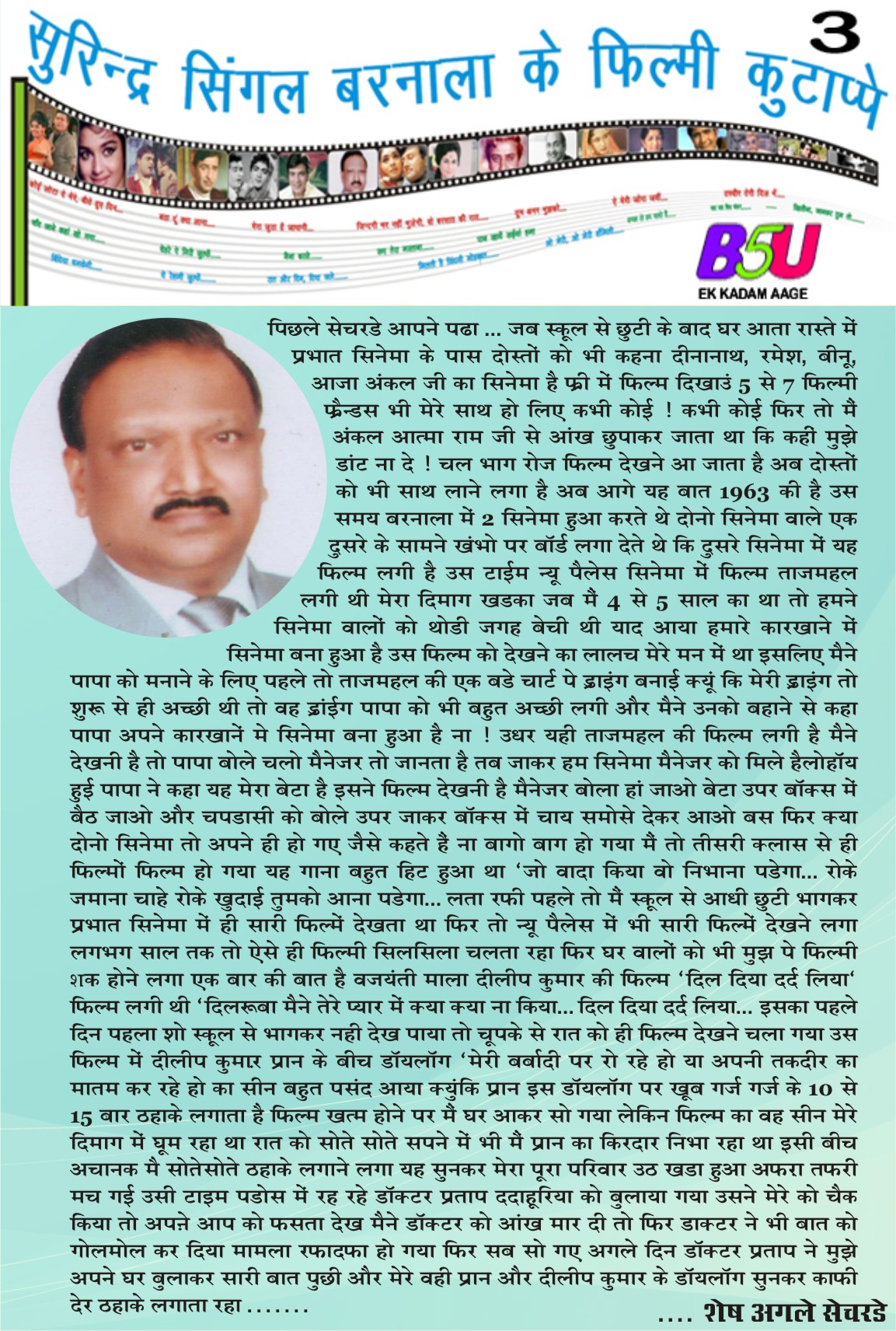 Filmy Kutappe – 3 in English
Continued from last Saturday….
….while returning from school to home near to Prabhat Cinema I called up my friends Dina Nath, Ramesh, Binu lets come and watch Uncle's Cinema free of cost. 5 to 7 friends accompanied me and to prevent myself from scoldings of Uncle I hid myself, that he would say "Chal Bhaag Roz Film Dekhne Aa Jata Hai aur Abb Doston ko Bhi Lane Laga Hai.
Now this is happening of 1963 when There were two Cinema Halls in Barnala. Both Cinema Hall Owners put Boards opposite to each other playing Movie's Name.
At that time Taj Mahal was being broadcast in New Palace Cinema. My mind striked that 4 – 5 year back we had sold some land to Cinema owners. Then I thought that Cinema hall was constructed on our Land. I was curious to watch that movie so I made a drawing of Taj Mahal to convince my father because my drawing was very good at that time and then I asked my father that was the cinema constructed on our Land. Where Taj Mahal Film was being broadcasted and I wanted to see. Then my Father said let go I knew the Manager of the Cinema then we met the Manager and said Hello Hi.
My Father told that He is my Son and he wants to see the movie. Then the Manager said that go and sit in the Box. And then Manager told to the Peon to serve Tea and Samosas. And then I was like Both the cinemas are ours.
Like it is being said Baggo Baag Ho Geya Main.To Teesri Class se hi Filmo Film Ho Geya Main. At That time this song was very popular "Jo Vaada Kiya Vo Nibhana Padega, Roke Zamana Chale Roke Khudai Tumhe Aana Padega. First I came on half day to watch movies at Parbhat Cinema only but now I watched movies in New Palace Cinema as well. This happed almost a year.
My parents also had doubt in me. At that time Vayjanti Mala the film of Dilip Kumar 'Dil Diya Dard Liya' was broadcasting 'Dilruba Miene Tere Pyaar Mein Kya Kya Nahi Kiya Dil Diya Dard Liya', however I was able to watch the first day first show of the movie so I planned to go and watch the movie at night. In that film Dilip Kumar said a dialogue to Praan that was 'meri barbadi par ro rahe ho ya apni takdir ka matam kar rahe ho'.
I loved this scene. After the movie was finished I came back home and slept quitly but that scene of the film was still in my mind. While sleeping at night in my dream I was acting like Praan   immediately I started reacting like him. After hearing this my family got up and was worried about how I was reacting, on the spot they called our neighbor Dr. Pratap Dadahuria when he was checking me I made him a gesture and he told my parents that it was just because of a bad dream.
After that everyone slept again. Next day the doctor called me at his home and asked me the full story and after hearing the dialogue of Dilip Kumar and Praan he kept on laughing for a long time……..
Read Surinder Singal Barnala Ke FILMY KUTAPPE every Saturday exclusively on www.newznew.com
for More Filmy Kutappe Please like www.facebook.com/newznewonline