Launches All New Swaraj 963 FE with 2WD & 4WD
Swaraj enters an all-new segment with its first ever tractor model in higher HP segment
This new tractor platform will be :
Equipped with powerful yet fuel efficient engine and high torque delivery
Fitted with synchromesh, multi speed gear box, designed to suit all kinds of applications for ensuring higher productivity.
Fitted with advanced higher capacity hydraulics best suited for heavier implements such as automatic planters and hydraulically reversible MB ploughs.
Ergonomically designed for maximum operator comfort to ensure minimum fatigue during long working hours
Offers  new styling & safety features with single piece bonnet and multi reflector lights
About Swaraj 963 FE:
Swaraj 963 FE to offer higher productivity, reliability, durability and ease of maintenance
To be available in both 2 wheel and 4 wheel drive options
Price starting at Rs 7.40 lacs ex-showroom Mohali
Swaraj Tractors, a part of the USD 19 billion Mahindra Group, today launched an all new tractor platform in the high power category, ranging from 60 HP to 75 HP tractors. Tractors based on this platform will be introduced over a period of time, beginning with the launch of the Swaraj 963FE. The Swaraj 963FE will be available across Swaraj's wide network of 875 dealers, at a starting price of Rs. 7.40 lacs ex showroom.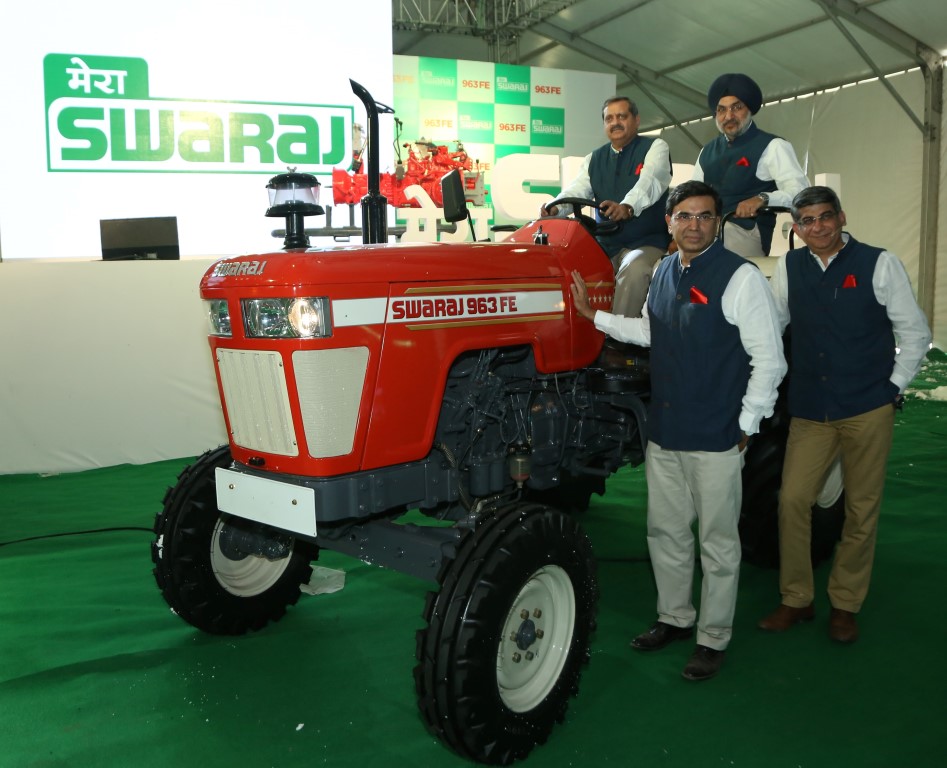 The Swaraj 963 FE has been designed indigenously by Swaraj's in-house R&D team and is its flagship product in this category. The Swaraj 963 FE is best suited for a wide range of applications starting from land preparation to post harvest operations. It is highly compatible with Rotary Tillers, MB plough, TMCH, Potato Planter, Dozers, Balers, Banana Mulchers, etc. The Swaraj 963 FE will be available in both 2 wheel and 4 wheel drive options, catering to the diverse requirements of its wide farmer base.
Speaking at the launch, Dr. Pawan Goenka, Managing Director, Mahindra & Mahindra Ltd. said, "Swaraj as a brand is well differentiated from competition because of its strong bonding with its stakeholders. It is a highly trusted and reliable brand in the market today and lives up to the 'Make in India' promise. At the same time it also stands for world-class quality and product excellence. Today's launch will further strengthen the brand and help build a much stronger portfolio of tractors that will cater to a wide range of farming applications and geographical markets."
Rajesh Jejurikar, President Farm Equipment Sector, Mahindra & Mahindra Ltd. said, "Most engineers working at Swaraj come from a farming background. Hence, when a tractor is made at Swaraj, it is not only made with engineering expertise but also has a personal touch to it.  The Swaraj 963FE is a testimony to the belief that Swaraj tractors are made by farmers, for farmers. It is based on unique farming insight that our employees bring with them".
Viren Popli, Chief Operating Officer, Swaraj Division, a division of Mahindra & Mahindra Ltd. said, "The launch of the 963FE is based on our new tractor platform in the 60 HP to 75 HP segment. This is a brand new platform that is designed to continue and enhance our promise of power, reliability and application suitability. The tractor has been designed especially for farmers who have specialised needs and large farms. With its new styling, 12+2 speeds, 2200 Kg lift and many new features, it is a class defining product. We are confident that all customers who buy our product will continue the tradition of saying Mera Swaraj".
The Swaraj 963 FE will be available in Punjab, AP, Telangana, Tamil Nadu and Chhattisgarh to begin with and will be rolled out pan India by the end of 2018 in a phased manner.
About the Swaraj 963 FE
Unique features : 540 PTO, 540 Economic PTO and multi speed forward with reverse PTO, Easy Hitch, Tractor Forward and reverse within single range (Single Lever Operation especially for TMCH).
Better Performance : The Swaraj 963 FE runs on a powerful 60HP engine that delivers 15% extra torque than other tractors in the same category. It delivers required power and speed for various applications and soil conditions. This tractor also comes with industry best 400 hours service interval, thus reducing the cost of ownership and allowing more time for operations by lowering visits to service stations. A bigger radiator ensures enhanced engine cooling that allows farmers to work longer hours without running the engine hot.
It is equipped with best in class 2,200 kg lifting capacity, powerful naturally aspirated (Non Turbo) engine with bigger radiator for efficient cooling. Creep speed of 0.5 km/hour makes it suitable for applications such as banana mulching and onion transplantation.
Higher Productivity : Swaraj 963 FE's advanced transmission offers a 12F x 2R gear box, offering a wide range of gear selection from 0.5 km/ hr to 31.5 km/ hr which makes it suitable for all kinds of applications, ensuring better productivity.
This tractor also possesses high lift capacity hydraulic systems making it suitable for various ploughing and sowing operations. The higher capacity hydraulic pump allows quick lifting and the tractor boasts of best-in-class lifting capacity of 2200 Kg.
Technology : It comes with independent PTO Clutch with bigger size (12 inch), Synchromesh Transmission, 3 Range Speed options (offering 12F and 2R), Precision Hydraulic with higher Pump Flow for faster lifting.
Comfort & Ergonomics : The Swaraj 963 FE is designed to set new benchmarks in style, operator comfort and convenience. It has a single lever operation that makes the harvesting application highly convenient and easy to execute. The tractor comes with a big platform, ergonomic seating, suspended pedals and side shift gear levers that ensures a fatigue free driving experience for long hours in the field. The tractor is high on the style quotient as well with its well-designed instrument cluster and a single piece bonnet with a streamlined look.
Aesthetics : Better aesthetics and visibility, stylish new look (single piece bonnet), new digital dashboard with service reminder feature and multi reflector lights
Cost of Ownership : 400 hours service interval for reduced cost of ownership
Safety : Safety is an integral aspect of the 963 FE which is demonstrated through a starting safety switch, Casted front axle bracket and a Differential lock. The starting safety switch ensures that the tractor can be operated only when the transmission is disengaged with the engine. The front axle bracket allows for better stability of haulage and ease of linking external attachments.