Experts deliberate at session on 'Are we moving into an era of de-globalization' at Conference on 'Building A Competitive North'
newznew (Chandigarh) : Over the past couple of years, India has enjoyed the privilege of being among the most favoured investment destinations in the world. Today, the World economy faces considerable uncertainty given the events of recent times. Britain exiting from the European Union and the election results in the USA, on what may be called as a protectionist platform, being examples of the same. How do we explain the rise of this new phenomenon and what will this mean for India? To answer some of these pertinent questions, CII Northern Region organised a session on 'Are we moving into an era of de-globalization' on the occasion of its Annual Regional Meeting in New Delhi today.
Speaking on the idea of globalization versus de-globalisation, Member of Parliament, Dr Shashi Tharoor, said the world has moved back to limited global capital inflow of 2 per cent, mirroring similar trends of the 1980s. Further, recent developments such as election results in the US, Brexit, the idea of promoting de-globalisation as a political tool for developed nations etc were changing the dynamics of global trade.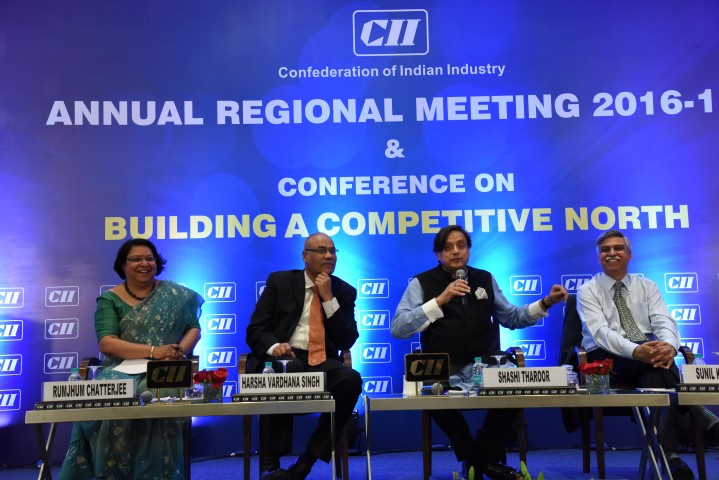 "However, this trend is a not recent phenomenon, as developed countries like the US, the advocators of globalization over the last 150 years, have reduced their global trade from 23 percent to a mere 16 per cent, he said. Contrary to this trend, countries like China today stand at 16 per cent, demonstrating the fact that global trade will no more be dedicated by the Western World."
Sunil Kant Munjal, Past President, CII and Chairman, Hero Corporate Service Ltd said, "India has made remarkable progress since the onset of the new economic policy in 1991. While the country is trying to ensure it achieves manufacturing excellence within the Country, it has increased its interaction with the global economy led by its comparative advantage in services."
He said despite the supposed retreat from globalization both the USA and the United Kingdom remained integrated with the Global Economy with Trade Openness for the United States standing at around 27-28 percent and for United Kingdom Trade Openness standing close to 60 percent in 2015. Clearly, data indicates that we are quite far from Moving into an Era of De-globalisation, he added. Talent, trade, skills and flow of information will play a critical role in defining the new wave of globalization.
In his opening comments, Dr Harsha Vardhana Singh, Executive Director, Brookings India & Former Deputy Director General, World Trade Organisation (WTO), shared that a new wave of de-globalization in terms of looking inward is apparent in the western countries, who are flexing muscles through the bilateral trade agreements.  However trade of data, growth of middle class, change in demographic etc. will make the market place more dense and competitive, hence the need for globalization cannot be ignored. The other factors making globalization critical for the development of the county is technological innovation, wide spread supply chain and development of diverse skill sets.
Highlighting the importance of this concept, he shared that today; nearly 45 per cent of data/ information is shared among countries which is further expected to rise by 9-10 per cent in the near future.  Reiterating the idea of Mr Tharoor, he added that what needs to be seen is the way in which the global trade equilibrium moves and how India responds to this development.
Recent developments such as Brexit – decision by the UK to leave the European Union after 43 years of membership – and an apparent change in approach by USA towards liberalization and open trade have almost set the pendulum swinging away from 'Globalization' and this has compelled us to ponder upon whether these will disrupt the prevailing global order and if so, what should be India's policies and approach, said Mrs Rumjhum Chatterjee, Chairperson, CII Northern Region said.
Expressing her views on the recent phenomena of globalization across the globe, Ms Indrani Bagchi, Senior Editor, Times of India, shared that the recent developments in this space were the result of geo-political trends, multi-lateral ties and new ideas and trends playing out. This trend has been a result of countries responding to pressures like banking and currency crises, political legitimacy and global issues beyond borders. However, India has always been a champion of globalization. What remains to be seen is how it responds to issues like cyber warfare, terrorism and the idea of new political and economic arrangements.