Tata BlueScope Steel launches Durashine Galleria in Ner Chowk (Mandi) Himachal Pradesh: In continuation to our efforts for enhancing customer experience, Tata BlueScope Steel launched DURASHINE Galleria – a unique concept store for all your roofing needs, in the heart of Nerchowk, Mandi, Himachal Pradesh on 8 June 2022.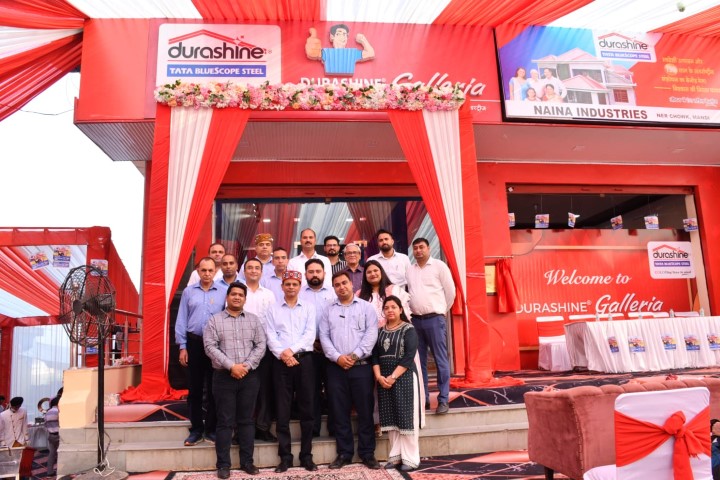 DURASHINE is the retail arm of Tata BlueScope Steel, that manufactures and markets premium roof and wall cladding products including accessories, and solutions. DURASHINE Galleria is a full range dealership under the aegis of the company's authorised dealer – M/s Naina Industries.
During the launch of the store, Mr. Anoop Kumar Trivedi, Managing Director Tata BlueScope Steel said, 'Increasing our footprints while getting closer to our customers, is the ultimate objective of setting up these experiential centres across India. Enabling greater customer centricity through DURASHINE touch points not only reiterate our agility but also brings in novelty for in-store experience."
While speaking on this occasion, Mr. CR Kulkarni, Vice President – Solution Business, Tata BlueScope Steel said, "This flagship store offers integrated communication for the brand, displaying complete range of key products in vibrant colours of roof and wall cladding options, tiles, liner panel for false ceilings and partitions, innovative products like Woodline for superior aesthetics and Coolshield (insulated sheets). Galleria also offers interactive zones in engaging formats for overall customer involvement. Today customers are more discerning and demand product experience before purchase decision, and this is a great avenue for ensuring they make the right choice."
DURASHINE Galleria will fulfil the need for anyone looking for amazing aesthetics, excellent thermal efficiency, and exemplary colour durability. With great weatherability, structural strength and ambient interiors through its innovative solutions, DURASHINE is all set to spread its value within the HP market.
Know More About Tata BlueScope Steel
Tata BlueScope Steel is an equal joint venture between Tata Steel & BlueScope Steel and is a market leader in the field of coated steel, steel building solutions and related building products. The Company operates in the Asia Pacific region. Tata BlueScope Steel maintains high standards in Safety, Health and Environment and has been certified by Underwriters Laboratory Inc. for ISO 9001: 2008 as well as by M/s. UL MSS India for the ISO 14001 & OHSAS 18001 certifications. Tata BlueScope Steel's core values are Safety, Trust, Human Dignity and Excellence. The company consistently works towards "Creating Your New World in Steel!"