Commuters passing through the toll plazas on the Chandigarh-Delhi  stretch of the National Highway now have the option to avail themselves of cashless payment of toll tax through FASTag and move smoothly through the toll plazas without any halt. The Electronic Toll Collection (ETC) facility App Fastag ( Loadlink.in)  was launched by Anandpur Sahib MP Prof Prem Singh Chandumajra on Monday at Chandigarh.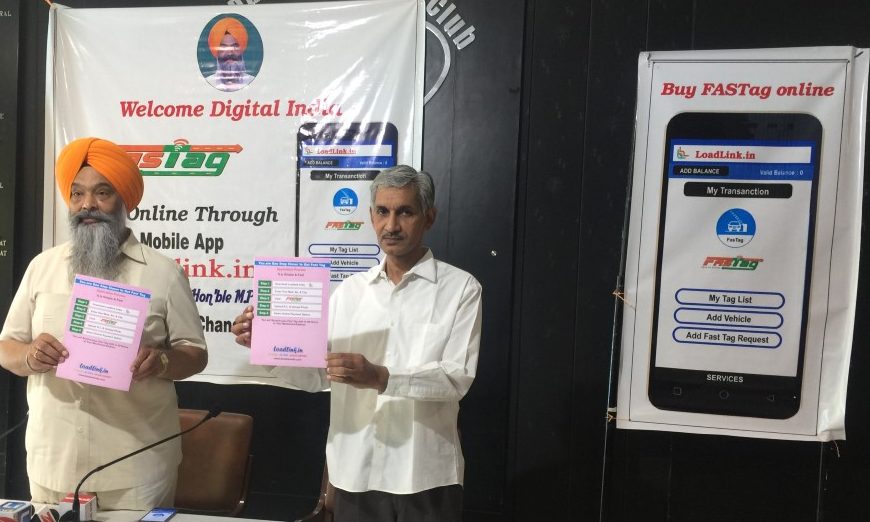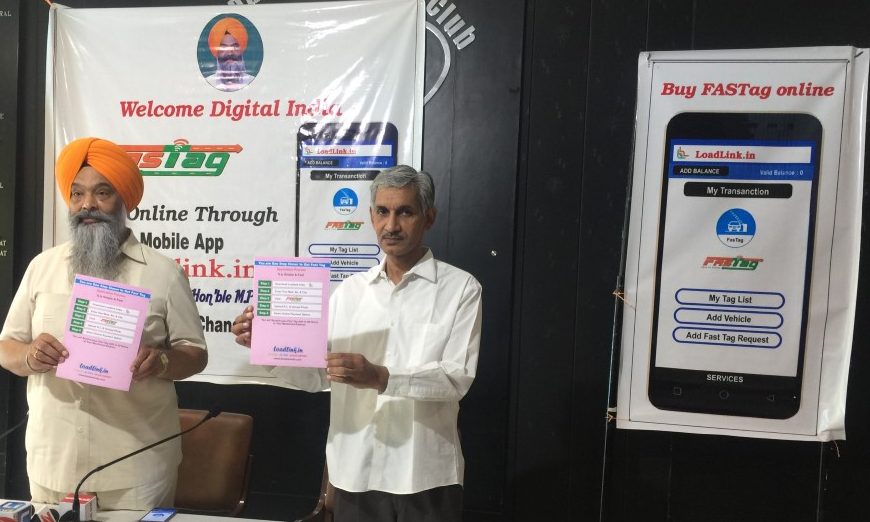 Commuters will no longer have to wait in long queues at any of the toll plazas on the Chandigarh-Delhi stretch of the highway, as there will be a dedicated toll lane for FASTag users. People can now easily download  a FASTag (Loadlink.in). The FASTag can be pasted on the windscreen of the vehicle.
Each time the vehicle passes through the dedicated lane for tag users, the two Radio-frequency identification (RFIID) sensors in the lane will track the details of the tag and allow the vehicle to pass through without any halt.
Also, the vehicle owner will immediately get an SMS about the deduction of the toll tax amount. While FASTag will have no expiry date, the vehicle owner will have to get it recharged like cell-phone SIM cards, as it is a pre-paid card. The recharge will be facilitated through online payment at  loadlink app/ banks and points of sale (POS) established in the toll plazas, as the amount deduction will be done from accounts by the banks.
The project is being implemented by NHAI, in coordination with NHAI promoted Indian Highways Management Company Limited (IHMCL).
Digitalisation of India will save precious time of all ,and time saved is directly proportionate to money saved said MP Prof Chandumajra while launching Fastag (loadlink.in) at Press Club Chandigarh .
A joint study by students of IIM Kolkata and The Transport Corporation of India reveals that a shocking 27,000 crore rupees goes up in fumes due to time wasted at a toll plaza. The situation is compounded with the same study going on to state that an additional 60,000 odd crore of fuel is wasted whilst slowing down and stopping at toll plazas. E-toll system seeks to do away with the massive waste of time and fuel by eliminating or at the least reducing time spent at the tollbooth, said Stanlian Jit Founder Director Loadlink.in.
The FASTag will also help vehicle owners in tracking their vehicle in case of theft. If there is a FASTag on the vehicle, each time it passes from any of the toll-plazas anywhere in the country, an SMS will automatically be sent on the registered mobile number. The SMS will include details of the location of toll plaza, time when the vehicle passed from it and the amount deducted.