Year 2018 looks like a year of contentment for Punjabi Cinema. Some really good films and new pairs are going to hit screens this year. For Pollywood, coming years will showcase the unseen level of craft and some commendable scripts. The director of Rabb Da Radio and Sardar Mohammad, Harry Bhatti is coming with a movie 'Aate Di Chidi' to grace the league of good movies coming in future.
'Aate Di Chidi' will star the Pollywood's queen Neeru Bajwa, who will be playing female lead in the movie and ace singer Amrit Maan  will be seen as male  protagonist for the first time.  The stellar star cast of the movie includes Gurpreet Ghuggi, BN Sharma, Anmol Verma, Karamjit Anmol, Harby Sangha and veteran actor Sardar Sohi.  The genre of 'Aate Di Chidi' is comedy and it will giggle audience out by showcasing Punjab's issues in a humorous way. The movie will be directed by Harry Bhatti. It's a presentation of Teg Productions. This movie will be shot in Punjab and Canada.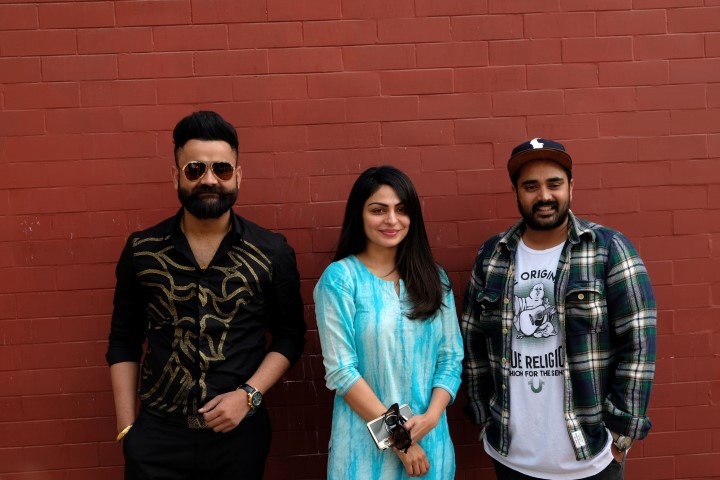 To launch the first look of 'Aate Di Chidi', starcast Neeru Bajwa, Amrit Maan, Gurpreet Ghuggi, BN Sharma, Sardar Sohi, Karamjit Anmol, Harby Sangha and others were present in Chandigarh. This film is produced by Charanjit Singh.
Neeru Bajwa, the leading lady, said, "I have recently worked with Amrit Maan, which was a short but sweet experience. Now we are about to start Aate Di Chidi and are definitely excited. I had liked the idea right from the time the story was narrated to me. Working with Maan and the director, Harry Bhatti will for sure be an enriching experience."
The lead actor of the film, Amrit Maan said, "I had started my acting journey with a grey shade character and then tried to entertain with a comic and carefree role. Aate Di Chidi is a new and fresh concept. Firstly, I am about to play the leading man and then, the story of the movie itself has got me hooked. I feel more responsible; in fact, I was star struck working with Neeru Bajwa in Laung Laachi. But now I am looking forward to the beginning of the shoot."
Harry Bhatti, the director of Aate Di Chidi, said, "I have always been considered as a serious director, the one who focuses on important issues. This film also has similar backdrop but the treatment is funny and a bit different from my usual style. I am trying something out of my comfort zone and hope that people will accept it the same way as they have loved my works earlier."
The shooting of the film will begin in Punjab region soon.