The Punjab Ministry of Health & Family Welfare launches Intensified Mission Indradhanush 5.0: IMI 5.0 is launched and the Media Sensitisation Meeting is organised with the primary objective to emphasize the significance of vaccinating all eligible children and intensifying the impact of IMI 5.0.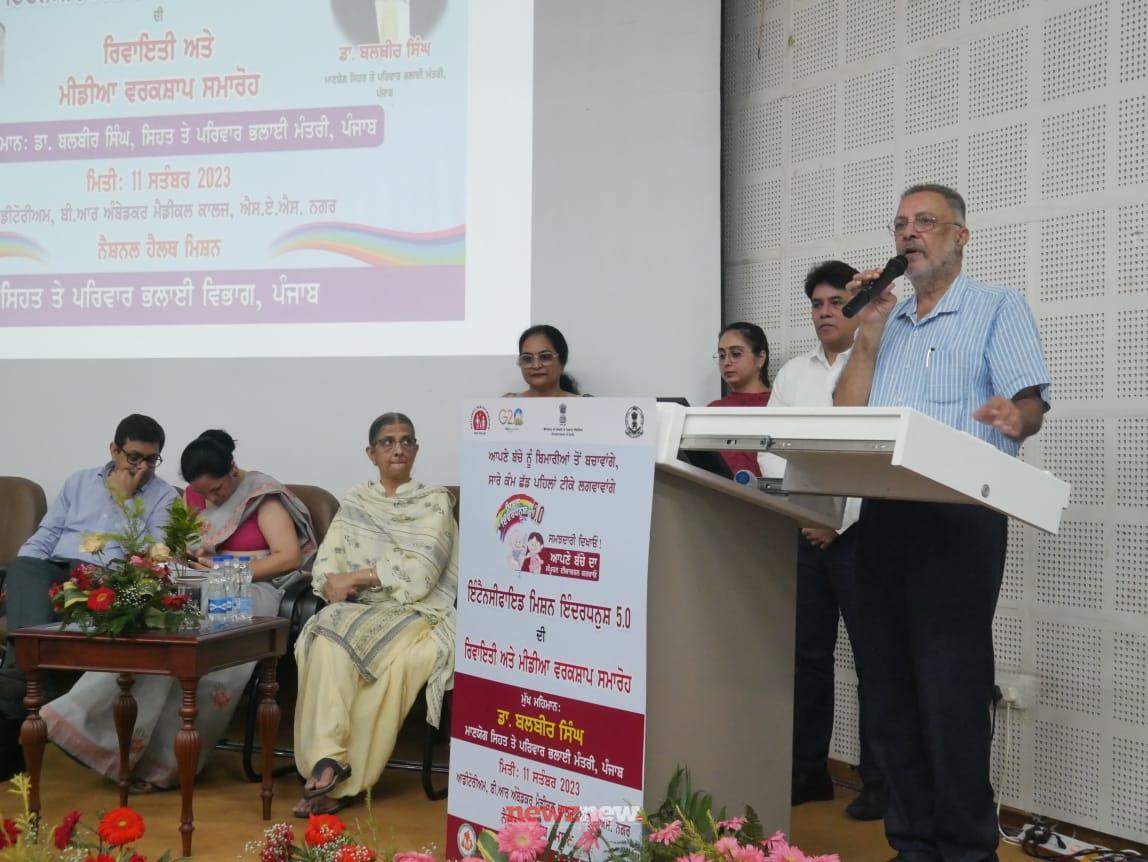 The Punjab Ministry of Health & Family Welfare, in partnership with The MOMENTUM Routine Immunization Transformation and Equity Project, has officially launched the Intensified Mission Indradhanush 5.0 (IMI 5.0), coupled with a crucial Media Sensitisation Meeting.
The event was graced by the esteemed presence of Dr Balbir Singh, Health Minister, Punjab and Dr Abhinav Trikha, IAS Secretary Health-cum-Mission director, NHM, Punjab. During the meeting, the importance of vaccinating eligible children and strengthening immunity in the face of existing challenges was emphasized.
The event witnessed active participation from prominent media representatives, health officials, and community stakeholders, all coming together in their endeavors to support the success of Intensified Mission Indradhanush 5.0.
IMI 5.0 aims to overcome barriers that have hindered vaccination coverage by focusing on populations that have been left out of Routine Immunization efforts. The state has conducted comprehensive training at various levels to emphasize the importance of reaching those who have not been vaccinated or are only partially vaccinated and incorporating them into the immunization program.
The initiative prioritizes children aged 0 to 5 years who have not received any vaccines, with the ultimate goal of providing life-saving vaccinations to all eligible children. Additionally, it represents a significant step towards nationwide Measles & Rubella elimination, ensuring that every child under 5 years completes the crucial two-dose schedule of Measles and Rubella Containing Vaccine (MRCV).
A crucial aspect of the initiative includes the integration of technology via the U-WIN portal. This state-of-the-art platform enables healthcare professionals to effectively track and document the vaccination status of children and expectant mothers, ensuring complete coverage and prompt interventions.
Dr. Balbir Singh, Health Minister, Punjab said, " IMI 5.0 underscores our unwavering commitment to reaching those who have not yet received vaccinations, addressing disparities in immunization, and ensuring a healthier future for our children. Our pledge is to guarantee that every eligible child receives essential vaccinations for their well-being, simultaneously strengthening immunity across our region.
Through the collaborative endeavors of The MOMENTUM Routine Immunization Transformation and Equity Project, immunization partners, our dedicated healthcare teams, and the support of our community, we are resolutely working towards making a lasting impact on the health and welfare of our children, nurturing a more resilient and healthier state."
Dr Gopal Krishna Soni, Project Director, USAID supported MOMENTUM Routine Immunization Transformation & Equity Project said, "The project under the guidance of the Punjab State Government has successfully administered COVID-19 vaccines to vulnerable and marginalized populations in the state.
The project has actively engaged vulnerable communities, tackled vaccine hesitancy through innovative community engagement strategies such as partnering with faith based organisations like Shiromani Gurudwara Prabhandak Committee, engaging schools and school children as vaccine ambassadors, and using customised IEC materials for community engagement program, resulting in encouraged community participation in the vaccination process in Punjab.
The knowledge gained from this vaccination campaign will be leveraged to improve Routine Immunization for children. Together, through our collective efforts in IMI 5.0, we envision a future where preventable diseases are eradicated. By fostering strong partnerships among healthcare providers, the media, and the community, we are confident in overcoming vaccine hesitancy and building a healthier society free from diseases."