The season's hottest party jam "Get Down" released : Punjabi Rockstar JUGGY D teams with up with rapper IKKA & prolific urban producer RISHI RICH to create the season's hottest party jam "Get Down" – the next single dropping on VYRL Originals today!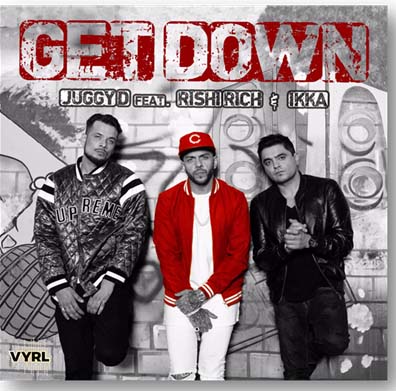 "Get Down" an urban club banger is laced with Juggy D's punjabi flow matched with slick production that only Rishi Rich could execute with his fusion of Western & Asian beats. Ace rapper IKKA then elevates the track with his fiery rhymes to a level of pure explosion.
Excited to release the song Juggy D shares "I really can not wait for this track "Get Down" to drop now. It's been an amazing vibe from vocaling the track to shooting the video and having Ikka on it is great, it mixes our UK flavour with the Indian rap scene. Very happy that it's releasing on VYRL Originals platform"
Rishi Rich adds "When I made the beat, I had a vision in mind which is now ready to be shared with everyone. Working with Juggy D once again on this track alongside Ikka has been great. I am looking forward for it to release on the VRYL originals platform"
Watch Video here : "Get Down"
Sharing the same note, IKKA shares "When I first heard the track Rishi Rich and Juggy D had created, I knew I had to be a part of the collaboration.. It was an amazing experience working with the two people that inspired me when growing up. I am glad VYRL Originals gave us this opportunity."
Vinit Thakkar, Senior Vice President, Universal Music Group, India and South Asia & EMI Records India said, "At VYRL Originals, it is our constant endeavor to be bring interesting collaborations and differentiated content for the consumers. Get Down is a great example of a three-way collaboration between the super talented Juggy D, Rishi Rich and Ikka. All three of them have such an amazing chemistry which is visible in the end product. We are very proud that with every single, we are pushing the envelope across audio, video and marketing of these singles."
The music video represents the song down to a T. It has been perfectly shot in tandem with the soundtrack and adds the grungy and raw sounds of the production, vocals and the rap, accentuating the musical brotherhood between all 3 artists.