"The Swarna Swar Bharat set is as grand as that of Baahubali or maybe a Sanjay Leela Bhansali set," reveals host Ravi Kishan: Zee TV is all set to introduce a first-of-its-kind devotional singing reality show – Swarna Swar Bharat. The show will take us back to our roots through a unique blend of insightful and relatable stories from India's ancient scriptures narrated in verse and soulful devotional music.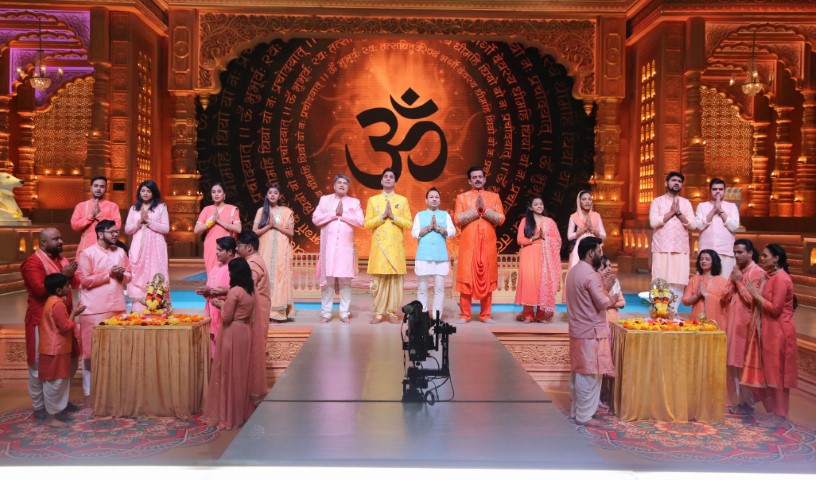 Produced by Fathom Pictures and Kailasa Entertainment Pvt. Ltd., Swarna Swar Bharat is a humble contribution to the Honorable Prime Minister's noble initiative – 'Azaadi ka Amrit Mahotsav – the 75th anniversary of Indian Independence' that endeavors to celebrate our rich cultural heritage across the world.
The show will have renowned poet Dr. Kumar Vishwas and veteran singers – Padmashree Kailash Kher and Padmashree Suresh Wadkar as judges and they will evaluate performances of the contestants on parameters of sur, bhaav and saar. On the other hand, popular actor Ravi Kishan will be seen as the host.
While the show is yet to premiere, the judges and hosts have already started shooting for the show with all safety measures in place. Right from the first episode, they have come across some truly phenomenal talent during the shoot which has left them spellbound.
If the talent is so grand, how can the set be any less. Swarna Swar Bharat is produced on a massive scale, much like a movie set. In fact, host Ravi Kishan was so enchanted by the aesthetics of the set that he actually compared it with the sets made by Sanjay Leela Bhansali for his films as well as the set of Baahubali.
As Ravi Kishan mentioned, "When our honourable Prime Minister came up with this noble idea of reinvigorating the rich culture and history of our country, we thought of doing something through music. In fact, we are making Swarna Swar Bharat on such a massive scale that the set is as grand as that of Baahubali or maybe a Sanjay Leela Bhansali and that itself speaks volumes about how big our vision is! It's basically an initiative to reconnect more and more Indians to our culture and also showcase it worldwide."
Stay tuned as Swarna Swar Bharat starts 22nd Jan, Sat-Sun, 8PM only on Zee TV