When it comes to D2H services, there are numerous questions that pop up in our head that where it is the best deal, the number of channels it offers, is it HD pack or not and much more. Since there are many players, it is essential for you to know what the best plan that is being offered is.
Multiple DTH players create competition in the industry thus an effort to give us the best. Here's a list of top five DTH service providers in India who are making entertainment easily and economically accessible to all. This may help you choose the best one that suits your needs.
Reliance Big TV
Reliance Big TV recently announced its latest offer for availing free entertainment to 130 crores Indians. The company recently offered access to up to 500 free-to-air channels for five years and pay channels for one year across the country, besides a free of cost HD HEVC set-top box.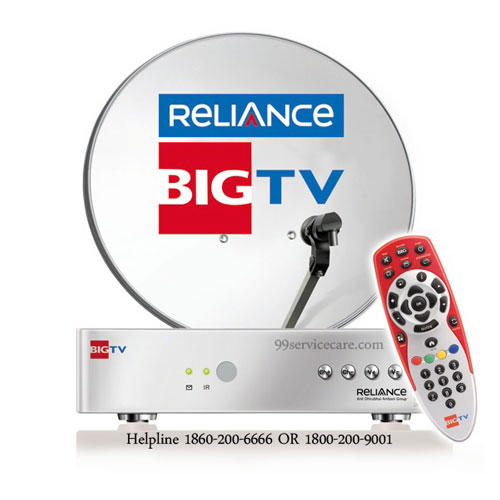 To avail of the Reliance Big TV set-top box at effectively zero cost, you need to book the DTH from the company's official portal by paying a booking amount of Rs 499. While a pre-booking amount is Rs. 499 will be charged by the company, on the receipt of set-top box and outdoor unit (ODU), buyers will have to pay the balance amount of Rs. 1,500. Thereafter, subscribers need to recharge monthly amount of Rs. 300 from second year onwards for all pay channels. On completion of subscription of pay channels continuously for next two years with Reliance Big TV, the subscribers will get back Rs. 1,999 as a loyalty (the amounts paid during booking and receipt of the set-top box) in form of recharge. A customer should be active at the end of 3 years in order to avail the offer.
For booking log on to (www.reliancedigitaltv.com)
Airtel Digital TV
Airtel digital TV is an Indian direct-broadcast satellite service provider launched by Bharti Airtel in 2008. Today Airtel has nearly 400 channels including several HD or High Definition channels. Its subscriber base is a few million across India and has a wide variety of channels covering entertainment, movies, lifestyle, education, lifestyle, sports and news to name a few categories.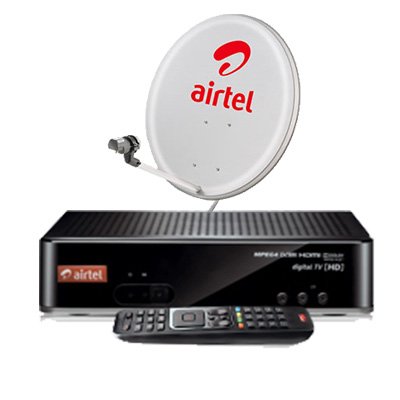 Airtel also has plenty of regional language channels in all of these categories. Airtel had also announced that its digital TV HD and HD-DVR boxes are software-enabled to view standard definition (SD) content up-scaled to 1080i HD. In, addition Airtel allows its customers to record programs, and also get multiple connections through one dish. This multiple connection facility being offered is particularly beneficial when entire buildings or housing complexes subscribe to the same provider and get great discounts and customized packages.
Get your Airtel Dish Tv connection here http://www.airtel.in/digital-tv/experience-it/dth-hd?
Tata Sky
Tata Sky provides Pay TV and OTT services. With the objective of connecting to the best content in the world on any budget, any screen, anytime and anywhere. Tata Sky was the first to launch multiple products and services that redefined the subscribers viewing experience in the country. Tata Sky provides the most comprehensive channels and platform services line-up ranging from movies, news, entertainment and sports channels.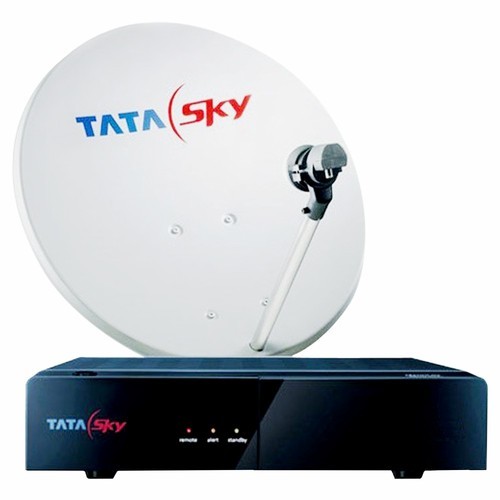 The Tata Sky Mobile App enables subscribers to experience Live TV along with services such as On-Demand with over 3000 titles, Remote Record to set the recording on the STB even when not at home or near the STB and Transfer to download and view content recorded from the STB. Tata Sky has been a pioneer in the HD Set-top box segment having a significant market share in the category.
Choose a package here https://www.tatasky.com/wps/portal
Dish TV
DishTV is India's DTH television operator using MPEG-4, DVB-S2, and MPEG-2 digital compression technology. The company is a sister concern of Zee, is one of the DTH market leader. DishTV launched the first DTH service in India on 2 October 2003. It has a huge list of channels (about 650+). Dish TV has features like child lock, interactive TV, games, apart from the expansive range of channels in English, Hindi, and regional languages.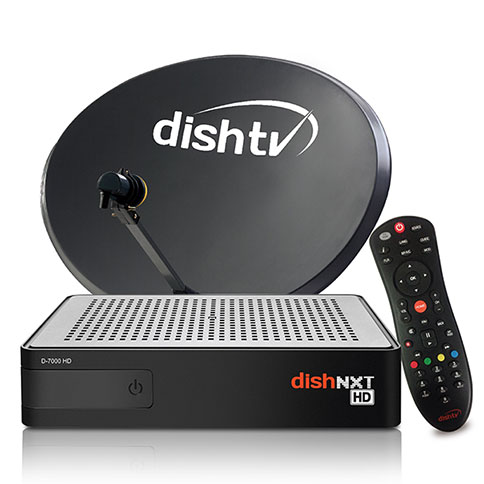 Dish TV also has attractive combo packs, special deals, and offers where customers get access to a bundle of channels at economical rates with plenty of freebies thrown in. Providing three kinds of Set Top Boxes- DISH HD+ with Recorder, Digital Set-Top-Box with Recorder, DishTV provides Hi-Definition signals for lifelike picture quality along with the power to pause, record and rewind live TV, Digital Set-Top-Box lets you record the programmes of your choice.
Check the connection deals here https://www.dishtv.in/
Videocon DTH
Videocon DTH brand has made their service unique by offering the choice of the built-in DTH device and video player with their company made digital TVs. This feature is even compatible with other independent television sets as well. Videocon d2h presents its subscribers with 650 channels and services, including 61 Asli HD Channels & services and a bouquet of regional channels.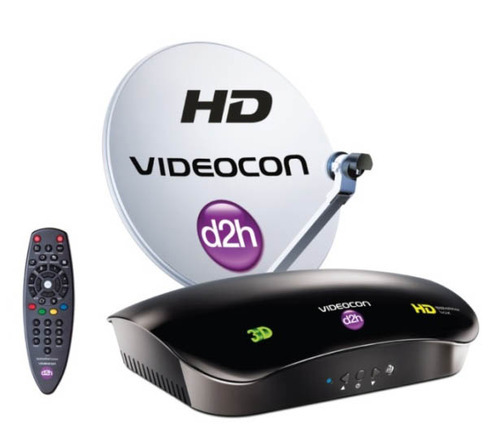 Videocon d2h has launched d2h stream Set-top Box (Connected Set-top box) which converts your existing normal TV into a Smart TV. The Connected set-top box allows one to browse content from Facebook, Twitter, Daily Motion, video on demand sites, news sites, weather sites, etc through applications residing on STB.
Get your Videocon d2h connection here https://www.videocond2h.com/