Top Reasons Why AWS Beats Azure in the Cloud War: No doubt that AWS and Azure are the topmost cloud providers in the world. However, due to its presence for a very long time and many other features, AWS wins in the battle against Microsoft Azure. AWS appears to be unstoppable in the cloud industry.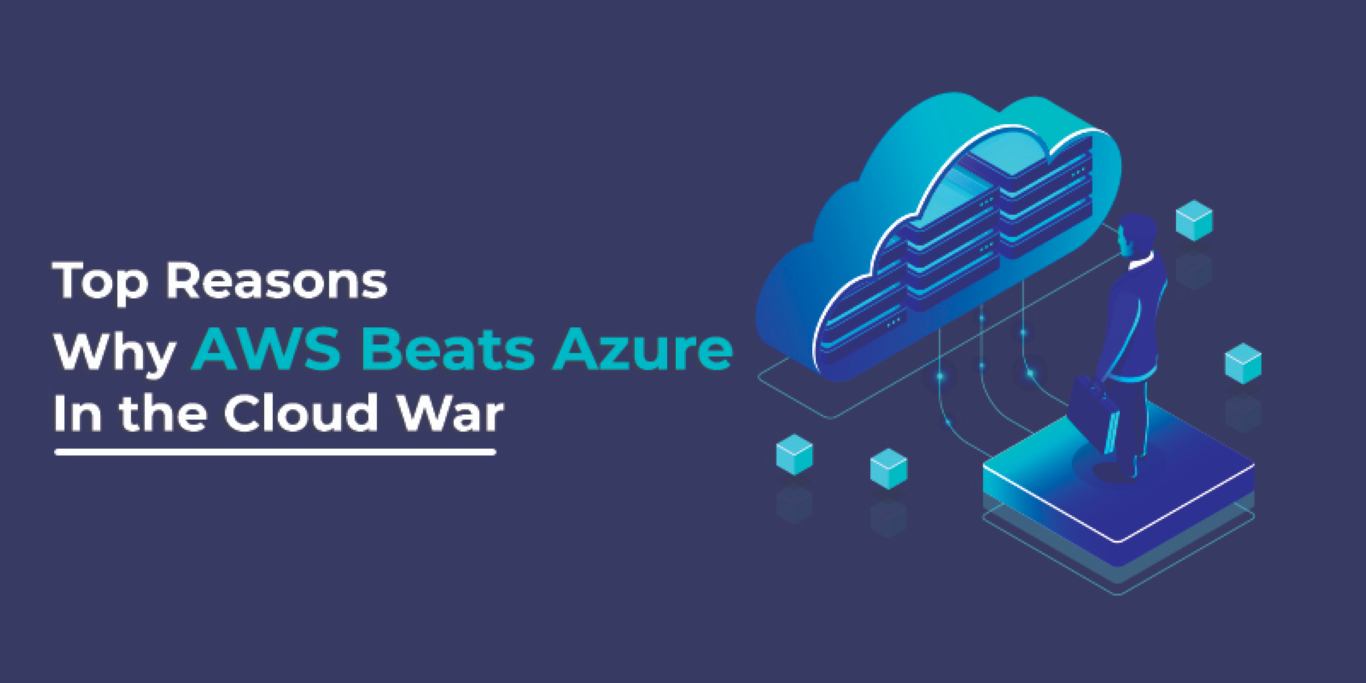 But why and how AWS beats Azure in the cloud war? Let's discuss that in detail with this blog.
Now, I am going to walk you through the top reasons why AWS is a preferable choice compared to Azure.
Experience
Amazon strived to create a well-organized environment in which to segregate different services. As a result, Amazon was faced with the task of developing a platform that could be used by third parties. Then, in 2006, Amazon Web Services (AWS) arrived on the scene, reshaping the public cloud market.
Azure was first announced by Microsoft in 2008, and it was fully released in 2010. Azure was introduced only because of AWS. Amazon has spent more time improving its cloud platform than anybody else, and its efforts have resulted in AWS being a highly reliable and mature offering.
If it appears like everyone else is catching up, it's because they are.  Hence, AWS remains a major leader in the cloud industry. Intellipaat AWS certification course is the best place to hone your technical skills and gain hands-on experience in the AWS domain.
Constant Innovations
Do you recall how AWS launched in 2006? It began as an infrastructure platform, allowing users to create and try out new applications. And there was proof of the vicious cycle consumer base's performance. AWS has millions of users, including well-known brands like Netflix and Airbnb. Because of its large client base, AWS has a greater understanding of how consumers utilize cloud services than virtually any other provider.
As a result, AWS keeps on top of developing new advancements and innovations to suit the demands of its customers, as well as providing global support for AWS. However, it is also a fact that Azure is also improving so much to beat the competition.
Neutrality
Amazon isn't scared to embrace norms and incorporate them into its large dome. If you utilize Microsoft SQL Server or Oracle Database, Amazon will meet your needs without forcing you to change your software to adopt their own storage architecture. It's simple to discover apparent competitors' goods functioning successfully in the AWS cloud.
The industry's size and scope come from its willingness to delve into various areas of the computer world and its opportunity to carry those areas into the cloud. Hence, AWS is neutral and allows anyone to adapt it and Azure does not do that.
Fast and Easy Scalability
Rather than maintaining infrastructure for peak usage in typical cloud services, businesses may leverage AWS auto-scaling to accommodate their load requirements. They may modify the server resources added or removed based on the demand by utilizing AWS auto-scaling. Auto-scaling also aids businesses in detecting when a server is unreliable, terminating it, and launching a new server to take its place. As a result, the benefits of adopting AWS provide businesses with a single point of contact for all of their needs. Due to the overwhelming services it provides, it's no wonder that AWS continues to dominate the cloud computing industry. Even though AWS tops the race. Still, confused between AWS and Azure? Check this informative AWS vs Azure blog.
AI Platform
AWS AI-based Services give your apps and processes fully prepared Artificial intelligence models. Customized suggestions, updating your contact center, enhancing protection and reliability, and increased customer interaction are just a few of the popular use cases for AI Services.
You receive integrity and efficiency from constant API since AWS employs the very same deep learning model that drives Amazon.com and other ML Products. And, most of all, AWS AI Services do not even need any prior knowledge of machine learning. Although Microsoft and Google clouds have significant AI knowledge and dedication, Amazon's breadth of offerings is difficult to match.
Reliability
AWS was the earliest of its type, and it's been in the cloud market longer than any company. AWS, of course, has had much more time to build its worldwide infrastructure. Microsoft Azure, like Amazon Web Services, has numerous regions, but the distinction is in the number of availability zones and regions. AWS now has 66 server locations with another 12 on the pipeline.
Azure, on the other side, has 54 regions spread around the globe. An availability zone can be considered as a metaphor for High reliability. As a result, when compared to Azure, AWS remains the best option.
Price Drops
For its continual price decreases, AWS is the leading company in the cloud industry. Because of the significant expenditures, it makes to extend its network, AWS has maintained its cloud market dominance since its debut in 2006.
The more AWS expands its network, the more economy of scale it achieves, allowing it to offer clients reduced rates and a complete suite of enterprise-size services. Its growing customer base enables more cash to be dedicated to network development, resulting in price reductions. Such price reductions result in more demands of the market.