Trade Meet U.S. Turkey held at Chandigarh: USA Poultry and Egg Export Council (USAPEEC) members world-renowned for their premium quality poultry products along with Indiana Corn Marketing Council participated in the U.S. Turkey Meet in Chandigarh on the 24th December,2021, in Venus Hall, at Radisson-Zirakpur.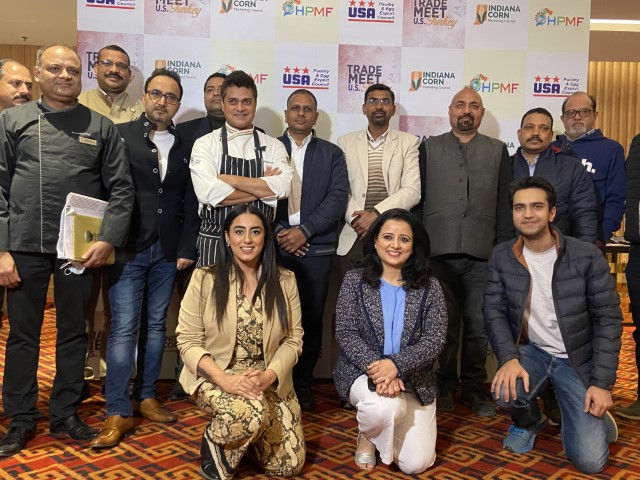 Marking the merry festival's cheer and spirit, the X'Mas eve special event was all about celebrating health and taste through U.S. Turkey specialities & delicacies.
American poultry with its range of chicken, turkey, ducks and eggs provide a wholesome nutritious meal at every occasion. Whether savouring a sandwich or relishing an exotic curry, these products add a fresh dimension to an existing traditional cuisine while providing exceptional health benefits in the form of proteins, minerals and other important nutrients.
While chicken and eggs are already a big part of Indian consumer's food habit, especially with the young and among the fast-paced working-age group, the globe-trotting (both virtual and actual) individuals are also aware of delicacies made of duck and turkey. Slowly but surely, these newer food products are taking roots in everyday affair as well as exquisite special-day spreads in the Indian homes.
Turkey meat can be included in diets in a variety of manner. Roasted whole turkeys are traditionally served during North American festivals, turkey cold cuts are popular as delicatessens, and turkey dishes are found on the menus of fine-dining restaurants the world over. Turkey can be easily incorporated in our Indian daily diet too by trying different variations in gravies, kababs, biryani, sandwiches and more.
Turkey as a lean meat provide an excellent source of protein and the exceptionally hygienic packaging and ready-availability at an affordable price of U.S. Turkey makes it a 'go-to' choice for pepping up any meal. Low in cholesterol and saturated fat, Turkey is a good source of niacin, tryptophan, and vitamins B6 and B12.
Food safety is the highest priority among USA Poultry and Egg Export Council (USAPEEC) member companies. U.S. Turkeys are subject to stringent poultry inspection requirements enforced by the U.S. Department of Agriculture's (USDA) Food Safety and Inspection Service (FSIS).
Dr. Nitin Shankar Nagrale, Founder & President of Hospitality Purchase Managers Forum (HPMF) shared his insight on the industry prospects and the possibilities expected in the coming days. Although these are early days after the devastating pandemic for India, which is still showing its extended shadow in some form or the other, it is imperative to note that the entire world has arisen to the need of eating healthy and making hygienic choices. And this rings a happy optimistic note for all the stakeholders.
Chef Saby, celebrity chef & the recipient of the most prestigious President of India's award for best chef, took the participants on a trip to indulge their taste-buds with delicacies made of U.S.Turkey. The stakeholders were given a thorough understanding of utility of Turkey and its various ways of consumption. A scrumptious menu with delectable delights with many Turkey specialities presented an elegant spread raising curiosity and generating interest.
The event garnered considerable footfall of various stakeholders including purchase managers, retailers, chefs and traders and encouraged participants towards all options and prospects of incorporating U. S. Turkey in Indian and international cuisine and spreading the good word.