UBTER has declared JEEP counselling result today, as per the notified schedule and the students can now check Polytechnic counselling result from the official website ukcounseling.nic.in. The seats in Polytechnic Colleges/ Diploma Institutes are required to be filled through Joint Entrance Examination – Polytechnic (JEEP) conducted by the Uttarakhand Board of Technical Education Roorkee (UBTER). As the last date for registration in JEEP counselling 2017 was 11th July, UBTER has declared JEEP counselling result today for all registered candidates.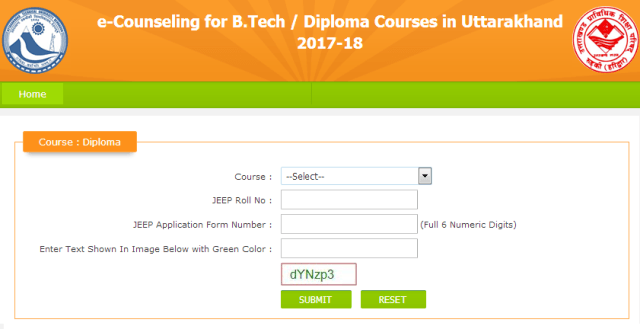 UBTER had conducted the entrance exam on 7 & 8 May and the results were announced in June. In the first week of July, the Board announced that all the students who took the entrance exam can register for JEEP counselling. The online counselling is being conducted for admissions to diploma courses in Engineering/ Technology, Pharmacy, Hotel Management & Catering Technology, Modern Office Management & Secretarial Practices, Textile Design, Garment Technology, Fashion Design and PG Diploma in Computer Application (PGDCA) and lateral entry admissions (into 2nd year) of Engineering courses.
JEEP 2017 counselling is scheduled to be held in two rounds only, of which the first round counselling result has been declared today. There are as many as 15,694 seats in Engineering Diploma courses being offered at 112 Polytechnics/ Engineering Colleges (2nd shift) in Uttarakhand. The seat matrix for other courses:
469 seats in 11 Pharmacy colleges
493 seats in 13 colleges for Diploma in Modern Office Management
216 seats in 3 Institutes for Hotel Management course
245 seats in 7 Institutes for PGDCA
110 seats in 1 Institute for Diploma course in Textile Design
2,471 seats in 78 Colleges for Lateral Entry admission in Engineering courses
The students had to apply for JEEP counselling through ukcounseling.nic.in and indicate their choices of institutes and courses. Based on the merit and the order of choices filled by the students, UBTER has allotted the seats to the students. The students can check JEEP counselling result after logging into UK Counselling website. To take admission in the allotted institute, the students will have to download the allotment letter and report to the allotted institute till July 21.
For those students who could not register in JEEP counselling 1st round, they can register for the second round from July 25. Also, the students who wish for upgradation as per the 1st JEEP counselling result will be able to register in the second round. UBTER is not collecting any fees from the students for JEEP counselling.