U&I International Fashion Week in Chandigarh on Dec 14-15: U&I International Fashion Week (Season 2) will be held at Hotel Hyatt Regency Chandigarh on 14-15 December, 2019.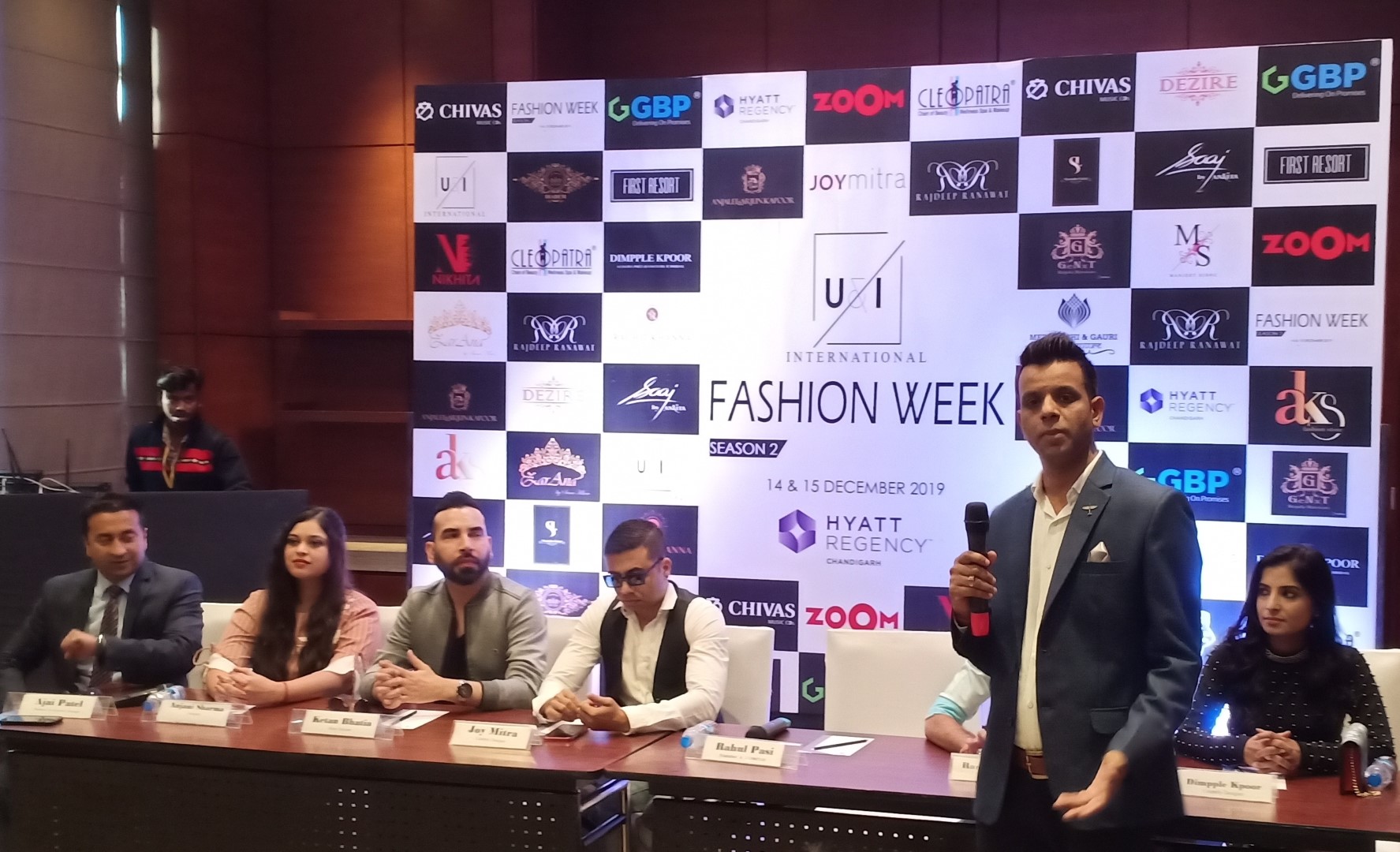 Besides the celebrity designers – Joy Mitra and Dimpple Kpoor, other designers present at the press meet included Pratika Kapoor, Rachit Khanna and Anjani Sharma. Radhika Marwaha (Co-Director, U&I International), Ajai Patel (Business Development Manager) and Ketan Bhatia (Show Director) also talked to media.
Addressing the press at Hyatt Regency, Rahul Pasi, Founder Director, U&I International, said, "The Fashion Week will showcase works of many celebrity designers and top models of national and international repute. U&I International Fashion Week, Season 2 will be graced by influential guests including top bureaucrats, ministerial figures, administrative heads, socialites, industrialists of the region, corporate bosses, educationists and army officials, among other influential individuals."
Renowned Celebrity designers who are going to showcase their collections in the fashion show. Few of the names are Joy Mitra, Ramola Bachchan, Anjalee and  Arjun Kapoor, Dimpple Kpoor, Maninder Gulati, Anjini Sharma, Rachit Khanna, Manjeet Sidhu, Pratika Kapoor, Meenakshi Monga and Gauri Monga, said Namisha Patel, the Production Associate.
Isha Sharma, Event Manager, said, "Season 1 of the Fashion Week was held at Vivanta by Taj, New Delhi The special collection by Arjun and Anjalee Kapoor will be showcased  on 14th December finale. Designer Sonalika Sahay, Deepti Gujral, Amanpreet Wahi and Rashi Rao will be present at the show with their latest collections and theme based ramp."  
Celebrity designer Joy Mitra said, "I am quite excited for my first show in Chandigarh. My work is mostly on textile. I am trying to promote original prints of Bengal and other regions. Bagh Print will be my main attraction in this show."
Show director Ketan Bhatia said, "I am coming back to City Beautiful after a gap of almost 1.5 years. It is very rare that a fashion week of this level happen in Chandigarh. We are waiting for the mega event eagerly. I was part of the Season 1 also."
Designer Anjani Sharma said, "This will be my first show here. My collection is Secret Garden, which is about a woman who wanders alone in a forest. The collection depicts a lot of wild flowers and Goddess of beauty."
Chandigarh based designer, Rachit Khanna said, "My collection is named as Tareef, which represents royalty and luxury. I have used a lot of gold and traditional stuff in my designs. You will also find bellbottoms in my collection."
U&I International is a world-class event management company headquartered in New Delhi. The company represents professionals including models, makeup artists and renowned fashion designers from major cities across the globe.
The company strongly believes in meeting commitments and delivering quality work. U&I International is proud to have Radhika Marwaha, Ajai Patel BDM ,Namisha Patel- Production Head, Ketan Bhatia, Show Director; Khizar Hussain and Kapil Gauhri, Choreographers; Isha Sharma, Show Coordinator; Anjali Singhal, Backstage Coordinator; and Nick Mahal, Creative Head as its team. Make up partner is Richa Aggarwal (Cleopatra).