Unified School Operator in Form No. 2, will not fill the form says Kulbhushan Sharma : Government will go forcibly, court will not remain behind even agitation, school governor, anti-government attitude of the government, then private school in Ambala will do Maharishi in December Chandigarh | State President of Federation of Private School Association Kulbhushan Sharma said that the Haryana government is engaged in making policies against private schools and wants to shut down private schools.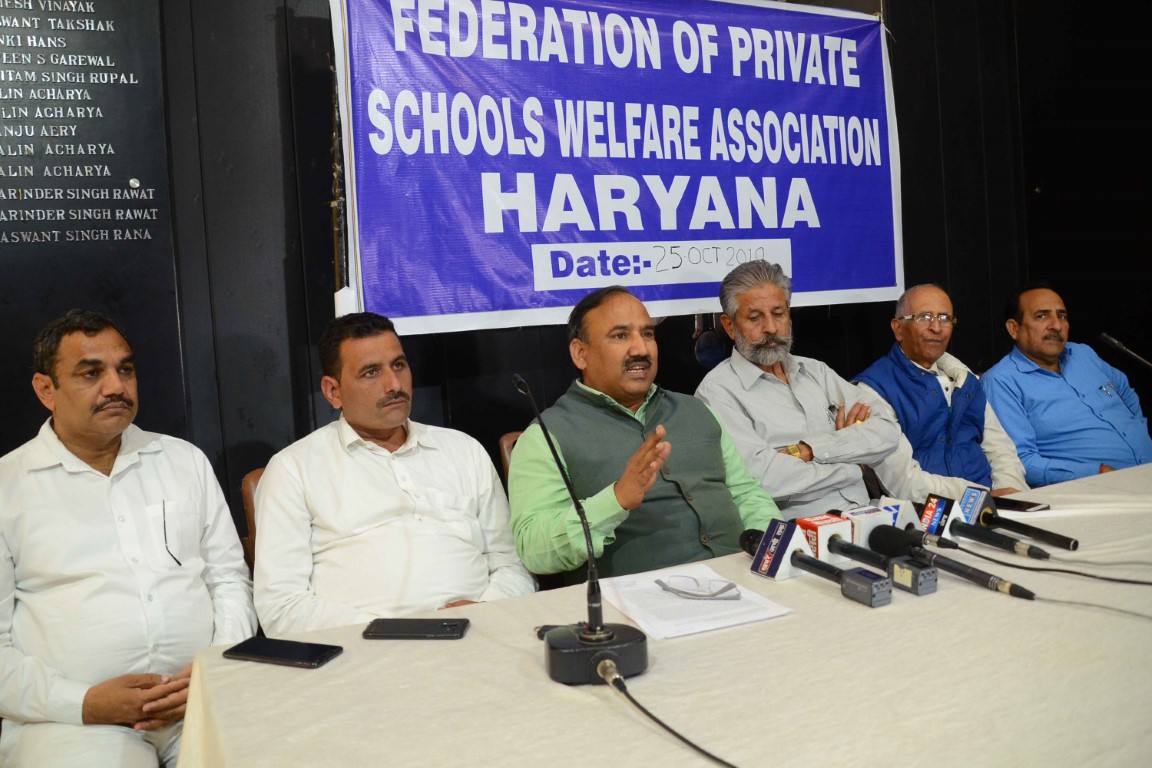 He said that the Haryana government has ordered to fill Form No. 2 again to disturb private schools, which private schools are not ready to accept at any cost.
Kulbhushan Sharma made it clear that if pushed with private schools, it will not be left behind in agitation, while the Maharali will be organized in Ambala in December, in which private school operators will introduce their unity.
Kulbhushan Sharma was talking to journalists at the Chandigarh Press Club. He said that the private schools running throughout the state have completed Form No-2 at the time of getting recognition and now the government has been referring to replacing form number 2 again and only harassing school operators.
According to the orders of the government, the schools which have been 10 years or have been running before 10 years, will also fill the form. Because of which school operators are worried, because schools are recognized according to the old rules and in such a way they can not fulfill the new rules.
Also, Kulbhushan Sharma said that instead of filling the form from school operators running for years, the affidavit can explain whether the schools are running or not. Kulbhushan clarified that no school operator will fill the form number-2 as it is a private school, which collects the cost at its own level and does not have any help from the government.
Kulbhushan Sharma said that the Central and State Governments also want to intervene in CBSE schools. This is the reason that the government issued the order, whichever CBSE schools are running across the state, they will come first with the approval of the DEO, then they will be recognized by the CBSE. While earlier these schools have done the CBSE contract only after taking NOC from the government. Kulbhushan Sharma said that the private school operators running for years will be pressurized to get recognition again and again new forms will be filled.
This will definitely affect the quality of education. He said that doing so would lead to corruption and the intervention of DEO and other political leaders would increase.
Kulbhushan Sharma said that the Haryana government is dealing with private schools with discrimination and discrimination. Sometimes a passenger tax, then a property tax and sometimes a stringent rule in the name of security applies to them.
By which private education is expensive and parental displeasure increases towards private schools. He alleged that ISCE is India's largest education board and according to its rules, it sanctioned the Senior Secondary School in 2000 sq. Meters, whereas Haryana Government has 2 acres of which 8000 schools open for the education of poor children ie 8000 The square meter policy has been created. In such a case, it is clear that the government is opposed to private schools and is making such a policy.
Kulbhushan Sharma said that the government had come by saying that the Minimum Government and Maximme had come up with the word of proudness, but now the Inspector Raj is implementing and wants to shut down private schools by putting economic weight. The government did not fulfill the promises made with the private schools in the manifesto and if the government intervention was not eliminated, eliminating the discrimination, the Maharali will be held in Ambala in December