NewZNew (Chandigarh) : Devender Balhara, popularly known as Dr. Dev, is a Phd in Physics and is MD of Expanding Horizons in Sec 38, Chandigarh. He is also father of Yashasvi Balhara, known as India's Wonder Kid. Dr Dev had introduced a system of education that he researched and developed for over 8 years. The methodology was tailor made to effectively teach students who had been branded as 'Academically Weak', by the traditional Schooling system.To share the encouraging results of the unique alternative system of education, implemented by Dr. Dev over a year back, a press meet was held at Chandigarh.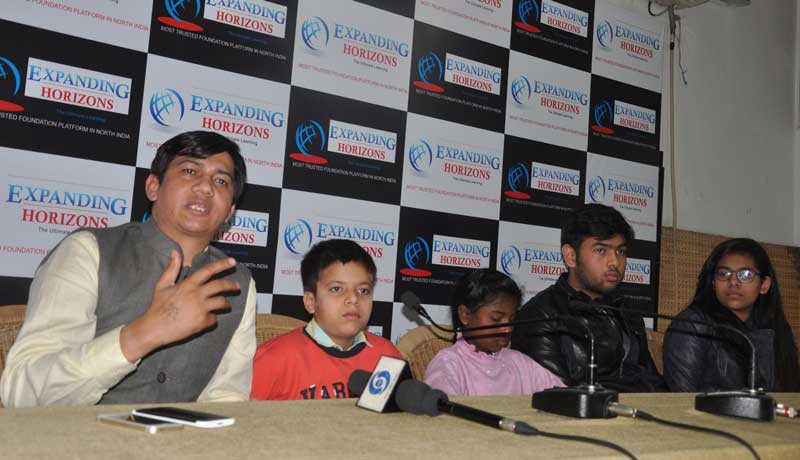 "The system has turned students lagging behind academically into achievers. We had announced a 'Challenge Programme' a year ago and under this, we got a group of 20 students from various schools of different Grades of tricity, who were getting low scores repeatedly. The Economically Weaker students out of these were given free training.  We are very proud to announce the results — out of 20 students we taught, 18 are amongst the toppers of their classes." Said Dr Dev, MD , Expanding Horizons. "Encouraged by the results, we have also written to UT Education department to; implement this path-breaking system in UT Schools. We are hoping for a positive response." Adds Dr Dev
Dr Dev gave a presentation to the media at the press meet about how the system worked so effectively. "My methodology is based on the Multiple Intelligence Theory under which we quantify biometrically kids' personality traits, brain dominance, learning modalities, acquiring sensitivities etc and then the teaching methodology is adopted." Wonder Kid of India Yashasvi Balhara & Hindustan ki Wonder Girl Jahanvi Panwar were also present at the event. Brij Mohan father of Janhavi said, "While in the traditional schooling format, a teacher has a fixed method irrespective of the child's unique capabilities, in Dr Dev's method tailor made solutions are offered after scientifically finding strengths and weaknesses of children. The result is in front of you."
Parents & children who benefited from the training also participated in the event. "This is a very superior psychological & academic methodology. My son Naman's & daughter Khushi's academic performance has been turned around. Naman who was laggIng behind in class got a very good CGPA in 10th. Khushi has improved her concentration, memory, studies for longer hours and the best thing is that she is happy studying." Said  Jyoti Garg, Mother of both the children. "My son Lakshit who used to fear Science, after training under Dr Dev, got a gold medal in Science Olympiad at the school level. He has also been selected for National Geography Olympiad which is to take place in April at Kota, Rajasthan." Said Lakshit's Father Ankit Dhull. "Both My sons Piyush & Bidush underwent training under Dr Dev and now study without any tension & pressure. Piyush has got a 10 CGPA and Bidush 8 CGPA in Class X."
It was announced that the scientific alternative system would now be made available at schools & institutions which were interested. Experts will offer teachers' training programmes, systematic evaluation of Multiple Intelligences, personal counseling for career guidance etc. Another aspect that would be offered is Premarital and post marital counseling. The system is also proving to be a blessing for imparting boarding school entry training as many students proclaimed weak, have qualified for the same after training under the system.
Sums up Dr Dev. "I was motivated by the film 'Taare Zameen Par' in which a so called slow learner student becomes a great achiever, i am trying to find traits in children and then work on them to improve their academic performance. We are also offering Parenting classes Free of cost as a parent needs to be well informed so as to aid his or her child's academic progress in a constructive way. Interested parents simply need to contact me at [email protected]."