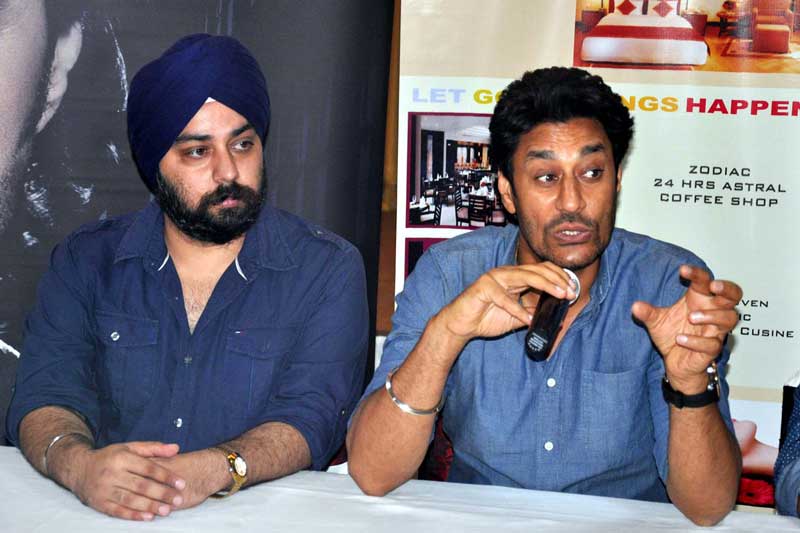 NewZNew (Ludhiana) : Renowned Punjabi Singer-Actor Harbhajan Mann starrer 'Gadaar -The Traitor' – Punjabi Cinema's first Suspense – Emotional thriller, is all set for its release on May 29. Film lead star Harbhajan Mann came calling to the 'Ludhiana' for a media brief at Hotel Fortune Klassic to express his confidence on the success of this venture. Apart from Harbhajan Mann, Director Amitoj Mann & Mr. Sumeet Singh, MD, Unisys Infosolutions shared their experiences of its making and expectations. The film has been Produced by — Unisys Infosolutions & Grandsons Films. The film is shoot at picturesque locales of Punjab, Mumbai, Goa and Toronto.
According to Mr. Sumeet Singh, MD, Unisys Infosolutions, "We are also proud to say that 'Gaddar –The Traitor' has already its mark with the new style of marketing with major use of Social Media & very little use of TV Campaign which gave a massive positive response to its trailer. Audiences have well appreciate the trailer on Youtube. This method has already created a lot of hype about the film. Unisys Infosolutions-Saga Music had entered the Punjabi Film Industry, on a turnkey basis about a year ago".
Mr. Sunil Kapoor, MD, Grandsons Films said, "The film is a work of slick cinematography & special effects that certainly have never been seen in Punjabi Cinema. I am happy that there is a concern for bringing well made Punjabi films in front of audiences. We are trying to Corporatize Punjabi Film Industry to make Punjabi Cinema a well respected Industry in India."
The film is also introducing Miss Australia Punjaban Pageant winner Ms Manpneet Grewal. Harbhajan Mann, a Pioneer in Punjabi Music & Film Industry will pack in a lot of surprises in the movie as he has been cast in a completely different look. "The star cast & crew of 'Gadaar-The Traitor' recently held a tour of Malaysia and the event also saw participation by the Sultan of Malaysia, who expressed his desire to see Gaddar at the time of its release." shared Harbhajan Mann.
The USP of the upcoming movie is the way Harbhajan has been presented in a new avatar of a business tycoon, who loves to live life on the edge. With Evelyn — an International star and many other unique aspects, the movie will be a really interesting offering by Punjabi Cinema.