Urge to Ban E-Cigarettes in Haryana : Chandigarh based Citizens Awareness Group (CAG) and Consumer Voice had urged Haryana Chief Minister; Health Minister and Health Secretary to ban e-cigarettes in the state on the lines of Tamil Nadu. Both are NGOs has been working on tobacco intervention over the years.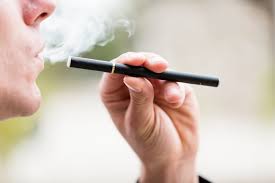 The communications to Govt mentions about the recent advisory issued by the Union Ministry of Health and Family Welfare dated August 28, 2018 asking all states and UTs to ban the sale of E-cigarettes. Taking this advisory forward, the government of Tamil Nadu banned e-cigarettes in the state on 3rd September 2018 and became the 9th state to ban it.
According to GATS-2 (Global Adult Tobacco Survey) report 23 percent of adults in Haryana consume tobacco in some form or the other in which 32 percent constitute males and 6.3 percent females. Since e-cigarettes are being used to lure youth in the form of nicotine addiction who then slowly gravitate towards tobacco cigarettes this ban is urgently needed.
Electronic cigarette (E-cigarette, e-cig) is a battery-powered vaporizer which simulates the feeling of smoking, but without burning tobacco. Earlier considering the harmful effects of electronic nicotine delivery systems (ENDS), commonly known as E-cigarettes, states of Bihar, Punjab, Maharashtra, Kerala, Karnataka, Mizoram, Jammu & Kashmir and Uttar Pradesh have already banned them.
According to Surinder Verma, Chairman Citizens Awareness Group, "These newer forms of addiction are destroying our younger generations. Before it's too late we request our state government to completely ban e-cigarettes in the larger interest of public health and save our citizens from this nicotine menace."