NewZNew (Chandigarh) : US Ambassador Mr Richard R Verma along with his team of senior officials from the US embassy invited the industry from the Punjab region to collaborate, invest, partner and build business ties with their counterparts in USA, extending their full support in visa matters at an interaction organised by Confederation of Indian Industry (CII), at a hotel in Jalandhar, here today.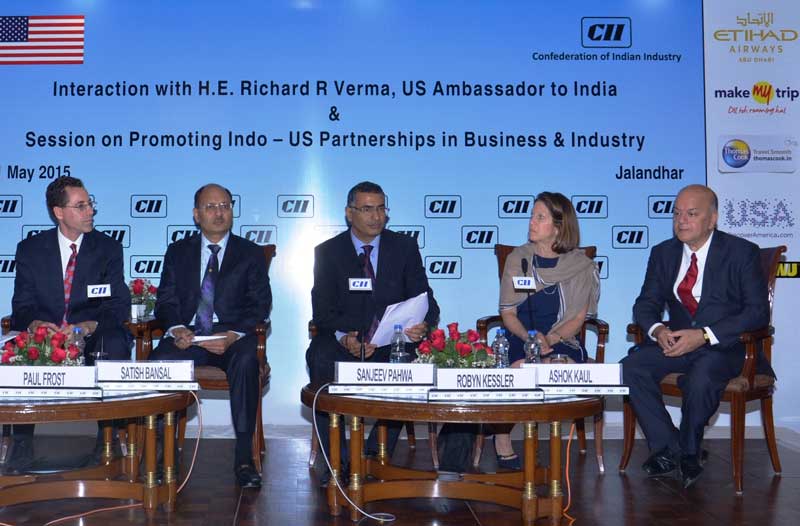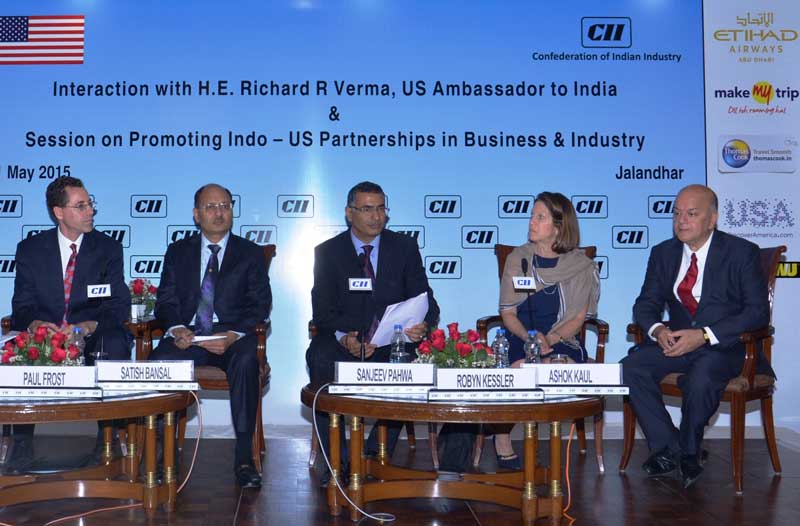 Mr Verma and his team showcased USA as an ideal investment destination for Indian companies from Punjab and north India region.
"The key sectors where you can excel in USA include mining, Tourism, retail, construction, healthcare, Automobile, skills, education, oil & gas, energy, Agri, Aerospace, IT & ITeS, Pharmaceuticals etc. We would try to make doing business as easy as possible for you in USA", added the Ambassador.
"India and the United States are true global partners with core elements of trade, investment and economic partnership cementing the foundation.  USA is open to issue visas to Indians in the lowest possible time with maximum approval rate. We are committed to accept or reject on a visa application in 8 – 10 minutes. We would aggressively assist Indians interested in travelling to USA for business or educational purposes. We understand that, over the years, Indians have played a very crucial and significant part in the socio economic progress of USA. Last year, we gave over a million visas to Indians including 1 lakh students. We would like to take this figure forward", said Mr Verma.
The objective of these sessions was to enhance engagement between both sides and takes the present relationship to the next level
Mr Sanjeev Pahwa, Past Chairman, CII Punjab State Council & Managing Director, Ralson India Limited in his opening remarks stressed on the fact that US companies can help the local industry to upgrade and become competitive, this would be a win win situation for both as it would make the local Industry competitive and at the same time also open new market opportunities for US based companies.
From US embassy, Mr Paul Frost, U.S. Embassy Officer, Commercial Section briefed the local industry members on various policies & procedures of investing in United states.
"Now is the right time to invest in USA as the current market in US is again picking up its pace", said Mr Frost.
Ms Robyn Kessler, U.S. Embassy Officer, Commercial Section highlighted that India is the US's 11th largest merchandise trading partner, 10th largest export destination as well as its 10th largest source of imports in 2013 and the vision of President Obama is to see that mutual trade which is currently at US$100 billion annually touches US $ 500 billion in next 5 years.
Dr Dinesh Dua, Vice Chairman, CII Chandigarh Council and CEO of Nectar Life Sciences Limited, who has considerable business interest with United States shared his experience on doing business with United States. Mr B D Bansal, Chairman, CII Amritsar Zonal Council in his closing remarks emphasized on the need to promote critical convergence of interests between the Indian and US business communities.
At the Session on Indo US partnerships in Travel, Tourism & Education, Mrs Kamna Raj Aggarwalla, Co – Chair, Special Task Force on Skills & Education, CII NR & Director, GDPA Fasteners spoke on the need to accelerate India's journey to a knowledge-driven economy, wherein she called for greater Indo US engagement to foster an ideal knowledge ecosystem through public-private partnerships and stronger industry-institute collaborations. Similarly on Travel & Tourism, Mr Aggarwalla highlighted that rising disposable incomes and fast growing middle class who have a penchant to travel & explore new lands, Travel & Tourism has the potential to be a key growth driver and a significant source of earnings for the economy on both sides.
Ms Rupali Mehta from United States India Educational Foundation (USIEF) made a presentation on Educational Opportunities at various levels that prestigious Institutes of United States offer and what are procedures & programmes that are aimed at assisting the student community to acquire the right skills.
Mr Shibu Mathews from U.S. Embassy, Commercial Section and Ms. Sheema Vohra from Brand USA spoke on various Tourist destinations that await Indian Tourists in United States  and also what are the various policies & programmes being promoted by US administration for promoting Travel & Tourism  Industry in United States.
Mr Sarvjit Singh Samra, Chairman, CII Jalandhar Zonal Council   & Managing Director Capital Local Area Bank in concluding address remarked that there are plethora of opportunities between India & USthat are expected to open for the new sunrise sectors of Travel, Tourism & Education. The onus is now on us, how to capitalize on these opportunities.