VR Punjab's Mad Mad Sale gives unmatched Joy to Lucky Winner: "Shop at VR Punjab and win a brand new Skoda Rapid Car as Bumper Prize!" What an amazing response this super exciting reward drew from the region!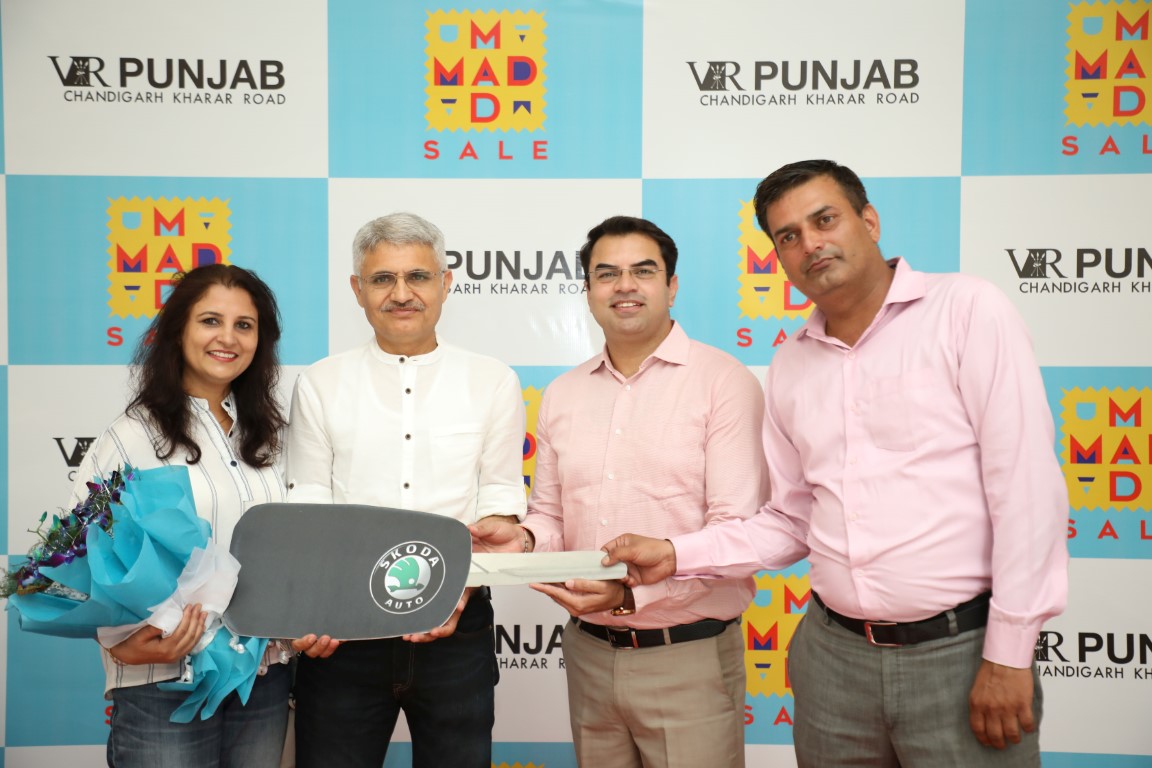 VR Punjab's "Mad Mad Sale", the super exciting and highly rewarding shopping bonanza, concluded today with the Bumper Prize of brand new Skoda Rapid Car bringing visitors in droves, who came and tried their luck over the course of the sale. However, it was Mrs. Nisha Sauhta who turned out to be the luckiest of them all as she bagged the Bumper Prize of this two-month-long super sale.
Read Also: Clensta Launches First Waterless Personal Hygiene Shampoo and Body Bath in Punjab
The much-awaited mega lucky draw was held in an environment charged with excitement as those who were eligible kept their fingers crossed and waited with bated breath. Many a heart missed a beat during the Mega bumper ceremony of the Mad Mad Sale festival when the lucky shopper's coupon was taken out of a box containing over 10,500 coupons.  Mrs Nisha Sauhta joy knew no bounds when her name was announced for the brand new Skoda Rapid Car as the Bumper Prize. "I was eagerly waiting for the draw to take place. This is a dream come true for me and my family," said an ecstatic Mrs Nisha.
Read Also: How To Choose Best Life Insurance Plan?
Along with the new Skoda Rapid as the Bumper prize, there were other rewards to be won like assured vouchers, weekly prizes of Domestic Holiday Destination etc were given away. The process for the Lucky Bumper draw was kept very simple. Customers were requested to shop at the participating outlets of VR Punjab and produce a minimum bill of Rs 5,000 and above on shopping or dining at any of the outlets at the Shopping Festival Experience Zone in the Social Hub of the shopping centrel, which automatically made them eligible for the Lucky Draw, which included exciting prizes presented on weekly basis.
Speaking on the occasion, Pankaj Renjhen, COO, Virtuous Retail said, "During the two-month long Mad Mad Sale, organised in association with our retailers, we received many entries for the Lucky Bumper draw. I am glad that the fun-filled festivities we planned have rewarded our patrons well. Our intention is to make our patrons feel proud of their association with VR Punjab and ensure that we are considered the favoured destination of people from the Tricity and beyond."
Various activities like interesting verbal games, customer interactions and musical performances among others were organised to make the shopping experience of visitors even more memorable across the Mad Mad Sale.