NewZNew (Chandigarh) : Life is all about smart experiences, be it looking at the pictures of your last holiday on your large TV screen, or pausing and recording live TV to have a video session with a friend abroad or watching the growing up years of your kid on your phone or tablet. People want everything at the swipe of their finger. Content consumption has witnessed a major shift and what was historically consumed on TV or newspapers only is now consumed on smart devices such as smart TVs, tablets, and mobiles. There has been an escalated demand for customized content, catering to specific preferences of individuals.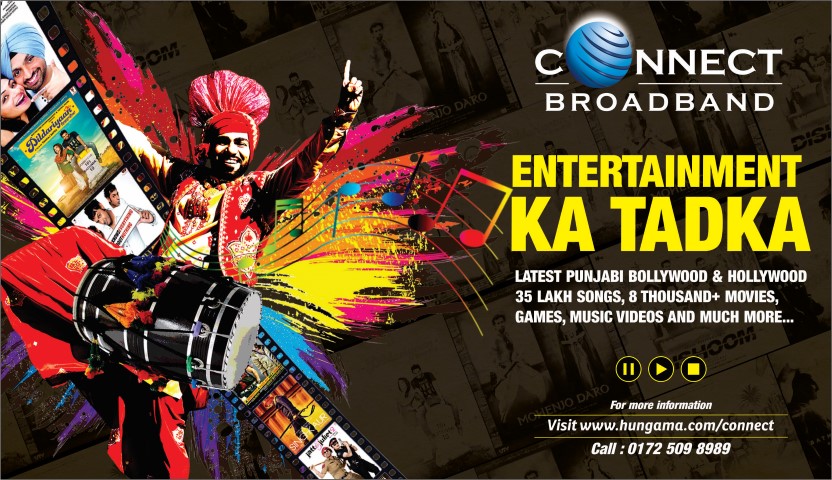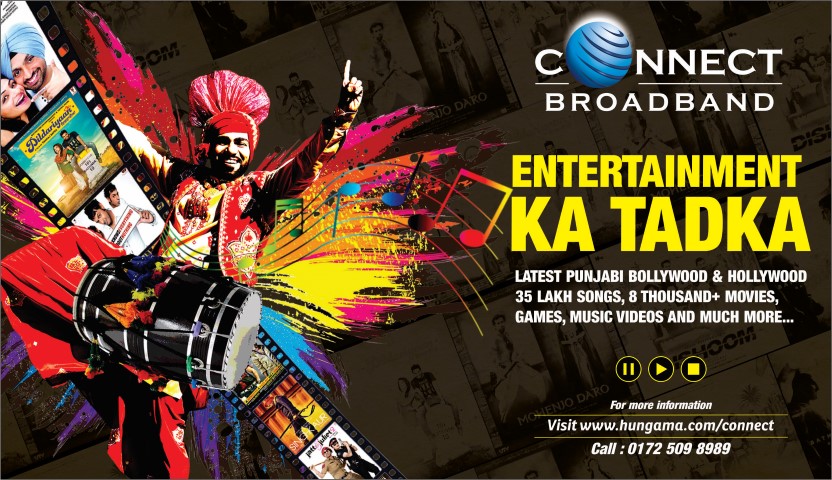 Internationally we have seen players like Netflix enjoying a huge market share, since viewers have a strong penchant for watching content of their like online. In India as well and we already have players like Hungama that has made a name for itself bearing the entertainment packed services it brings to the consumers.
However, a consumer cannot enjoy these diverse services if they do not have internet with a strong network or connection. One needs high speed internet with consistency to enjoy entertainment online.
Connect Broadband, the market leader in Broadband and fixed line services in Punjab, being the precursor of outstanding internet services on a reliable and competent network, has always worked towards giving something extra to their customers.
A family can consume about 150 GB of data a month and Connect Broadband customize their plans to cater to the specific needs of each of their customers at competitive cost. Connect Broadband has come up with plans where speed goes as high as 100 MBPS on FTTH services and also provides internet on technology where speed goes up to 8 MBPS with the future plans for the same to go as high as 40 MBPS.
Connect Broadband has aggressively focused on catering to the rapid rush for online entertainment as well, and thus, has collaborated with Hungama – the eminent entertainment provider, to make Hungama's on demand services available exclusively for its customers. Hungama has the largest movie collection having approximately 8 thousand movies including some of the most watched movie titles and about 35 Lac songs. Connect Broadband customers will have the access to all these prominent movies and music without any buffering sessions, thanks to the supersonic internet speed that the company provides.
Entertainment has forever been the foremost demand of the masses and for online entertainment speed is indispensable. Connect Broadband's tie up with Hungama is an idyllic combo of speed and entertainment, Where people will be able to enjoy unlimited dose of entertainment on a speed that is unparalleled. Connect Broadband relentlessly dedicates itself to maintain quality, reliability, and velocity so that people can enjoy their leisure time with more movies, more music and many more games.
Speaking about content and a massive increase in demand for entertainment, Mr. Arvind Bali, CEO, Connect Broadband and Videocon Telecom said, "Connect has its priorities set and thus our plans are loaded with data at economic costs. Online entertainment is the demand of the hour and Connect is dedicated to provide quality content, full of authentic entertainment for its customers. Connect Broadband is committed to speed and quality where the focus is on providing an unperturbed web experience. Our services aim to provide an unrivaled experience on a speed that guarantees an unperturbed online experience".