What Are The Advantages Of Upgrading The Graphics Card?: All computers come with a graphics card either built into the motherboard or pre-installed on the motherboard but it may still be possible to replace the old graphics card and install a new one.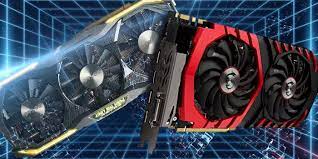 Installing a new graphics card can have a huge impact on a computer's performance only if the graphics card is an upgrade over the computer's current GPU, otherwise, it will further slow down the computer. The card can also improve the computing experience by freeing up memory and playing the videos in a better way. Let's have a look at the advantages of upgrading the graphics card:
1. Better Video Performance
Installing a new graphics card can improve the video performance of your computer. Video Performance means how well your computer plays and edits video. A good graphics card can help you with the video editor and get it to work faster. With a new graphics card, you will be able to edit and render videos much faster because it has its own memory and resources which can increase the speed of rendering. 
Plus, a new graphics card also means improved video playback quality since the memory and resources of the graphics card can also contribute to better video playback. If you have a heavy graphics card then your computer won't have any kind of issue with high-definition videos and multiple videos at once, a problem that is seen with computers that have a weak GPU. A good graphics card also helps your computer to compress and process videos much faster. 
2. Smooth Computing Experience
The computing experience also gets much smoother when you install a new graphics card onto your motherboard. While you may not necessarily need a graphics card to perform regular computing tasks such as surfing the internet, making presentations, playing games online, using online tools such as Anagram Solver to solve different anagrams, etc but installing graphics can make the whole experience much smoother. 
The latest Operating System including Windows, Mac, and Linux integrate the latest graphical features from the graphics card to enhance the user experience and it results in a smoothing computing experience, something that is not possible with a built-in graphics card.
3. Improved Gaming Performance
Anyone who is a gamer or into gaming knows how much of an impact a graphics card can have on a computer's ability to play games. For gaming, the most important piece of hardware is a graphics card and the computer's ability to play games certainly depends on the GPU or Graphics Card. If the graphics card is a new one then the computer might have no problems at all running all the latest while if the graphics card is old then it will hinder the computer's ability to run the latest games.
Sometimes, a computer may be heavily specced but the graphics card is just a normal one and doesn't meet the requirements of the game due to which that game might not run on the computer. 
The built-in graphics cards are usually weak and not able to run all the latest games. An external, new graphics can help a computer run most of the latest games and it is usually a cheaper option to buy a new graphics card and install it than buying a new computer. 
4. Free Up Memory
Most of the modern-day graphic cards come with their own dedicated memory while others usually, built-in graphics cards share the computer's memory. If a built-in graphics is sharing the computer's memory then it will not slow down the computer but also use a lot of memory or RAM if you're doing a heavy task such as video editing or playing games. If the memory is really low then even the simplest of the tasks such as browsing the internet to use any online tool such as Scrabble Word Finder or opening multiple web tabs at once can cause your computer to completely freeze.
In such cases, installing a graphics card will resolve the problem and free up that memory that can be then used by the computer for other tasks. Even installing a graphics card that is equivalent to the built-in graphics card will improve the performance since the external graphics card won't be sharing the computer memory and it will result in improved performance. Plus, the extra memory that gets freed when you install a graphics card can contribute to a huge performance boost.
5. Budget-Friendly
If your performance is lagging and you're thinking of upgrading then perhaps a cheaper option would be to just upgrade your GPU or graphics card. It is more costly to buy a new CPU than to upgrade your graphics card. 
It would require a lot of money for you to buy a new CPU that will give you high-quality performance whereas you can just spend a few hundred bucks and attain the performance that you want just by upgrading your computer's graphics card.
It doesn't matter whether you are a gamer or not, if you want to improve the performance of your computer and make it faster then perhaps it is time for you to buy a new graphics card.