World Cancer Day: Sahayta Charitable Welfare Society releases financial aid to needy patients : Sahayta Charitable Welfare Society celebrated World Cancer Day in a meaningful way in Sahayta Cancer Kendra, Sector 15 B, Chandigarh.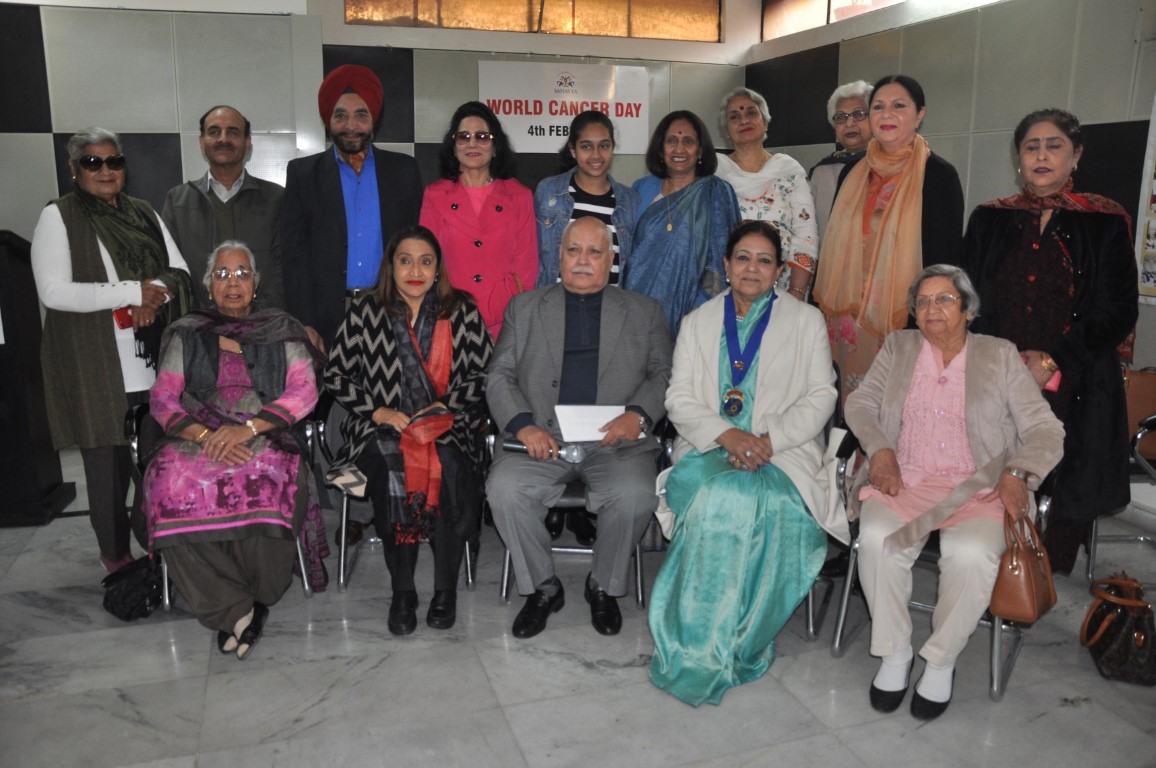 "As part of our endeavour to provide holistic help to cancer patients, our patrons and supporters in the memory of their loved ones, gave the much needed financial help of Rs 10,000/- to each of 25  needy patients and their families." Said Ajay Tulli, Adminstrator, Sahayta Charitable Welfare Society.
Renu Saigal, President , Sahayta Charitable Welfare Society & who is also a cancer survivor said, "We decided to help those patients who were in need of finances to meet treatment costs. All the recipients who were given financial aid were from the economically weaker section. The idea behind the event was also to inspire people from different strata of society to come forward and help alleviate the pain of cancer being suffered by needy patients. "
Dr.(Mrs) Swatantar Kapoor , Founder Secretary , Sahayta Charitable Welfare Society was also present. The cancer survivors present at the event included Rashmi Bindra – a well known fashion designer of city, Ranjana Tulsi, from Survivors' Club and a Mammography Hospital Volunteer, Daman Mangat, Gurpreet Khaira and Sonia Virdi.
Those who donated for the noble cause were  – Arvind Tuli, Ankush Tuli, Mrs. Toor, Satnam Singh Loomba, Mrs. Shanti Saigal, Saigal Sisters, Dr. Suman Setia, Dr. Vig, Udit Ghai, Neelam Gupta, Indu and Indira, Sonia Virdi, Sweety Soni, Nitika Gupta, Shelly Mandher, Jasjit Singh, Alka Gupta, Asha Kahlon, Mrs. Surjit Kaur, Group Captain Padam,  Padam Vaid, Manpreet, Mrs. Umesh Jindal, Nimmi Sahdev, and Diamond Club.
The beneficiaries included Bala Devi, Vandana, Sheetal, Bala Ram, Sadhana, Archana, Garima, Nishi Rani, Govind, Meenu, Jasbir Kaur, Sangeeta Devi, Karamjit Kaur, Sutaram, Sangeeta, Lata, Aayush, Prince, Neeraj, Amrit Pal, Astha, Meenu, Anshika, Shivam, Sonu. All of these people are suffering from cancer and were happy to have received the financial help. Many patients were children.
Apart from providing financial help to needy cancer patients, Sahayta Charitable Welfare Society also observes 'Pink October' as Breast & Cervix Cancer Awareness Month, and organizes a 'Breast Cancer Walkathon' every year. The society's aim is to generate awareness about prevention of cancer and it holds events and interventions on a regular basis to fulfill the objective.
It is noteworthy that Sahayta Charitable Welfare Society since inception, has helped over 2000 needy cancer patients.