WPO to Celebrating 550th Birth Anniversary of Guru Nanak Dev Ji World Wide: The press conference being organized by World Punjabi Organisation (WPO), Chandigarh Chapter on the occasion of celebrating Baisakhi and honouring prominent Punjabis who have done proud for humanity together with performance by folk singer Jasbir Jassi and cultural programme depicting Punjabi culture and heritage.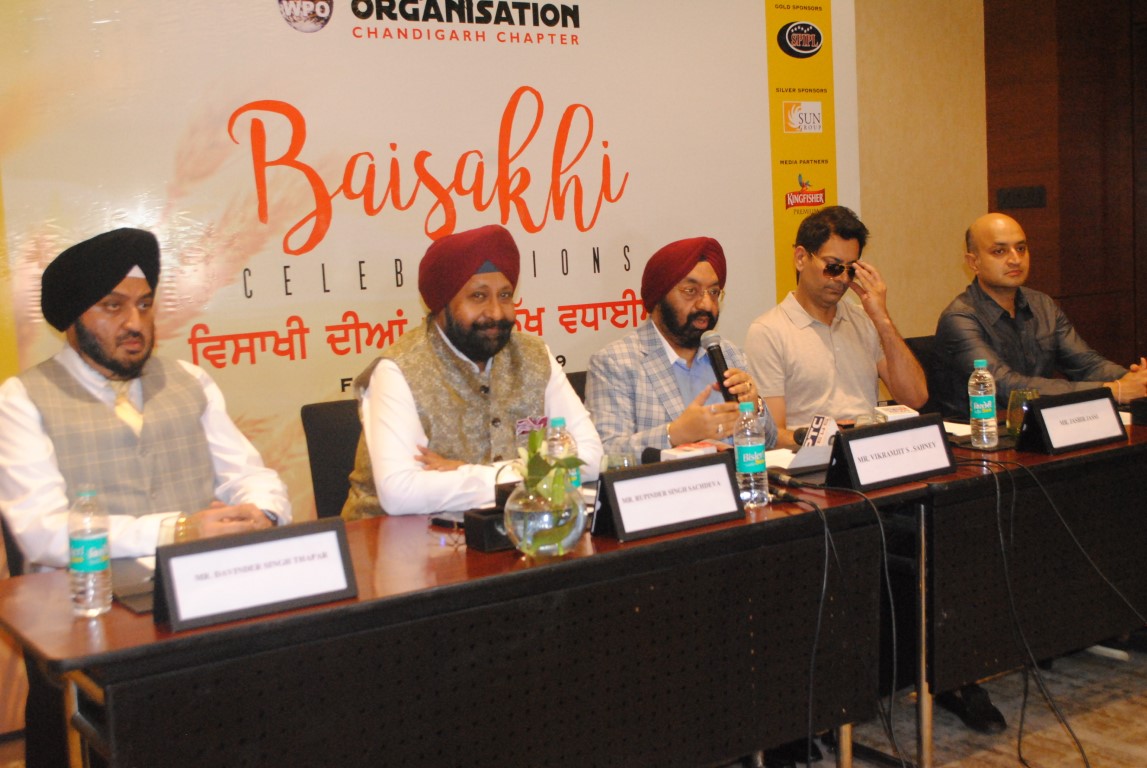 Speaking on the occasion, Chief Guest Padma Shri Vikramjit Singh Sahney, International President of WPO on this occasion announced that WPO will be opening Skill Centres in Punjab for economically weak youth of Punjab where they will get free skill training in different streams and will help them in getting jobs through industrial members of WPO. WPO and Sun Foundation, headed by Mr. Sahney, is already running drug rehabilitation centres in Amritsar, Taran Taran and Jalandhar and are providing skills to these youth.
Shri Sahney also announced that forthcoming Guru Nanak Dev Ji's 550th birth anniversary will be celebrated by WPO chapters in UAE, UK, USA, Canada starting from neighbouring countries like Nepal, Bangladesh, Iran, Iraq, Saudi Arabia etc. where Guru Nanak Dev Ji travelled spreading the message of love and peace.
 Rupinder Singh Sachdeva (President of WPO- Chandigarh Chapter), said that 'WPO is proud to celebrate Baisakhi as a mark of zeal & zest, bravery and enterprise to Punjabis. We have been doing lots of Social and Charitable activities before and also supporting the juvenile students and youth as much as we can in any form.
Davinder Singh Thapar (General Secretary- WPO- Chandigarh Chapter) and Karan Gilhotra (Treasurer- WPO- Chandigarh Chapter) added on to it by saying 'that it is also a platform to uplift economically weaker Punjabis for their betterment and to promote rich Punjabi culture, Folk, Language and Literature to inculcate high social values.'
World Punjabi Organisation (WPO)-a non-political international body to bring about 'Punjabi Renaissance' with Shri I.K. Gujral, former Prime Minister of India as its Chief Patron, has an outreach in over 22 countries including UK, US, Canada, Middle East, South Africa, Thailand, Singapore and SAARC Nations to foster social, economic & cultural bondage and Universal Brotherhood. Since its inception in 1999, WPO has undertaken several activities & projects like:
Formation of World Punjabi Parliamentarian Forum;
Showcased mega light & sound shows like 'Bole So Nihal', 'Guru Manyo Granth', 'Satguru Nanak Pargatya' & 'Sarbansdani' globally;
Helping '84 sikh riot victims families by organising marriages of their daughters;
Celebrating Guru Nanak Devji's birthday celebrations at President & Prime Minister's house;
Led friendship delegations & annual Punjabi conferences in Thailand, Dubai, London, New York etc. 
scholarships to deserving and needy students;
Instrumental in installing an equestrian statue of Shere Punjab Maharaja Ranjit Singh in Parliament House of India;
Recently organised Premier of film 'KESARI' – based on the true story of one of the bravest battles that India ever fought – the Battle of Saragarhi fought by 21 brave Sikhs against 10,000 Afghan invaders – and promoted it internationally.