The world's first of its kind online Numismatics (coins), Notaphily (currency notes ) & Philately (stamps ) museum with free access by registration
Launched with an objective to impart and share knowledge and create interest for general public, students, scholars, collectors, buyers & sellers
Facilitates online storage of rare coin, stamp and note images to be showcased to friends
Provides information on all national & international events, seminars, forums, etc.
NewZNew (Mumbai) : With an objective of reintroducing the joy and fun of coins, currency notes & stamps collection to modern India and its youth. www.mintageworld.com – the world's first online museum for Vintage & Current Coins, Stamps & Currency Notes was launched by Maharashtra State Chief Minister Hon. Shri Devendra Fadnavis.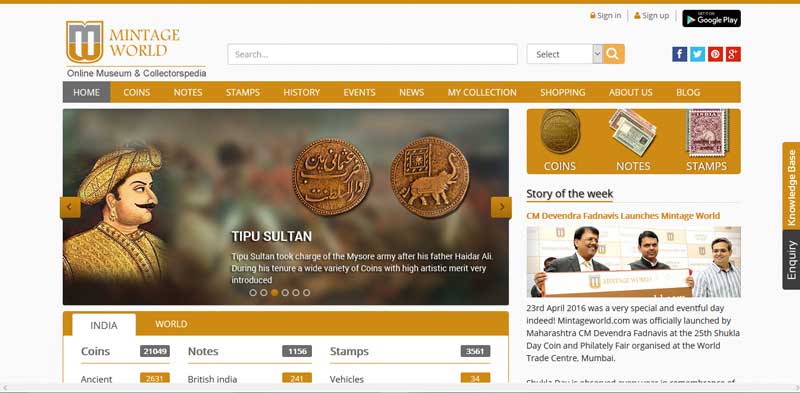 Mr. Sushilkumar Agrawal, CEO, Mintage World & Hon. Chief Minister unveiled it on the momentous occasion of the 25th (silver jubilee) anniversary of "Shukla Day" – India's largest annual exhibition on coins, currency and stamps, being held at the World Trade Centre. Several prominent personalities, collectors and celebrities graced the launch
Mintage world is a wonderful way to educate contemporary India and the world about our rich historical heritage, tradition & culture. This online museum will impart rare information such as detailed catalogue of stamps, coins and currency notes all under one roof. Fascinating & interesting history section on coin issuing authorities, dynasties and rulers will be one of the major highlight of this site.
The sole vision behind this initiative is to provide a single point of access to seek and share information and knowledge of these three fields along with its global updates. It brings together experts and researchers to share their experience with the lovers of these rare collectibles. This initiative will help reemphasize the glorious history, arts and cultural legacy of India and put our country on the global map of collectors.
After the launch Honorable Chief Minister of Maharashtra Shri Devendra Fadnavis said "I congratulate Sushilkumar for creating a dedicated online museum to us and Shukla Day organizers forgiving such a wonderful chance for collectors. If we want to know our history culture and tradition then it needs to be known thru its stamps coins and currency notes. Through mintage world & shukla day we can preserve the collections and also put it up for auction. Once you see this you can travel into history. I love history and this is a wonderful way for me to revive my love for history."