Yoga meditation is a way of life and food for your Soul says Swami Smaranananda Giri : "Focus is very important in life in times when we have so many distractions like mobile phones, television etc. We must use them but should not lose our focus and for good focus meditation was important. Meditation, he said was food for the soul, from which you get unconditional joy which is nourished with your soul", said Swami Smaranananda Giri of Yogoda Satsanga Society of India while speaking to media persons here today.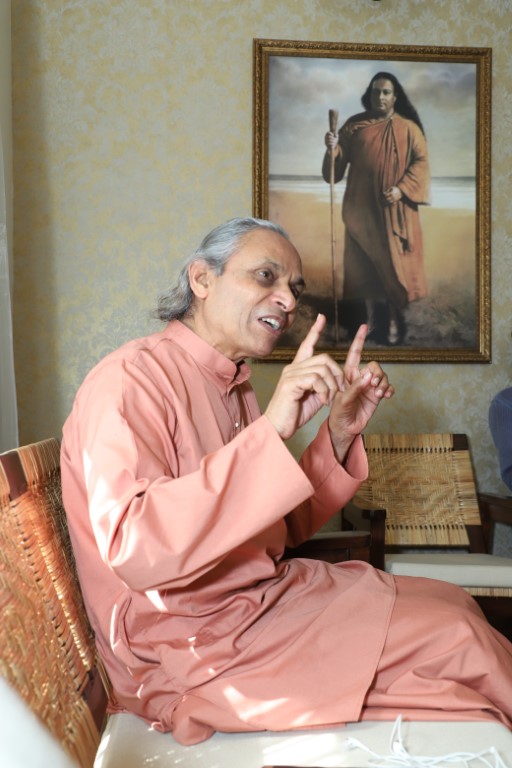 He is here for a public talk which will be held on Saturday at Tagore Theatre in Sector 18 at 5:30 p.m. The Topic of the Talk would be 'Winning the Battle of Life Through Meditation'. The talk is being organised as a part of 125th birth anniversary of Sri Paramahansa Yogananda.
The Talk would be based on the teachings of Sri Sri Paramahansa Yogananda, Author of the world famous spiritual classic, the Autobiography of a Yogi, which has been translated into over 50 languages and is a global best seller. The Autobiography of a Yogi has enabled millions of people across the world to understand the deeper meaning of life and learn about the importance of Kriiya Yoga which is the highest science known to mankind to attain self-realisation.
Swami ji said a little bit of yoga and meditation will save you from fears. There is so much of anxiety is there in everyone's life but that can be conquered and we can come out of struggles.
He said, "We can be calmly active and actively calm and all this can be done with yoga meditation. Inner security is important and that comes with yoga meditation and external things do not matter. Pranayam gives you inner security and you come in direct contact with God."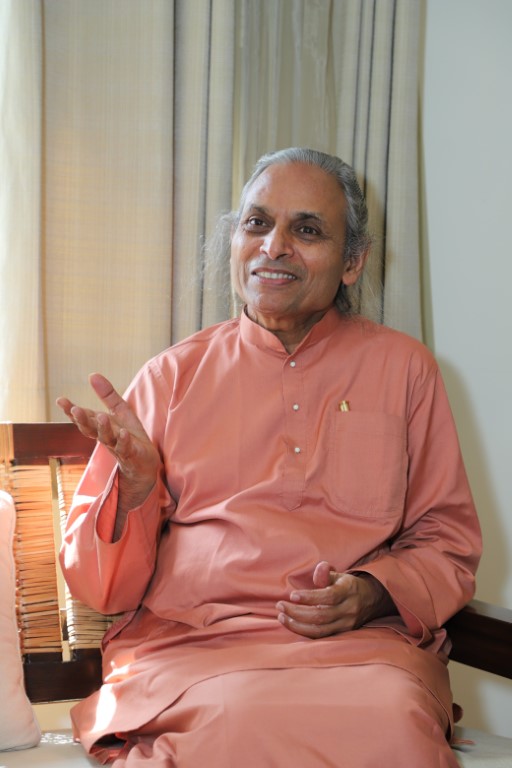 Swami Smaranananda Giri also stressed that we are all facing so many problems like health ailments, financial problems etc. and removing the root cause was the main objective and the cause of all problems was ignorance of divinity which we have within and we have to realise it by maintaining contact with God. He said Yoga meditation is a way of life and even a householder can practise yoga meditation.
Swami Smaranananda Giri is the General Secretary of Yogoda Satsanga Society of India, founded by Sri Sri Paramahansa Yogananda in 1917.  The Society is involved in various spiritual, humanitarian, and charitable activities, and in the spread of the Kriya Yoga teachings of Paramahansa Yoganandaji in the Indian sub-continent.
Swami Smaranananda is a Post-Doctoral Fellow from Concordia University, Montreal, Canada, and a Ph. D. in Electronics and Communication Engineering from I.I.T., Kharagpur, and a Gold Medalist in School Final and in Engineering.   Swami Smaranananda worked in many universities and in industry before joining Yogoda Satsanga Society as a sannyasi in 1985. He was recently honoured by IIT Kharagpur as a distinguished alumnus of the prestigious institution.
Swamiji has spoken extensively at premier institutes and organizations, in India and abroad, on the science of yoga meditation, and its efficacy in overcoming stress, anxiety, fear, and worry – and to tap into man's tremendous innate potential. He has delivered a TEDx talk, and was interviewed by many magazines and TV channels including Doordarshan.
In 2018, the Government of India in recognition of the spiritual stature, achievements, and
contributions of Sri Sri Paramahansa Yogananda, has decided to celebrate his 125th Birth Anniversary by publishing his teachings, and organizing public talks and seminars across India to disseminate his yoga-meditation techniques.