Sant Nirankari Charitable Foundation organized 20th Blood Donation camp with the blessings of Nirankari Satguru Mata Sudiksha Ji Maharaj at Nirankari Satsang Bhawan, Phase-VI, here today. Sh. Karnesh Sharma Ji, IAS, Director, Local Government, Punjab, inaugurated the camp. In the camp devotees 656 including 120 women devotees donated blood.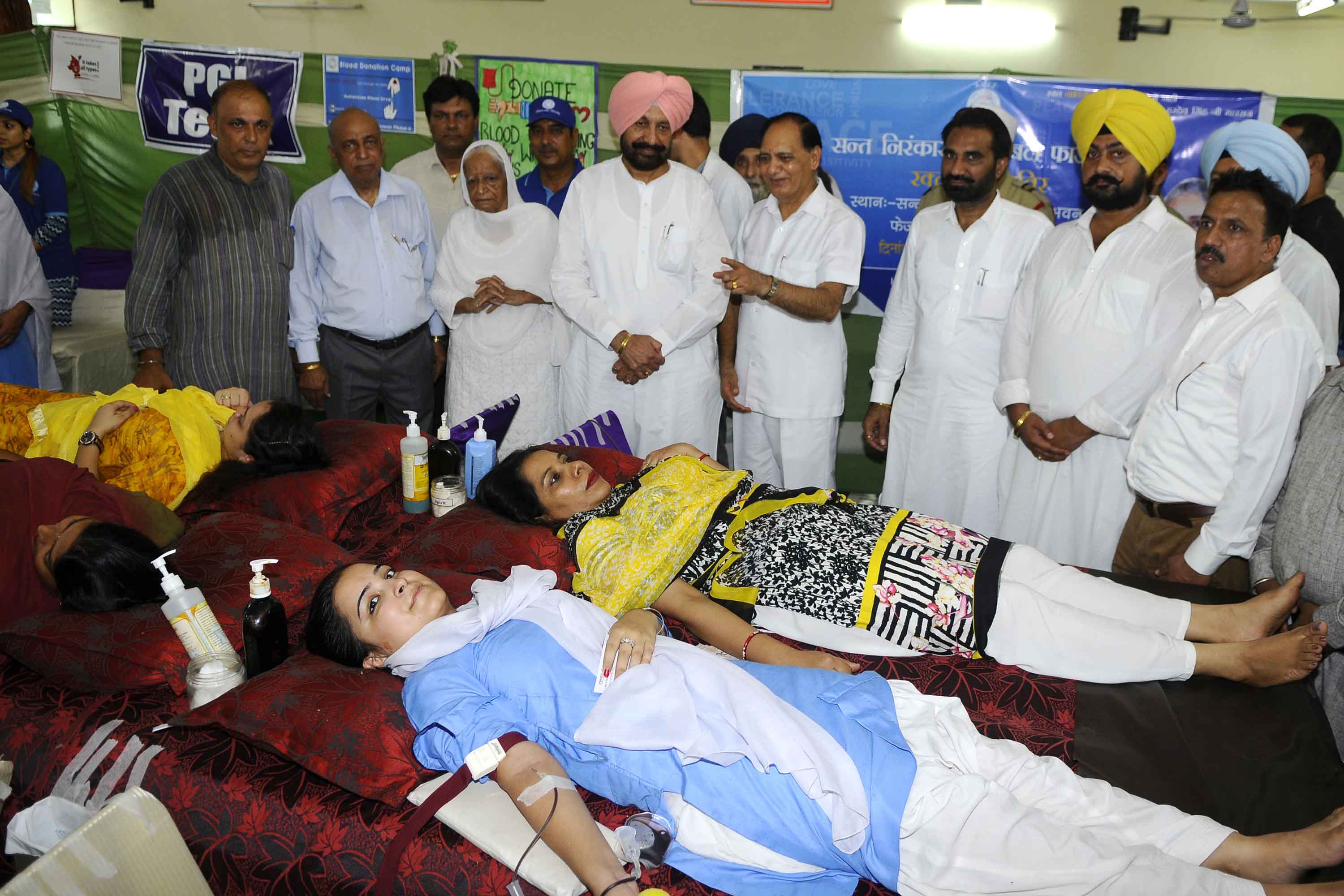 On this occasion Sh. Karnesh Sharma said that Nirankari mission is doing commendable and impeccable work in the field of blood donation. He suggested that most of the North Indian possess positive blood groups and we lack negative blood groups. He suggested keeping negative blood donors for emergency purposes only.
Sh. Balbir Singh Sidhu Ji, Cabinet Minister (Animal Husbandry & Diary Development and Labour) being a special guest said that blood donation is the highest donation in the world. It's the best way to serve the humanity and Nirankari mission is doing a superlative work in blood donation.
Chandigarh Zonal Incharge Sh. K.K. Kashyap Ji welcomed all the dignitaries and donors. Nirankari Baba Hardev Singh Ji Maharaj used to call it the great service to the humanity. He inaugurated the first camp (1986) by donating blood himself. Today, the devotees are following his footsteps and that is why Nirankari Mission is the foremost organization in blood donation. Sh. K.K. Kashyap Ji further said that in the year 2018-19, 22 blood donation camps will be organized in the zone no.2, out of which 8 camps were successfully completed. Since the inception of blood donation camps in 1986, total 5560 camps were organized and 9,52,502 units were donated by the devotees as on 31.03.2018.
A team of 16 members from Blood transfusion department, PGIMER with team leader Dr. Ashish Jain Ji, Additional Professor, a team of 16 members from General Hospital, Sector-16, Chandigarh with team leader Dr. SimarJit Kaur Ji and a team of 12 members form Blood Bank Civil Hospital, Mohali having team leader Dr. Mandeep Aulakh collected blood.
Mohali Sanjyojak Dr. Jatinder Kaur Cheema Ji, Kshetriye Sanchalak Sh.Atam Prakash Ji, Sanchalak, Dr. K.A. Garg Ji thanked all the dignitaries and donors for their participation. Dr. Cheema Ji said that the motive of these blood camps is to spread the message of Baba Hardev Singh Ji that "Blood should flow in veins and not in drains."
In addition to the donors from Mohali branch, donors from branches of Saidpur and Kharar also participated in the camp.