80% of all oral cancers are related to tobacco use – Dr Deepak Singhla: To Create awareness on "Tobacco related Cancers in India" team of Doctors from Paras Hospitals Panchkula meet Media.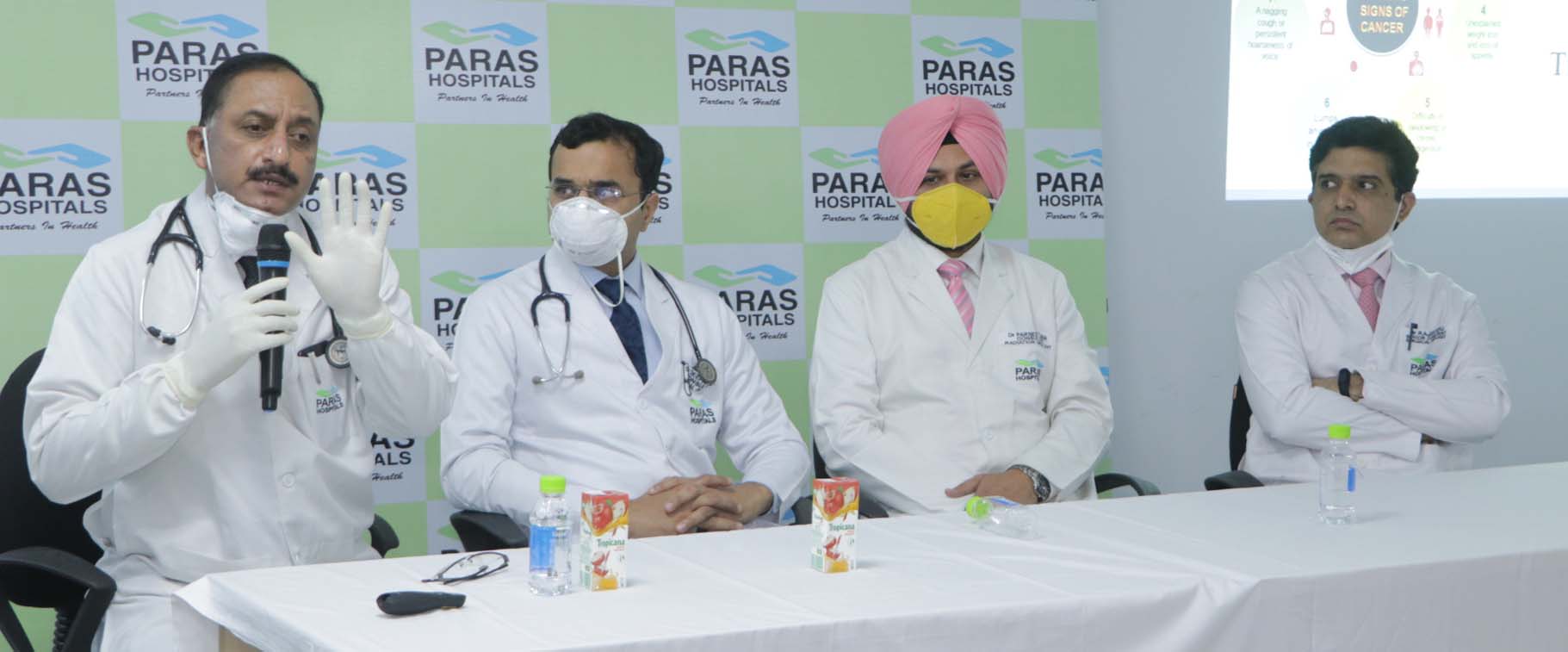 Present on the occasion were Dr. Brig Rajeshwar Singh, Director Medical Oncology, Dr Rajan Sahu, Sr. Consultant Surgical Oncology, Dr Deepak Singhla, Sr. Consultant Medical Oncology & Dr Parneet Singh Consultant Radiation Oncology, from Paras Hospitals Panchkula. Also Read: Rotary Club Chandigarh joins hands with Paras Hospitals
Speaking on the occasion Dr Rajan Sahu said "2.25 Lac Head & Neck Cancer cases and 1.25 lakh oral cancer cases are deducted every year in India and whereas 5.5 lakh every year cases of head and neck cancer in world. India is the second largest producer and consumer of tobacco in the world after China with 275 million tobacco users.
Statistics also show that 80 per cent of adults use some form of tobacco in India. At Paras Hospital now all type of advance Head & Neck surgeries are being performed on regular basis and we are getting advance Oral cancer cases from Tricity, Himachal, Karnal, Kurukshetra, Yamaunanagar, Saharanpur etc. Also Read: Paras Super Speciality Hospital to create Awareness on Brain Tumors
Speaking on this occasion Dr Brig Rajeshwar Singh said "India is known as the 'Mouth Cancer Capital of the world' as around 57% cases of global head and neck cancers are seen in India. Chewing tobacco and gutkha contribute to 90 per cent of oral cancer cases in the country, He also shared that one third of the cancers prevented by Lifestyle modification. Also Read: 7-Month-Old Infected Open Fracture Cured At Fortis
At Paras Hospital, we have one of the biggest and most advanced day care center to take cases of all type of Cancer patients and a Tumor board approach is being followed at Paras , wherein all cases are discussed in team of Doctors , before concluding  final Treatment for the patient . "India's younger population and the long-standing use of tobacco, is the main cause of cancer in the country and responsible for 40 percent of cancers in men and 20 percent in women.
Speaking on the occasion Dr Deepak Singhla said that  tobacco-related cancer cases include cancers of the head, neck, lungs, oesophagus and these have been rising steadily over the last 8-10  years. Head and neck cancers form for the largest chunk of this. "While there have been attempts to deter cigarette smoking either through taxation or banning it in public spaces, no such attention has been paid to other tobacco products such as gutka which one of the major source of oral cancers.," he said "
Sharing her experience Dr Parneet Singh said "Radiation therapy involves delivering powerful waves of energy to disrupt the ability of cancer cells to grow and divide, killing cancer cells, slowing their growth, and shrinking tumors to enable surgery". Also Read: No guarantee any Covid vaccine in development will work: WHO Chief
Now North India's most advance Radiation Therapy & PET CT services are now available at Paras Hsopital Panchkula. This advance technology offers 13% improved diagnostic accuracy, 20 % improved Satging accuracy, 46 % improved Tumor deduction & 36 % reduced unwanted procedures.
On the occasion, Mr Ashish Chadha , facility Director Paras Hospital ,  shared that Paras  Panchkula runs one of the Biggest Comprehensive Cancer Center in Panchkula Region west Delhi and out team of Cancer Specialties are trained in Leading Cancer centers in India, US & Europe and they offer organ specific approach for Cancer treatment . He also share that Paras Hospital Panchkula in on panel of Haryana Govt, Himachal Govt, CGHS, and all Major TPA & Corporates  for all type of Cancer Treatmen.