A Beginner's Guide To Custom Healthcare App Development in 2022: The surge in remote practices has been among the largest fallout effects of the pandemic. Education, shopping, and even healthcare have all gone digital to keep us safe and prevent the disease from spreading.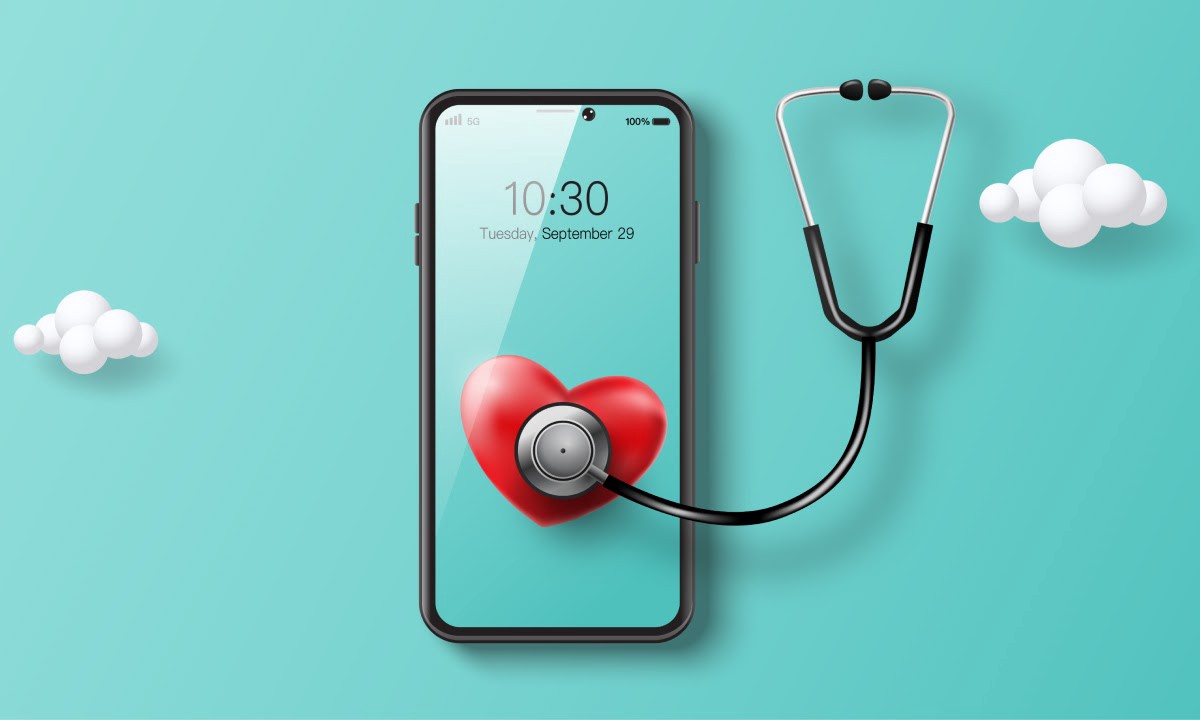 In particular, virtual healthcare is now being embraced like never. The global mHealth solutions market is expected to hit $213 billion by 2025. That is a rapid swell from $50 billion in 2020.
The growing proliferation of online services, technology, and demand for home healthcare services will further reinforce the adoption of mHealth solutions. Therefore, there has never been a better time to invest in a medical app.
With that in mind, we'll walk you through the nuances of building a mobile medical solution as well as dwell on the average costs of mobile app development.
Most popular types of medical applications
Healthcare app development doesn't boil down to doctor-patient synergy. The landscape of medical solutions is diverse, introducing different types of applications. So before going into high gear, make sure you know the difference between all of them. The end-user and goal of your solution will lay the ground for core functionality.
Doctor-facing applications
All medical solutions can be divided into two large groups – doctor-focused applications and patient-facing ones. mHealth for healthcare professionals includes all types of mobile solutions that assist clinicians in their daily workflows. They include:
Clinical and diagnostic apps – to gather, process, and exchange patient data.
Professional networking apps – to help in professional development and amplify networking opportunities for doctors.
Remote patient monitoring applications – to supervise stay-at-home patients.
Clinical appointment booking apps – to aid in more effective and automated scheduling, mobile charting, and providing reference material to provide more accurate diagnoses and treatment.
Telehealth mobile apps (doctor-on-demand apps) – to render remote healthcare services with the help of telecommunications technology.
Mobile healthcare applications for patients
As the name implies, this type of medical application caters to the patient side. Most of these apps don't need to comply with stringent HIPAA or GDPR since they don't store sensitive patient data (meditation apps/lifestyle apps, etc.)
Reminder apps – include medication tracking apps or some health habits – to ensure regular medication regimen for drug's effectiveness.
Symptom checkers – to get a pre-diagnosis before scheduling an appointment.
Healthy lifestyle apps – to collect parameters like heart rate, sleep, physical activity, etc. for better wellbeing.
Condition management applications – to manage a chronic medical condition and collect vitals based on the target area.
Mental health apps – to help users self-manage mental health disorders or support general mind wellbeing by offering stress relief exercises or meditation routines.
Dieting apps – to guide users in pursuing their nutritional or dietary goals.
Women's health apps – period calendars or trackers.
As of 2021, patient-facing solutions constitute the majority of healthcare applications on Google Play and the App Store.
What are the benefits of mobile health applications?
A variety of health apps aim to help users effectively manage their health, fitness goals, hospital visits, or insurance payments. Telemedicine solutions can become a viable alternative to traditional healthcare – getting lab results, storing prescriptions, making appointments, and more.
Moreover, the added value of medical applications for the patient include:
Access to healthcare services for remote areas;
Facilitating patient scheduling process;
Preventing frequent clinic visits;
Increasing medication reconciliation accuracy;
Providing secure access to payment processing;
Enabling patients to monitor health conditions, etc.
Benefits of healthcare mobile solutions for clinicians include:
Increased patient loyalty and engagement;
Safe and convenient data storage and collection;
Minimized risk of misdiagnosis;
Eliminated mundane tasks and paperwork;
Increased time to be spent on providing healthcare services.
Overall, healthcare mobile app development holds great potential for innovating healthcare services and increasing the quality of personalized treatment. Medical apps bring us closer to precision medicine that provides more accurate treatment and prevention strategies for a particular condition.
What functionality do you need for a healthcare app?
Based on the app type, your development team will implement a unique set of features to cater to the end-user. Also, the overall pricing of the medical solution will stem greatly from the functionality. Therefore, every feature will be reflected on the bill.
To have a better idea of the core functionality, here's a set of features for a patient side:
Easy login and registration – to make the user uniquely identifiable within your app.
User profile – to fill in essential medical data.
Appointment scheduling – to allow for easier and faster doctor appointments.
Pill reminder – to keep track of medicine intake, sleep, water intake, etc.
Tracking – to monitor vitals.
Real-time messaging – to ensure seamless patient-doctor interaction.
Payment gateway – to enable a safe and more convenient payment process.
Reviews – to allow patients to share their treatment experience, etc.
If we're talking about doctor-centered applications, consider embedding the following features:
Registration – to make the user identifiable within the app.
Profile generation – to include professional credentials and experience information.
Dashboard – to have a holistic view of patients, appointments, cancelations, and others.
E-prescriptions – to provide a more convenient alternative to paper-based prescriptions and others.
The set of essential features will lay the ground for your Minimum Viable Product. The latter will have to secure the viability of your project and eliminate unnecessary development costs. Once you test your MVP with real-life users and collect valuable feedback, your development team will continue to enhance the app with nice-to-have functionality.
Within the realm of healthcare app development, advanced functionality may include:
Wearables integration;
Geolocation;
Analytics;
Voice and video calls;
One-click emergency service;
Report management, and others.
To make the most of your functionality and avoid overspending, consider following these pointers:
End-users should be at the center of your functionality and design.
Take into account the different types of users: patient-centered or doctor-centered.
Launch an MVP first to eliminate unnecessary features and focus on the most crucial functionality.
What are the costs of a healthcare application in 2021?
The cost of app development isn't easily estimated. First of all, the price depends on the country where your app development takes place. Secondly, the functional complexity will also drive the greatest part of the bill.
Moreover, mobile app development consists of certain stages, including requirement gathering, prototyping, design, development, and testing. Regardless of whether the app is complex or simple, it needs to flow through all stages, bringing forward new costs.
As for the rough estimate, the price range for developing a bespoke mHealth app varies from $50K to $600K. The total will adjust to the number of development hours, your timeline, cooperation model, and other factors.
Also, mind that developer rates are different by country. The US boasts the highest-paid mobile engineers with a median of $70–240 per hour. Eastern European vendors have a more favorable price-value ratio with an average of $55–150 per hour for the same amount of work.
The Final Word
Due to the healthcare digitization en masse, the market of medical app development is experiencing a swell in demand. According to Statista, the market of healthcare mobile apps has seen a 6.51 percent increase over the previous quarter and is expected to grow further. The new realities and a growing number of devices will also secure the popularity of medical solutions in the future.
However, creating a medical-focused mobile app is a complex process. Stringent regulations, unique functionality, and an avalanche of unstructured data call for a granular approach and a robust set of tech knowledge. Thus, before choosing a vendor, make sure they have a proven track record of successful healthcare projects, sufficient knowledge, and a compliance-friendly attitude.