Let us be Power prosumers rather than consumers – UT Adviser
UT Adviser nominates Brand Ambassadors to support UT's solar efforts
UT Adviser launches film on UT's efforts in solar power generation
CII, being the 1st brand ambassador, to install solar power plant on its roof top
NewZNew (Chandigarh) : "Though nationally, Chandigarh is a leader in solar power generation from government buildings, institutes, schools, hospitals etc, but to achieve our revised target of 10 Mega Watt (MW) solar energy generation, we need active support of the industry and all citizens of the city beautiful", emphasised Mr Vijay Kumar Dev, Adviser to Administrator, UT Chandigarh. He was addressing over 200 industrialists, entrepreneurs, academicians and representatives of various Resident Welfare Associations (RWAs) etc. at a Seminar on 'Be a Proud Solar Power Producer' organised jointly by Confederation of Indian Industry (CII) and Chandigarh Renewable Energy, Science & Technology Promotion Society (CREST) at CII NR Headquarters in sector 31A, here today.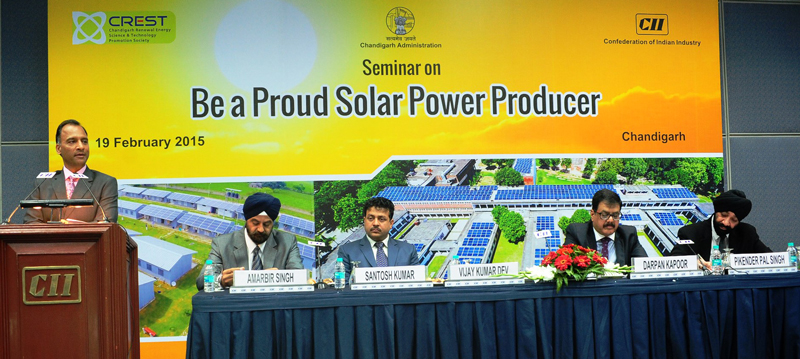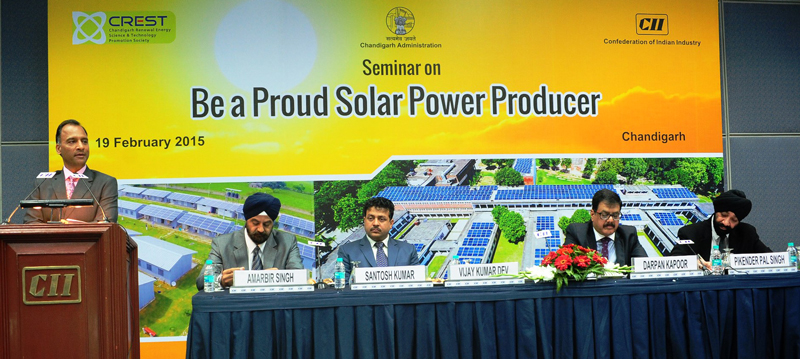 "Chandigarh, which has been selected as one of the model solar cities of India has immense potential of producing solar energy as it receives sunlight throughout the year. Now with JERC recently having announced 'Solar Power – Grid Connected Ground Mounted and Solar Rooftop and Metering Regulations – 2014, both the industry and citizens of Chandigarh stand to gain tremendously because now they can supply excess energy back to the grid, simply by putting up solar panels on their roof tops", added the Adviser.
"Hence I urge the industry and citizens from the city to become a producer of electricity while remaining as a Consumer also i.e. a "Prosumer" (Producer + Consumer) and collaborate with CREST to get benefit from GoI's subsidy. By installing solar photovoltaic panels on 1,10,000 rooftops available in Chandigarh alone, our city has a potential to generate 400 MWs of solar energy", further said the Adviser.
"Sunshine is free, lets use it till perpetuity", remarked the Adviser.
With the aim to promote solar energy and to attain the objective of net-zero energy houses / buildings and facilities, whereby the energy consumed is equal to or less than the energy produced by the building, the Adviser nominated the brand ambassadors who agreed to install solar panels on their rooftops.
These Brand Ambassadors which included Mr Pikender Pal Singh, CII NR; Mr Darpan Kapoor, Kapsons Group; Mr Vikram Hans, Multi Overseas (I) Pvt Ltd; Mr Nitin Peshawaria, Alvind Industries; Mr Man Mohan S Kohli, Hotel Aroma; Mr Amarbir Singh, Indian Polymer Industries; Mr Rohit Grover, JREW Engineering Ltd; Mr Atul Gupta, Pugmarks Design Studio; Ms Sangeeta Bhargava, Samridhi Placements; Mr Baljinder Singh, FOSWAC; Vinod Talwar, Chandigarh Jewellers' Association & Mr Ashok Khanna, Khanna watches would also further encourage, guide, assist and handhold more and more people to put solar panels on their roof tops and generate solar power.
The Adviser also launched a Film on CREST's efforts towards making Chandigarh a model solar city.
Assuring industry of his full support on various issues of concern to the industry, the Adviser said that "I am aware of the issues being faced by the industry and would try and resolve them as soon as possible. Further, I would facilitate and take all positive steps to make chandigarh industry an engine of growth"
Mr Santosh Kumar, Chief Executive Officer, Chandigarh Renewal Energy, Science and Technology Promotion Society (CREST) shared that the target of 1,00,000 MW solar energy generation set by Government of India can never be achieved without active support of Chandigarh and its industry & its citizens. Though we have installed solar PV panels to the tune of 2000 KW so far, in Govt buildings viz Paryavaran  Bhawan, Govt. Model Sr.Sec.School,Sec-46, Model Central Burail Jail, Sec-45 , Estate Office (D.C Office), Sector-17, Police Headquarters,   Sector-9, Govt. Medical College & Hospital, Sector-32, Govt. Multi Specialty Hospital, Sector-16, Govt. College of Commerce & Business Administration,Sector-42, Post Graduate College, Sector-46, Govt. College for Men, Sec-11, Govt. College for Girls, Sec-11 etc but still wee have a long way to go.
"The cost of solar panel being just Rs 3 lac for a 3 KW plant is quite reasonable so I urge more and more building owners to adopt solar energy. We are ready to provide full support. After JERC net metering policy, we have already received more than 100 applications in the last few months which is a very good sign", added Mr Kumar.
Mr Darpan Kapoor, Chairman, CII Chandigarh Council & Vice Chairman, Kapsons Group shared that "CII is ever committed to support Chandigarh Administration in its endeavour to make Chandigarh the 1st Solar city of India. CII, being its 1st brand ambassador would install solar power plant on its roof top and aggressively motivate and encourage its members to adopt the same. Our endeavour is to supplement the Administration's efforts to make Chandigarh the first smart city of India and reduce dependence on non renewable sources of energy".