The country's most popular singing superstar, Arijit Singh, The Soul Of Bollywood, is all set to wow the audiences over nine weekends, starting with Chandigarh on 28th January and then Pune on 3rd February. Nine different cities over nine weekends in the first part of the year are on the cardsafter commencing his first-ever 10-city India Tour in Kolkata. Royal Stag Mega Music Arijit Singh MTV India Touris a concert series produced by Wizcraft.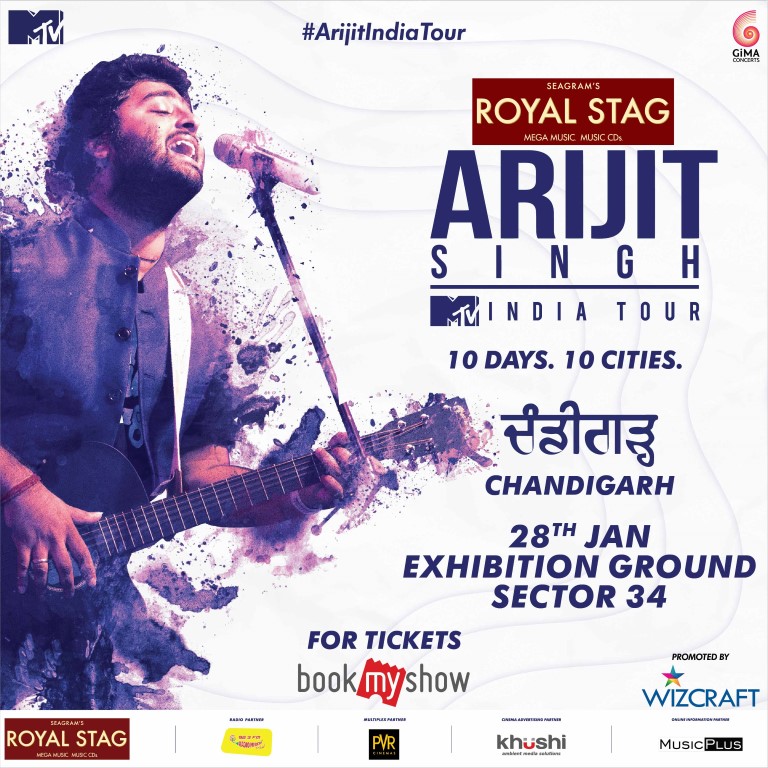 The concert series, an initiative of GiMA Concertswill now mark its footprint in other prime cities of the nation–Chandigarh, Pune, Delhi, Ahmedabad Bengaluru, Hyderabad, Indore, Mumbai and Raipur in the first leg of the tour.  The city line-up this 2018 begins with Chandigarh and Pune on 28th January and 3rd February respectively.
The singer, who has captured the hearts of over millions across the world, is all set to take the nation by storm with his chartbusters. Arijit Singh has sung over 150 tracks, won more than 50 popular awards, and has acquired a staggering fan base that's growing every year. Not only are his songs heard in India, but Arijit Singh has his fan following all over the world and has been recognized as the most-heard artist for four consecutive years.
To book tickets for the concert & to know more please visit: https://in.bookmyshow.com/concerts/arijit-singh-india-tour
GiMA (Global Indian Music Academy), a unique Wizcraft International initiative, is a pioneer when it comes to honoring talent in Indian Music. Over the 6 years, GiMA awards have given the Music industry a unified platform to celebrate and honor talent across various genres in Indian music, giving them the same importance and recognition.
GiMA has been successful in bringing together the music fraternity of the country on a unified platform to promote Indian music and musicians to positively impact the lives of musicians, industry members and society at large.
Taking this initiative ahead, GiMA presents – GiMA Concerts.  GiMA Concerts is an annual multi-city tour with an objective to celebrate the biggest music artists in the country, in a Live, never seen before format.
To begin with, GiMA Concerts have tied up with The most influential artist in India, Arijit Singh, his unmatched Bollywood songs has unified the nation. It is going to be Arijit's first ever India tour, taking him across 10 cities over a period of 4 months.
GiMA is powered by Wizcraft, one of India's leading Communication & Entertainment Company, integrating strategy, creativity and technology to provide unique experiences. Wizcraft's in-house brands include IIFA, GiMA, Star Guild Awards and Kingdom of Dreams. Wizcraft has successfully conceptualized, organized and executed large scale events & concerts such as the Opening and Closing ceremonies at the 19th Commonwealth Games, 50 years of Indian Independence Celebrations, Opening Ceremony at Hannover Messe (2015), Global Citizen India Festival, Michael Jackson Live etc.
MTV, world's premier youth brand, is a dynamic and a vibrant blend of music and pop culture. With a global reach of more than half-billion households, MTV is a cultural home to the millennial generation, music fans and artists.  50 MN fans following MTV across show pages on social media have made it one of the top brands in social influence as well. MTV consumer products are available across 35+ unique categories through strategic brand licensing tie-ups, leading to combined retail sales of 100+ crores present across all key online and off-line channels of distribution. In 2015, MTV also launched its first ever café in the world, [email protected] at New Delhi in India. MTV has a buzzing MTV Live business with properties like MTV Video Music Awards and MTV Bollyland. Aiming to entertain, lead and collaborate with young people through its evocative communication and youth relevant shows like Roadies, Splitsvilla, Coke [email protected], MTV Unplugged, MTV Girls on Top, MTV Love School and keep them engaged through various cause led initiatives such as MTV Rock the Vote and MTV The Junkyard Project. For information about MTV in India, visit www.mtv.in.com.
Viacom18 Media Pvt. Ltd. is one of India's fastest growing entertainment networks and a house of iconic brands that offers multi-platform, multi-generational and multicultural brand experiences. A joint venture of Viacom Inc. and the Network18 Group, Viacom18 defines entertainment in India by touching the lives of people through its properties on air, online, on ground, in shop and through cinema.
BookMyShow, (Bigtree Entertainment Pvt. Ltd.), is India's largest online entertainment ticketing platform that allows users to book tickets for movies, plays, sports and live events through its website, mobile app and mobile site. Founded in Mumbai (India) in 1999 and launched in 2007, BookMyShow is now present in over 650 towns and cities across India, currently meeting the entertainment demands of millions of customers. For more information, please visit www.bookmyshow.com.