– Fulfill all your dreams with Assured Nivesh Plan-
– Secure your family with Smart Suraksha Plan –
NewZNew (Chandigarh) : Canara HSBC Oriental Bank of Commerce Life Insurance Company adds two new products to its suite – Assured Nivesh Plan and Smart Suraksha Plan, both designed to protect and meet the future financial needs.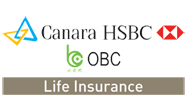 Assured Nivesh Plan is a traditional endowment plan that caters to the need of savings along with life cover in a single plan. This plan offers limited premium payment options where an individual pays premiums for a limited number of years and yet enjoys the benefits for the complete policy term.
Smart Suraksha Plan is a cost effective pure protection plan that provides insurance coverage against untimely death, thereby, helping one secure their family's financial future. A term plan is a must-have in the financial portfolio of every individual as it helps in preserving and sustaining the lifestyle of the family of the insured even when the individual is not around.
Anuj Mathur, Chief Executive Officer, Canara HSBC Oriental Bank of Commerce Life Insurance Company Limited said, "Our new set of products aim towards a sharper customer proposition, addressing short and long-term financial needs and also help in ensuring financial security of your family in case of any unforeseen circumstances. Assured Nivesh Plan helps in planning the financial requirements so that the customers have the means to fund their future financial goals without any compromises, thereby, ensuring a smooth life journey for their loved ones. On the other hand, Smart Suraksha Plan is a step towards offering a comprehensive suite of protection solutions to our customers."
Mathur further added," Our product philosophy is closely aligned to our bancassurance business model, where we focus on products which meet the core needs of the customers. All our products are based on market research among our target segments and the insights gained are used to define the various product propositions."
In a joint study released in September last year by FICCI & Canara HSBC Oriental Bank of Commerce Life Insurance Company Limited, it came out that savings for the future needs (75%) and security for the family (64%) are the top reasons for which the policyholders have invested in various life insurance products.
Salient features of the Plans are:
Canara HSBC Oriental Bank of Commerce Life Insurance Assured Nivesh Plan
Insurance coverage throughout the policy term through payout of death benefit in case of death of the life assured
Limited premium term of either 7 or 10 years depending on what suits you best
Guaranteed savings through guaranteed payout of Sum Assured at maturity
Maturity benefit with Annual bonuses & Final bonus (if any)
Better Value for higher premiums – through high Sum Assured rebate structure
Canara HSBC Oriental Bank of Commerce Life Insurance Smart Suraksha Plan
Option to cover accidental death or/and total and permanent disability
Rewards healthy lifestyle (lower premium rates for non-consumers of tobacco)
Additional rebate for women opting protection cover
Easy claims process – with a dedicated manager to assist the family in claim settlement