Astro Zindagi – Know your Starts for September 14-20: Astrology is a pseudoscience that claims divine information about human affairs and terrestrial events by studying the movements and relative positions of celestial objects.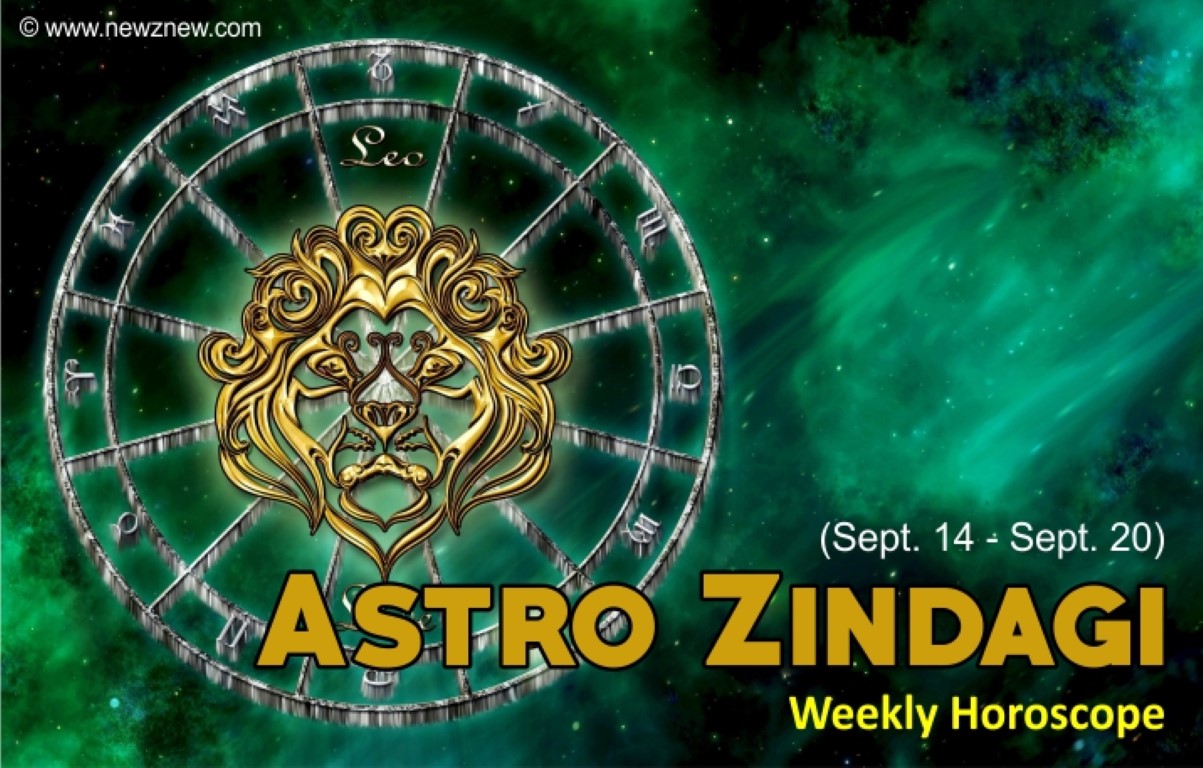 Astrology has been dated to at least the 2nd millennium BCE, and has its roots in calendrical systems used to predict seasonal shifts and to interpret celestial cycles as signs of divine communications.
This week there will be some important planetary transits. Two major outer planets, Jupiter and Saturn, which were moving in retrograde motion since the middle of May 2020, will now become direct. Similarly, Mars will be in retrograde motion in the fiery sign of Aries. These changes will impact one and all across all zodiac signs.
Here is a guide to the week ahead for you. This is your forecast for September 14-20:
Aries
You are advised to be watchful in most of your endeavours this week. Your house budget may go haywire due to excessive spending; hence, you are advised to maintain a balance and not spend on non-essential things. Professionally, you could face some challenges while executing plans which may create anxiety. You may face issues with your siblings. Hence, it is a good time to take notice of ongoing issues and try to make amends in the relationship. There may be some health issues which, if not addressed properly, can lead to unnecessary expenditure and stress. You will spend quality time with your mother. Any estrangement between your mother and spouse will be resolved. This week can bring good news from the perspective of progeny for some natives. You will get help from your spouse in every field. There is also a possibility of positive changes in the business. If doing business in partnership, you need to be on your vigil while taking investment decisions.
Tip of the week: Stay on your guard
Lucky days: Wednesday, Thursday
---
Taurus
You will stay optimistic this week and will solve every problem that comes your way. Your expenses will slowly start converting into profits during this auspicious time. Relationships will have a new found energy and will slowly move towards a tranquil state. This will help you maintain a steady concentration level in your professional tasks and endeavours and achieve proper recognition and appreciation for your efforts. However, you are advised to not be stubborn and self-absorbed to ensure cordial relations with your colleagues and seniors. You will remain high on confidence and will act as a mentor to people around you. You will receive support of younger siblings. You may decide to invest money on property. You are advised to take guidance from experts before making any investment. This is also a favourable time for people who are studying. The end of the week will bring further good news in your life. Your health will improve and remain stable.
Tip of the week: Do not be stubborn
Lucky days: Monday, Tuesday
---
You are advised against indulging in any confrontations and conflicts. Instead, divert your energy to increase your productivity. During the middle of the week, your energy level will remain high which will help you achieve favourable results in your job or business. One of your younger siblings can lend you support in completing any stalled work. During the middle of the week, you may be worried about the health of your mother. Some of you can think of buying a vehicle or a property. You must talk to people close to you before reaching any decision with regard to investment. During the end of the week, you can make future plans regarding your career and investments. Students preparing for competitive exams will receive auspicious results. On the health front, indulging in any kind of physical activity is likely to help you in channelising your energy in a positive direction and keeping your stress and mental tensions at bay.
Tip of the week: Avoid confrontation
Lucky days: Wednesday, Thursday
---
Cancer
You may find it a bit difficult to execute plans this week. Hence, you are advised to be patient and let things happen at their own pace instead of pushing them. This is the right time to improve your skills which will help you set the right foundation for the future. Taking advice from seniors or those in higher management will prove to be helpful. Try and avoid any kind of travelling as they may result in unnecessary expenditure and losses. Do not do anything that is in violation of the law or the government, especially regarding filing your taxes on time. Otherwise, you are likely to face problems. On a personal level, there may be certain ups and downs in relationships as you may not be able to express your feelings to your partner. Students pursuing higher education will have to concentrate a little harder if they want to achieve desired results. No major worries are indicated on the health front, but if you have a history of high blood pressure then you need to remain vigilant.
Tip of the week: Let things happen at their own pace
Lucky days: Monday, Tuesday
---
Leo
You will get excellent opportunities in professional life. You will be able to finetune your verbal skills which will help you make an impressive impact on your social circle. You are advised to mend your temper to ensure harmony in your personal life. You should take extra care of your expenditure during this week; else you may land in financial difficulties. Also, you need to be careful with your finances and any monetary deal should be made only in the presence of trustworthy people. During the middle of the week, your thoughts will remain stable which will help you focus better. This is a good time to make important decisions. Students will experience a favourable time as they will be filled with creative thoughts. Towards the end of the week, you are advised to be cautious while driving. Avoid overindulgence in food and work else you may overexert yourself and spoil your health.
Tip of the week: Mend your temper
Lucky days: Wednesday, Thursday
---
Virgo
In the beginning of the week, you will be able to improve your financial status as you are likely to experience sudden monetary gains. Those who are in partnership business need to be cautious as you may face some conflicts with your associates. Your bond with your elder siblings will improve, which will provide immense happiness to your parents. During the middle of the week, you may face some difficulty in completing pending tasks. You are advised to execute work in small steps to avoid over boarding your mind. Those of you dealing with foreign clients need to be careful as they can face losses in trading. During the end of the week, your state of mind will become positive. Students will have an inclination towards studying and will stay curious to learn new skills. You are advised to maintain cordial relations with your near ones during this time. On the health front, you may face soreness in your throat and may face temperamental issues.
Tip of the week: Take small steps
Lucky days: Friday, Saturday
---
Libra
You will be filled with competitive energy this week. Professionally, this energy will help you overcome obstructions in your workspace with ease, which will provide you an edge over your competitors. Natives looking for a switch in job will get favourable results this week. You may receive support in this regard from your relatives and friends. You will be empathetic during this time and will help underprivileged people, which will enhance your reputation in the society. Students who are preparing for competitive exams will experience success. During the middle of the week, you will receive good gains and your financial position will improve. You can benefit from connection with overseas clients. However, you are advised to be beware of friends and foes else you may face losses. During the end of the week, you are advised to balance things and utilise your resources at their optimum capacity to overcome challenges. You may face issues relating to the cervical and spine.
Tip of the week: Beware of friends and foes
Lucky days: Wednesday, Thursday
---
Scorpio
During the start of the week, you will remain spiritual and will have strong inclination for religious activities. It is a good time to gain knowledge and enhancement of your inner self. You will look to reconcile with your family and resolve any pending disputes. Your father will remain a strong support for you and his guidance will prove to be of enormous help in taking vital decisions. During the middle of the week, you will experience an elevation in your social status. Working professionals will get support from their colleagues. Students will need to work hard in their studies. During the end of the week, you will receive opportunities to enhance your income. You should be mentally ready to recognise lucrative opportunities and draw maximum gains out of them. However, you are advised against making any kind of investment during this time. Be careful of any minor injury.
Tip of the week: Listen to your inner self
Lucky days: Saturday, Sunday
---
Sagittarius
During the beginning of the week, you may face some anxiety and stress. You may get involved in conflicts with people for no rhyme or reason. This is a favourable time for students working on research projects. Those looking to move abroad will find the going smooth. During the middle of the week, you will be inclined to enhance your knowledge regarding religion and spirituality. You will fulfil your responsibilities towards your family. You are advised to monitor your father's health closely and seek medical help if required. During the later part of the week, you will remain on your toes in professional life which will lead to productive results. Your seniors will be impressed with your diligent work, which will give you recognition, and you may also get a promotion. You should beware of being overconfident as this may ruin things around you. You need to remain watchful of your health especially illness relating to the heart and chest.
Tip of the week: Do not be overconfident
Lucky days: Wednesday, Thursday
---
Capricorn
This week, you are likely to remain content on the personal and professional fronts. Professionally, you may be inclined to take up such tasks and endeavours which you were not comfortable taking up earlier. Your self-confidence will become high and you will not hesitate to put in efforts to realise your goals. Those working in the field of athletics and sports will see an increase in opportunities to showcase their potential and talent. However, your mother could face some health issues and necessary precautions are advised. Any existing quarrels in your family might come to an end during the middle of the week. You should resort to yoga and meditation to keep yourself mentally fit. At the same time, you may also develop interest and try to study esoteric subjects like spirituality or astrology. You are likely to celebrate some auspicious ceremony at home. If you have been working with an organisation for a long time, then there is a possibility of promotion during this week.
Tip of the week: Accomplish pending tasks
Lucky days: Monday, Tuesday
---
Aquarius
Those suffering from any chronic disease may recover during this week. Those who are in a job are likely to get promising results in their field of work. Your morale will remain strong due to which your opponents will not be able to compete with you. You will remain health-conscious and can resort to physical workout to keep yourself fit. The middle of the week is a suitable time for those doing business in partnership. Some of you may plan to start a new business with your partner. During the end of the week, you may develop some mental stress, although you can get out of this problem with the advice of elders. Your religious inclinations are also likely to increase. Financial action must be taken after properly weighing in the pros and cons. Avoid any impulsive purchases. Rather, a well thought-out plan or budget is necessary to achieve a secure financial life. Stay away from foods that are hard to digest otherwise you can face problems related to teeth and stomach.
Tip of the week: Avoid compulsive financial decisions
Lucky days: Wednesday, Thursday
---
Pisces
Married people are likely to get some good news relating to family extension. This week may be a bit challenging for students as they may face difficulties in understanding complex topics. Hence, they are advised to work harder and take necessary help. During the middle of the week your concentration level will be good. Those who are into a job or a business need to take prudent decisions related to their career. Businessmen may get a chance to go on work-related trips. Financially, it is not advisable to put all your eggs in a single basket, instead try to invest small amounts of money in different ventures which will produce favourable results for you in the long run. Personally, you may get easily irritated which might play spoilsport in managing relationships. During the end of the week, you may face a slight decline in your health. To improve your immunity, you are advised to engage in physical workout and make it a part of your daily routine.
Tip of the week: Do not put all your eggs in one basket
Lucky days: Saturday, Sunday