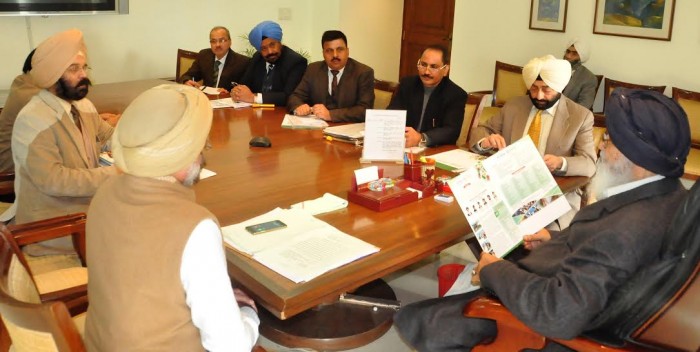 NewZNew (Chandigarh) : With an aim to promote allied farming activity in the state, the Punjab Government was all set to organize five-day livestock Expo-2015 at Sri Muktsar Sahib from January 8-12, 2015.
Disclosing this here today, a spokesperson of the Chief Minister's Office said that theExpo has been planned in such a manner where apart from exhibition, seminars and technical sessions on various aspects of Livestock, special focus would be laid on the emerging technologies and strategies in the field to keep the farming community abreast with the modern Animal Husbandry practices and technological advancements through detailed deliberations by the experts, technocrats and progressive farmers.
Meanwhile, the Punjab Chief Minister Mr. Parkash Singh Badal reviewed all the arrangements of this mega event during a high level meeting with the senior officers of Department of Animal Husbandry, Dairy Development and Fisheries held here at CMO.
It was informed in the meeting that this year the state government was organizing first Live Stock Expo-2015, instead of organizing traditional Livestock Mela, at a much larger scale with the active participation of PHD Chamber of Commerce. As many as 130 companies dealing with live stock would take part in this Expo to exhibit their activities and rare skill in this field.
The Chief Minister directed the Animal Husbandry Department to make elaborate arrangements of shelters and sheds besides fodder for the animals with a view to accommodate expectedly large number of animal participation this time. Mr. Badal stressed on the need to ensure comfortable stay of the farmers besides transportation facilities to them so that they could attend the Expo in a hassle free manner.
The Chief Minister also asked the department to invite the leading world class Livestock equipment/machinery manufacturing companies to display their products in the exhibition so that the farmers could be immensely benefited. He was confident that the forthcoming Expo would prove to be a milestone in evolving a blue print to put our agriculture diversification plans on a hi-tech track besides transforming the destiny of our millions of farmers especially the small and marginal ones by turning their fortunes.