RS 500 CRORE MMLH TO GIVE BOOST TO ECONOMIC ACTIVITY IN THE REGION
MMLH TO BE EQUIPPED WITH FACILITIES OF CONTAINER HANDLING YARD, BULK HANDLING YARD, RAIL SIDE WAREHOUSING, MULTI USER WAREHOUSING, TEMPERATURE CONTROLLED WAREHOUSING, TRUCK TERMINUS AND OTHERS
BADAL TO FLAG UP THE ISSUE OF CONSTRUCTION OF ONE MORE MMLH AT KHASA NEAR AMRITSAR WITH UNION RAILWAYS MINISTER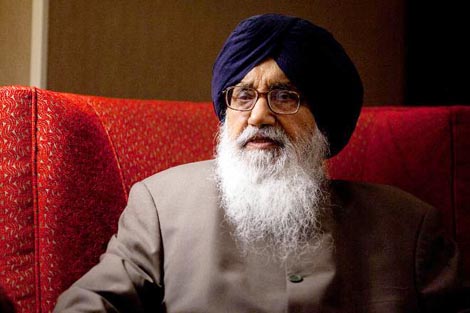 NewZNew (Chandigarh) : In a leap forward towards giving much needed impetus to the economic activity in the region especially the state, the Punjab Chief Minister Mr. Parkash Singh Badal and Union Minister for Railways Mr. Suresh Prabhu would jointly lay the foundation stone of Multi Modal Logistics Hub (MMLH) at Kila Raipur in Ludhiana on January 20th.
A decision to this effect was taken by the Chief Minister while presiding over a high level meeting of the officers of the state government and the Railways Ministry here at his office.
The Chief Minister, while highlighting the significance of this prestigious project said that in wake of the extension of Eastern Freight Corridor from Dankuni upto Amritsar and Western Freight Corridor from JNPT Navi Mumbai to Khurja (Uttar Pradesh), Punjab was on the threshold of ushering in an era of unprecedented economic development. He said that in such a scenario MMLH to be constructed at a cost of Rs 500 crore in Kila Raipur would prove to be a game changer for the industry of the state. Mr. Badal said that being near to Ludhiana this MMLH would provide direct linkage to the Eastern Freight Corridor adding that Ludhiana-Dhuri-Jakhal feeder line would join it with the Western Corridor at Rewari thereby immensely benefitting the industry of the state by prompt, easy and cheap transport of raw material and finished goods through the Railways.
Highlighting the benefits of this prestigious project, the Chief Minister said that it was all the more important because in future as per Foreign Trade Act, 1992, only MMLH could handle Export- Import (EXIM) Cargo. Mr. Badal said that this MMLH would be enabled with the facility for Reefer Containers for Domestic and International Cargo. Likewise, he said that it would have silo storage for One Lakh Metric Ton grains adding that Domestic Terminal would have storage facility on the Railhead for Steel, Fertilizer, Cement and others that would cut down logistics cost drastically. "This MMLH will be equipped with the ultra modern facilities like container handling yard, bulk handling yard, Rail side Warehousing, Multi user Warehousing, Temperature controlled Warehousing, Truck terminus and others, which will boost the trade and commerce in the region" added Mr. Badal.
The Chief Minister further said that at present EXIM traffic of Punjab was 4 Lac Containers and domestic traffic from Punjab was about 25000 Containers. He said that after the completion of first phase of this project by March 2016 it would capture EXIM traffic generated in the area and the projected traffic would be 7.5 Lac Containers i.e. 45% of the total traffic by 2035. Mr. Badal said that the Double Decker carriage to be initiated from this MMLH would ensure 33% reduction in Inland Transportation Cost.
The Chief Minister further said that besides giving fillip to the trade and commerce this project would provide direct employment to about 500 organized Labour. Likewise, he said that indirect employment would be provided to about 2000 transporters, 1500 private labour and 500 third party Surveyors. Mr. Badal also asked the officers of state government to analyze the feasibility of setting up an industrial estate around the MMLH.
The Chief Minister also said that he would soon take up the issue of constructing another such MMLH with the Union Railways Ministry at Khasa near Amritsar as there was a tremendous scope of trade and commerce once the Indo-Pak borders were opened for trade. He asked the officers to explore the viability of getting about 100 acres of land required for this project.
Prominent amongst others present on the occasion included Additional Chief Secretary (Development) Mr. Suresh Kumar, Special Principal Secretary to Chief Minister Mr. Gaggandip Singh Brar, CEO Punjab Investment Board Mr. Anirudh Tiwari, Director Industries Mr. Raminder Singh, Deputy Commissioner Ludhiana Mr. Rajat Aggarwal, MD CONWARE Mr. AS Bains and MD CONCOR Mr. Anil Gupta.