Brain stroke: Early treatment need of the hour: Patients who suffer a brain stroke and are unable to reach the hospital within time, now have a ray of hope in Mechanical Thrombectomy – a new and advanced form of stroke treatment.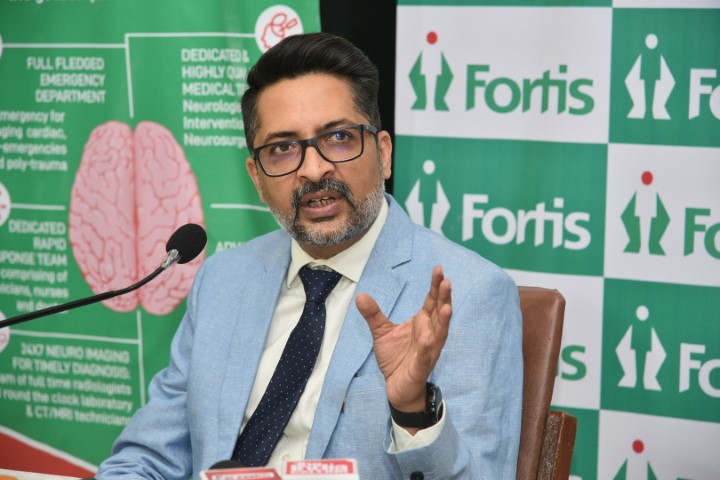 Dr. Prof. Vivek Gupta, Additional Director of Interventional Neuroradiology, Fortis Hospital, Mohali while addressing media at Chandigarh Press Club today on the occasion of World Stroke Day said, "Mechanical Thrombectomy has proved to be a boon for brain stroke patients as timely intervention within the golden hour can save them from life-long paralysis or death".
Fortis Hospital, Mohali, is the only 'Stroke-ready Hospital' in North India to offer Mechanical Thrombectomy, and is equipped with a 24×7 team comprising highly experienced doctors. Fortis Mohali has also set up a dedicated Stroke Helpline – 9815396700 – for acute stroke patients.
Recently, the team of doctors headed by Dr Gupta successfully treated an 87-year-old patient from Chandigarh, who arrived 10 hours after suffering a brain stroke, and with his right side paralysed.
Upon examination, the patient exhibited symptoms of acute stroke as blood supply to the right side of his brain was blocked. The team of doctors led by Dr Gupta performed Mechanical Thrombectomy on the patient and removed the clot from his artery. Following good rehabilitation at Fortis Mohali, the patient was discharged four days after the surgery and is leading a near normal life today.
Elaborating on Fortis Hospital, Mohali, becoming the region's first Stroke-ready Hospital, Dr Gupta, said, "Ideally, stroke patients go for treatment at one facility, get a CT scan at another one, and finally reach a stroke hospital. A lot of crucial time is wasted during the golden hour and this invariably leads to paralysis or death. Fortis Hospital Mohali is a Stroke-ready Hospital and equipped with a team comprising neurologists, interventional neuroradiologists, neurosurgeons and anaesthetists that provide 24×7 stroke treatment such as thrombolysis or mechanical thrombectomy. Fortis Mohali provides all services related to stroke diagnosis, treatment and rehabilitation, all under one roof."
Highlighting the importance of observing World Stroke Day on 29th October, Dr Gupta, said, "The aim is to raise awareness about brain stroke and educate the masses on its causes, symptoms and prevention. Physical activity and regular exercise, keeping a tab on cholesterol and blood sugar levels, regulating blood pressure and following a healthy lifestyle can help prevent a stroke. In the last two years owing to the pandemic, people have been working from home and this has led to a sedentary lifestyle. This could lead to various diseases such as hypertension, heart disease, diabetes and even stroke. Brisk walking for at least 20-30 minutes every day or cycling will not only help you keep fit, but keep several diseases at bay."