A Three Day Mega scientific meet on Oncology, the medical specialization dealing with Cancer –'Best of ASCO' (American Society of Clinical Oncology) is being held for the first time in the region. The Conference which started today in Hyatt Regency here, will be held till July 16,  in collaboration with Max Cancer Care Centre, Mohali. "The Conference is seeing a participation of as many as 500 Cancer Specialists, Surgeons & Radiation Oncologists from abroad & across the country." Said Mr Sandeep Dogra, Sr VP, Max Hospital, Mohali.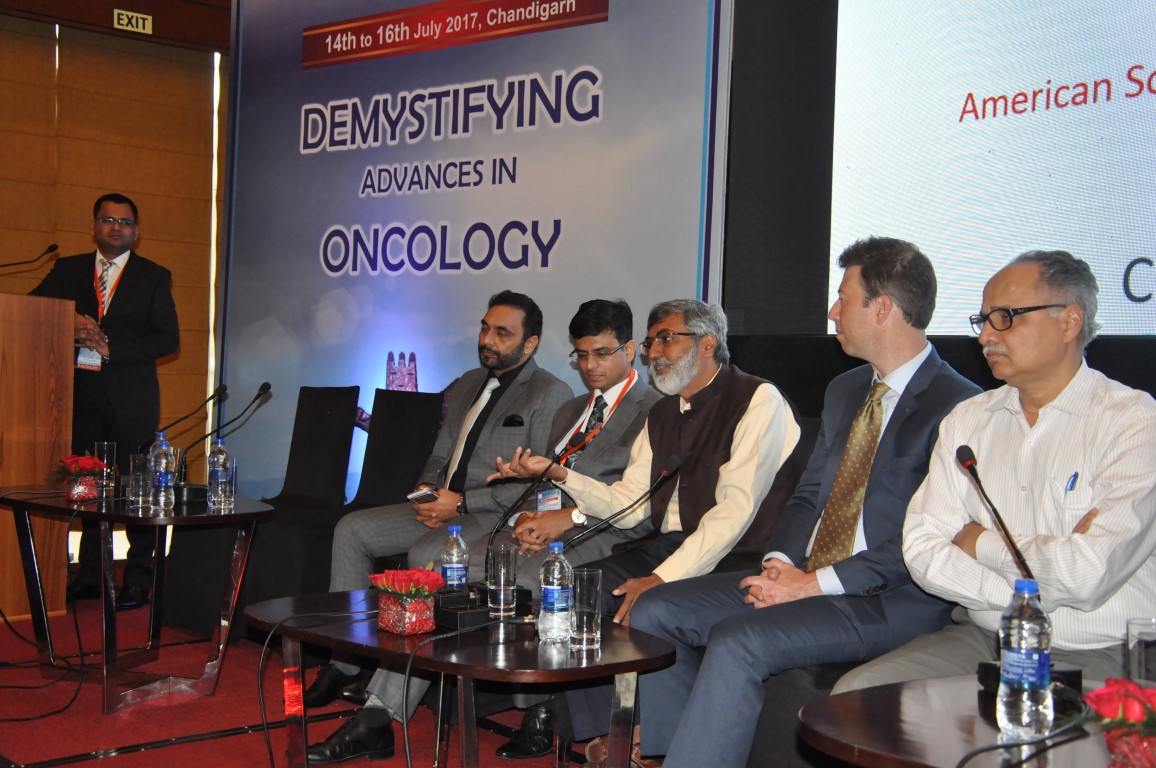 Dr Gautam Goyal, Organising Secretary Best of ASCO & Consultant  Medical Oncologist, Max Hospital & Dr. Sachin Gupta, Co-Organising Secretary,'Best of ASCO' held a press conference along with Dr. Jacob Sands,Assistant Professor, Lahey Medical centre, Boston, Dr Purvish Parikh, Director(Precision oncology), Asian Institute of Oncology, Mumbai & Dr Harit Chaturvedi, Chairman(Cancer Care), Max Healthcare on Day 1 of ASCO to share details of the important Oncology event on its sidelines. "The objective of 'Best of ASCO' 2017 is to review the most important, practice changing data presented at ASCO 2017, which is the largest gathering of Oncologists across the world & took place recently at Chicago, Illinois. Over 3 days, Experts in specific fields of Cancer will present abstracts & discuss foremost research & strategies in Oncology that will directly impact patient care. The Conference will also show case research work done by Indian Oncologists presented as at ASCO 2017." Said Dr Goyal.
The theme of the conference is 'Demystifying Advances in Oncology', "ASCO will present on one platform recent advances on various Tumour types and clear the research around cancer. The research showcased here will be that which is presented to the world for the first time. The sessions focus on cancer awareness, prevention, diagnosis, treatment, newer drugs like targeted therapy, Immunotherapy etc." Explains Dr. Sachin Gupta, Co-Organising Secretary of 'Best of ASCO'
The highlight of ASCO will be Immuno-Oncology. "Since cancer cells are very different from normal cells in the body, the immune system attacks them when it is able to recognise them. However, cancer cells often find ways to disguise themselves as normal cells, so that the immune system does not always recognise them as dangerous. As the natural immune response to cancer cells is often not strong enough to fight off all the cancer cells, Immuno-oncology therapies activate our immune system, making it able to recognise cancer cells and destroy them."  Said Dr Jacob Sands.
"Speakers will provide evidence from recent research which suggests that immuno-oncology therapies' effect on cancer cells, last for a long time. This exciting feature of immuno-oncology therapies offers hope of quality survival for the very first time to many patients for whom prognosis was previously very poor." said Dr Harit Chaturvedi, Chairman(Cancer Care), Max Healthcare.
The other important research in the conference is Molecular Oncology. "As the name suggests, a specialist needs to test patient's cancer cell for any  abnormality at genetic or DNA level & then try to counter that mutation or change with a specific drug to get better results & less toxicity, we also call this Precision Oncology." Dr Purvish Parikh, Director(Precision oncology), Asian Institute of Oncology, Mumbai.
The Conference gains importance with Cancer responsible for causing mortality leading to around 0.3 million deaths every year in India. Some International speakers who will take sessions include   Dr. Bar Jair, Dy Director, Institute of Oncology, Sheeba Medical Centre, Israel; Dr. Jacob Sands, Dr. Amit Oza& Dr. Sanjeev Agarwala. A few well-known names from India are Dr.Purvish Parikh,Director Precision Medicine, Asian Institute of Oncology, Mumbai;  Dr. Sudeep Gupta, Dy Director, Tata Memorial Hospital, Mumbai & Dr. D C Dovol, Rajeev Gandhi Cancer Institute, Delhi among others.