Sangram Singh emerges as winner; inaugural match of Champion's Pro Kushti leaves fans yearning for more
Champion's Pro Kushti donates Rs 51,000 for needy patients under Khushboo fund managed by a private hospital as today's match, promoted as 'Kushti for a Cause', remained true to its billing
NewZNew (Chandigarh/Mohali) : It kicked up a storm and raised a thunder! The inaugural match of Champion's Pro Kushti between international wrestlers Sangram Singh and Robbie E proved to be an epic battle as expected, with  Sangram Singh emerging as the winner with final score of 17-6. The match ended in round 5 with Sangram knocking out his opponent.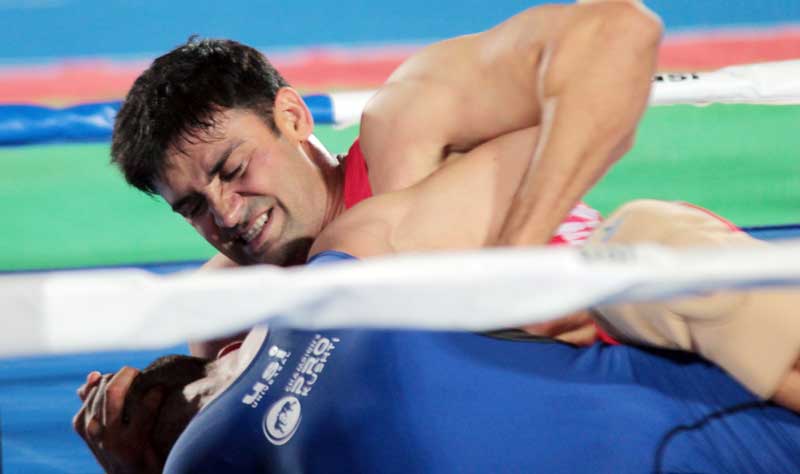 Held at International Hockey Stadium, Mohali, the match saw Sangram Singh and Robbie E fight it out in a battle of gigantic proportions where brain and brawn came handy in equal measure as the two international wrestlers tried to outwit and outmuscle each other. The inaugural match was a precursor to what Champion's Pro Kushti promises to deliver in coming times.
The match between Sangram Singh and Robbie E remained true to its billing of 'Kushti for a Cause'" as the organisers donated Rs 51,000 to Khushboo fund managed by Fortis hospital to lend a helping hand to needy patients. Champion's Pro Kushti has taken it upon itself to support various social causes and help the needy in times to come.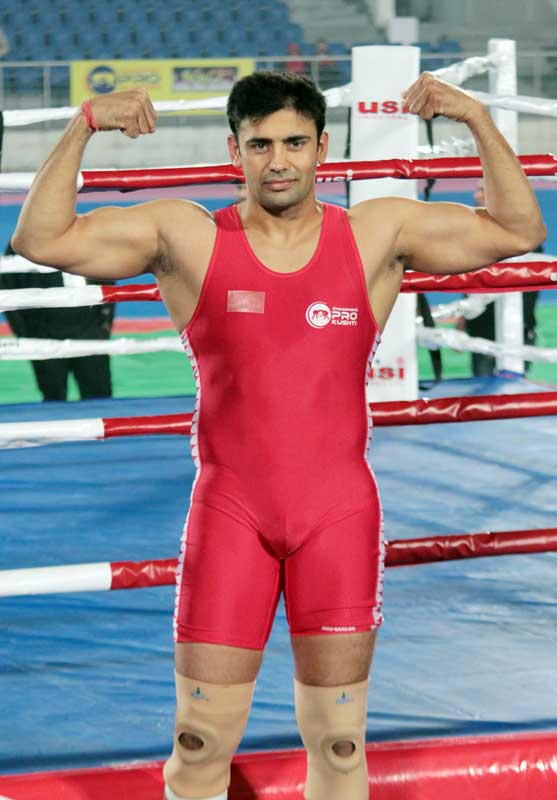 Started with the aim of restoring the pristine glory of Indian wrestling and nurturing the finest wrestling talent across the hinterlands that can metamorphose the country into a global wrestling powerhouse, Champion's Pro Kushti intends to produce Indian wrestlers of international calibre who are capable of not only matching up but even bettering the level of performance displayed by Sangram and Robbie E today.
To fulfill this dream, world wrestling champion Sangram Singh has teamed up with leading entrepreneur and diehard wrestling enthusiast Janardan Pandey to form Champion's Pro Kushti in association with World Wrestling Professionals (WWP), South Africa. Today's match was the inaugural match of Champion's Pro Kushti and the first international match played by Sangram Singh in India.
After the match, Champion's Pro Kushti founder Sangram Singh said, "I am thrilled by the encouragement and support we received today from the people of Mohali. It was an honour to play in front of them. We have launched Champion's Pro Kushti to revive the passion for the game of wrestling in India, the country where it actually originated. Wrestling has its roots in the ancient Indian martial art of 'mallayuddha'. We are looking to promote Indian wrestling, or 'kushti', especially in Tier-II towns and beyond, where the country's most promising talent is simply waiting to be tapped. We want to make India the Number 1 wrestling nation, for which we need to do things differently. Champion's Pro Kushti is set to bring that difference."
Champion's Pro Kushti co-founder Janardan Pandey said today's match marks the first step in their effort to develop India as the world's best wrestling nation. "I am sure today's match will inspire many youngsters to take up wrestling and emulate Sangram Singh. Through Champion's Pro Kushti, we will give aspiring wrestlers a platform to hone and showcase their wrestling skills. We will equip our wrestlers with the right combination of traditional 'mallayuddha' and modern grappling techniques," said Pandey.
Elaborating on the future plans of Champion's Pro Kushti, Pandey said, "We will open training and competition centres at 10 locations across the country in the next two years, covering Tier II and III towns as well as villages. We have decided on seven of them, including Chandigarh, Gurgaon, Kanpur, Indore, Bhubaneswar, Mangalore and Kolkata, and are in the process of finalising the other three. We will spot and adopt promising wrestlers, provide them the best of trainers and training."
Champion's Pro Kushti is actively backed by WWP Founder-Director Mark A. Beale. In its capacity as international relations partner, WWP will provide Champion's Pro Kushti exposure on a global platform.
Champion's Pro Kushti will give Indian wrestlers a chance to prove their mettle against some big names in national and international wrestling. It will be a breeding ground for budding Indian wrestlers, providing them much-needed international exposure under an icon system and enabling them to take on the best in the world. A blend of amateur and professional wrestling, Champion's Pro Kushti has been developed on a new format which will give wrestling a chance to flourish and offer the people an opportunity to get a real feel of the sport. Champion's Pro Kushti will involve six rounds of three minutes each with a 45-second rest after each round. There are some very interesting rules to make the game, exciting, lively and engaging for the audience.
Impressed by the Champion's Pro Kushti format, WWP, South Africa has decided to emulate it for the Commonwealth Heavyweight Championship 2016 to be held in Mumbai later this year, where Sangram Singh will defend his title.
Today's duel in Mohali will be followed by two more matches featuring Sangram Singh and international WWP wrestlers, the schedule for which will be announced at a later date. The wrestling lovers who missed the golden chance to watch Sangram Singh play an international match in India for the first time can catch all the action on the Youtube channel of Champion's Pro Kushti.