INIFD Chandigarh Student Designers Sakshi Bhalla, Pooja, and Shobna were honoured by Indian High Commission at London to applause their contribution to utilise India's enormous traditional design heritage to make a lasting impact on the Global Fashion scene.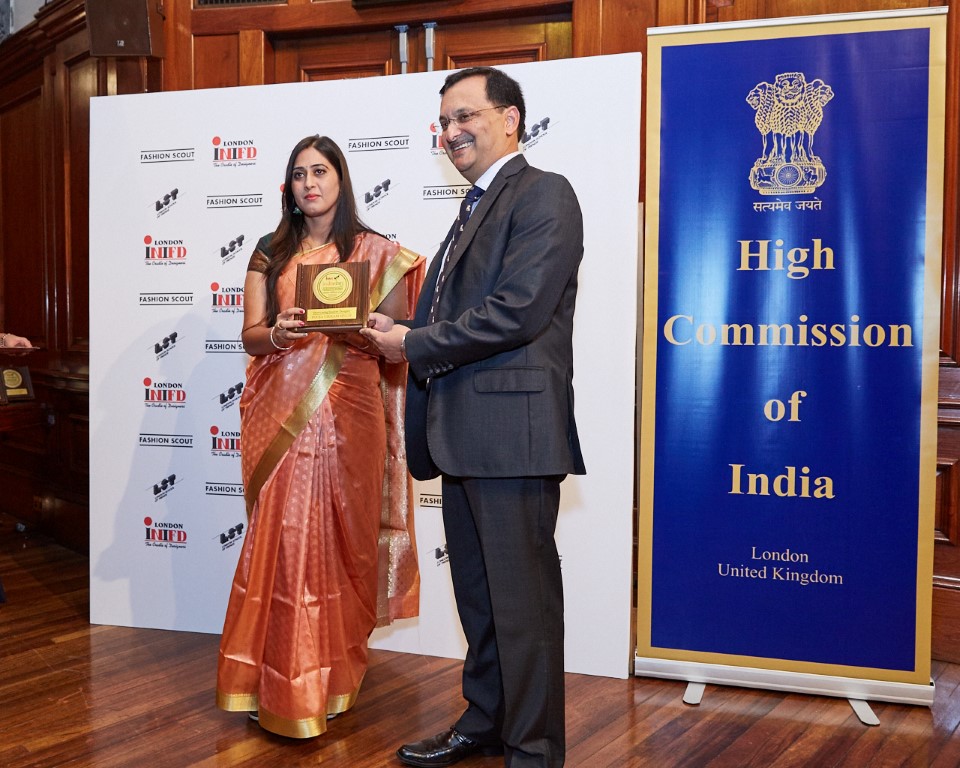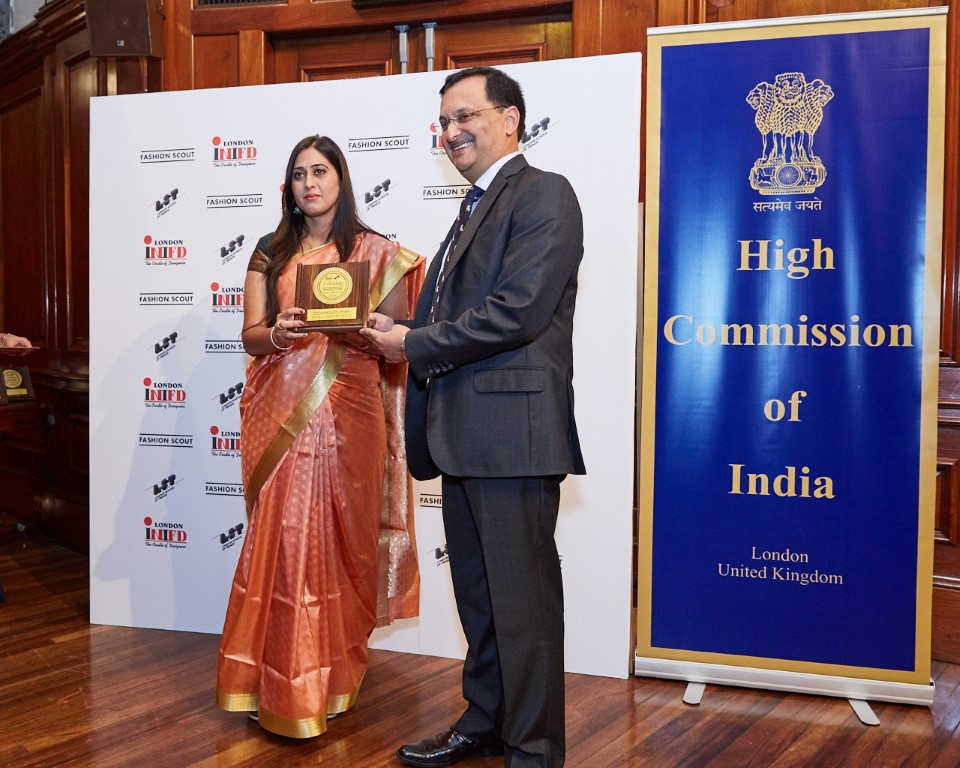 At a special felicitation ceremony held at India House London, the Deputy High Commissioner Mr. Dinesh K Patnaik felicitated the designers for showcasing their collection on India Day during prestigious London Fashion Week held at Fashion Scout.
Mr. Patnaik applauded the young INIFD Designers for taking forward the 5 F mission of honourable Prime Minister of India Sh. Narendra Modi, "From Farm to Fiber, Fiber to Fabric, Fabric to Fashion and Fashion to Foreign"
These Young Student Designers were awarded the ticket to London by Ace Indian Designer Manish Malhotra as they were selected amongst the 500 applicants from all across the country to represent INIFD on India Day during London Fashion Week at Fashion Scout London. The leading Indian Designer Masaba Gupta closed the India Day with a Grand Finale Collection.
Sakshi's Collection VAYANA – The Weaving, speaks volumes about Weaving which is a beautiful and a time taking art of creating infinite patterns. The look of her collection reflects the confidence and attitude of modern women. She has very intelligently and creatively used fabrics like denim and organza with elaborate surface embellishments in very modern silhouettes.
Pooja's "RED FORT TO RED BUS" presents the journey of a traveler in a very effective manner.  Travelling being a unique combination of thrill, adventure, surprise, emotions and memories, it inspires the designer to play with batik, a wax-resist dyeing technique of Asia. The layers and panels or organza create the mood of fantasy while denim adds the toughness of adventure.
"TRIUMPH OF THE SPIRIT" by Shobna is inspired by the spirit of a cowgirl with a zest of gypsy charisma. The collection evokes a classy yet powerful and independent feel of a cowgirl. The silhouettes are a mix of androgynous vintage style from the cowgirl and feminine Boho style is seen in forms of pleats, flare and frills in chiffon.
Ms Nimisha Gupta, the Centre Head INIFD Chandigarh was present during the show at London to motivate the young Designers of the City. These budding Designers will be felicitated upon their return from London at a Civic Reception for making Chandigarh and India proud at London.