NewZNew (Chandigarh) : In a glittering ceremony at its Punjab campus, Chitkara University conferred the Doctor of Literature degree on the Group Vice Chairman, Fortis | Religare, Shivinder Mohan Singh in recognition of his outstanding contribution to education, business and humanity owing to his inspirational journey as a role model Business leader and his stellar role in creating significant impact in the domain of healthcare delivery and community outreach.
Shivinder Mohan Singh is the Non-Executive Vice Chairman of Fortis Healthcare. He has had a distinguished career as an entrepreneur and business leader, who, in a short span of under two decades, transformed the way private healthcare is delivered and shaped its evolution as an important and credible partner in India's growth. In 2015, Shivinder Singh along with his wife, in response to a higher calling, took a personal decision to take on full time SEWA at Dera, Radha Soami Beas – a spiritual organisation that he has been associated with since childhood.
The special convocation 2016 was presided over by the Honourable Governor of Punjab and Haryana and Administration of Union Territory of Chandigarh, Prof Kaptan Singh Solanki. In his address, the Governor said, "It is a pleasure to confer the degree on such a multi-faceted personality who has not only contributed to Indian Industry but also to the social-economic development of the country as whole."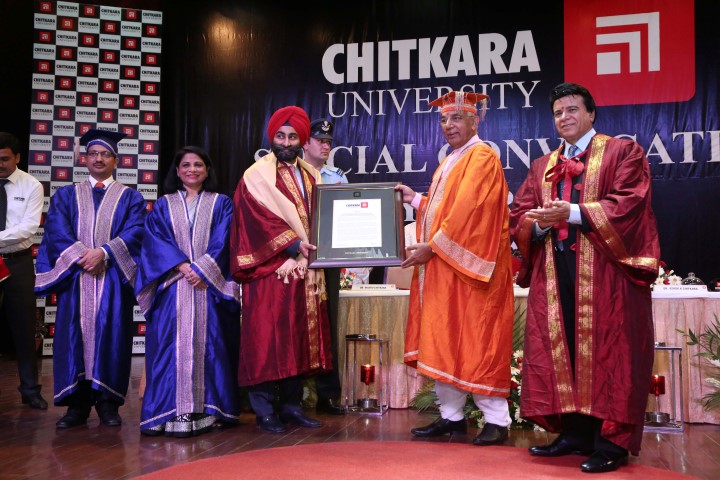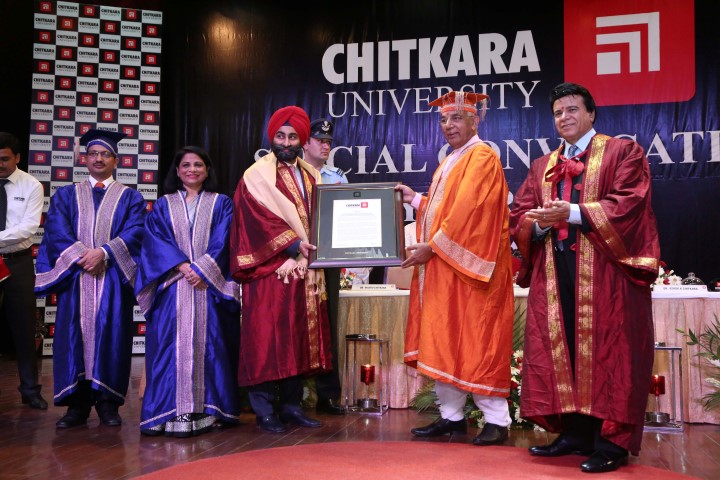 On receiving the degree, Mr. Shivinder Mohan Singh, in his key note address, motivated the students by sharing his experiences! He encouraged the students and quoted "As you step out today with your degrees, you now take the responsibility of our Country's future!  Ensure that hard work and dedication comes with innovation anchored with our culture values to make a better tomorrow for your children and ours!" Mr. Singh left the future business leaders present with valuable insights, advising them to benchmark themselves always with the best in the world, as the need of the day is to bring excellence in every sphere.
According to Dr. Ashok K Chitkara, Chancellor Chitkara University Punjab, "Mr. Shivinder is widely recognized as a man of enormous integrity, significant achievements and remarkable humility, and he has brought these qualities to his dynamic leadership of Fortis Healthcare. This award is recognition for Mr. Shivinder's tremendous contributions to India and the society at large, through his vision, drive for innovation and passion to bring about transformation and change. Chitkara University thanks Mr. Shivinder and honours him with this doctorate."
Dr. Madhu Chitkara, Vice chancellor of Chitkara University Punjab, said, "Mr. Shivinder Singh has had a remarkable career. He is symbolic of a new and resurgent India that has delivered societal prosperity on the basis of significant intellectual capital."
Mr Shivinder interacted with over 150 students of the MBA batch who received their degrees at the event. The Honoris Causa Doctorate at Chitkara University is meant to acknowledge and felicitate distinguished personalities in the country who have made commendable contributions in the field of science, engineering, entrepreneurship and academics.
Chitkara University is a government recognized University with the right to confer degrees as per the sections 2(f) and 22(1) of the UGC Act. 1956. Chitkara University Punjab is a multi-discipline student centric campus with more than 7000 students.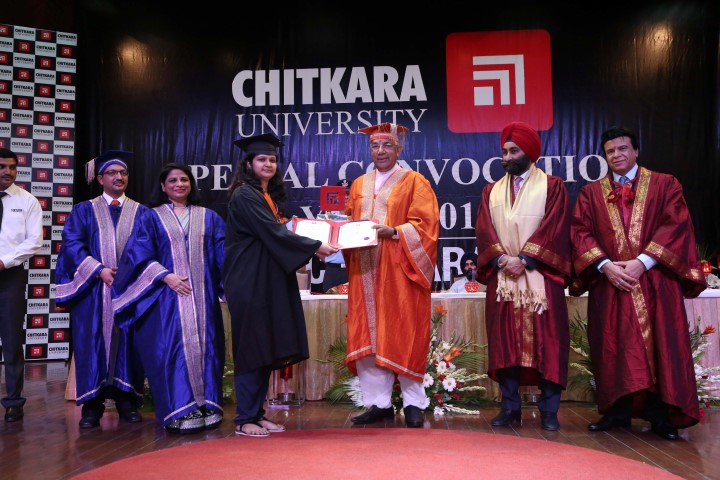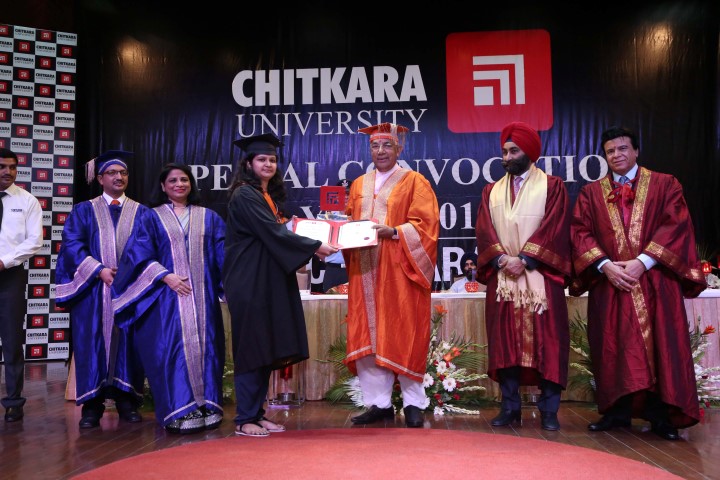 Chitkara University has established an unassailable reputation for strong on-campus recruitments on the sheer virtue of our intensive focus on making all our graduates "industry ready".
Chitkara University is different. Our students are different. So are our faculty, our academic strengths, research pedigree and our outlook on teaching and learning. Within a decade most of our academic programs are ranked in the Top-50 programs in the country which speaks volumes about our strong academic heritage, highly committed faculty, extensive industry collaborations, great international partnerships and state of the art infrastructure.