Confederation of Indian Industry (CII) organised a session on 'Chandigarh: An Aspirational Destination' coinciding with the Annual Session of CII Chandigarh Council.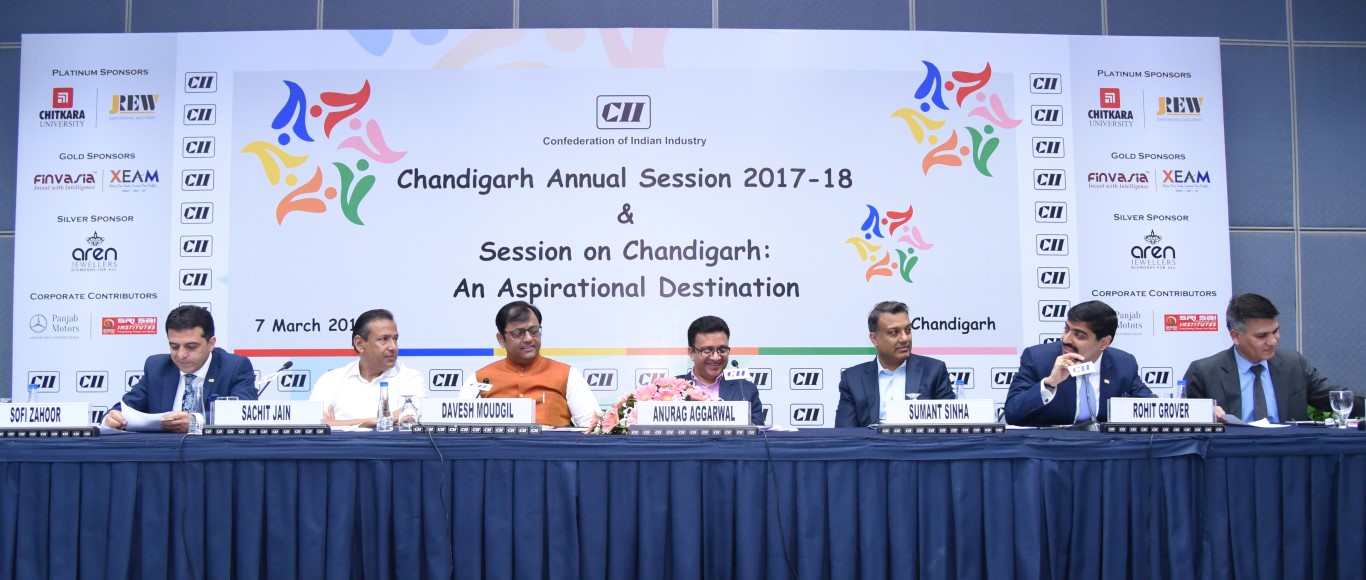 Mr Anurag Aggarwal, Home Secretary, Chandigarh Administration said, "Chandigarh is the only city where the administration has covered all government buildings with solar rooftops and the focus is now on private houses. Chandigarh has achieved 14.3 MW of solar power generation through rooftops. The administration is targeting generation of 50 MW power through rooftop solar by 2019-2020.
"To make the solar rooftop revolution a success we need maximum participation of the citizens. His Excellency, Sh VP Singh Badnore, Hon'ble Governor Punjab & Administrator, UT Chandigarh  has envisioned a region where all rooftops are blue cushioned with Green tree cover by 2022. As per the building byelaws amended last, Chandigarh made it mandatory to have solar rooftops for buildings with area of 500 sq yards or more," he added.
To conserve the heritage trees and educate the community about the importance of protecting our tree wealth we have identified 30 heritage trees and have started heritage tours and nature walks. "Indian culture holds trees as sacred, while our forests also have tree wealth that provides us with food, fodder, and medicine, so it becomes our duty to maintain them." Administration and the citizens together have to plan for a better and smarter future, he added.
While speaking at the session, Mr Davesh Moudgil, Mayor, Municipal Corporation, Chandigarh, said, "Storage is the most pressing challenge before the solar industry today. Solutions for the storage of the surplus power from solar rooftops are needed and CII along with other stakeholders must look into it. Grid connectivity is a challenge and energy storage is going to be the next big invention for mankind. It will revolutionize how we live."
"An order has been passed by the Municipal Corporation wherein it is mandatory for all officials and employees of the corporation to come to office only on bicycles every Wednesday." The Mayor said the move would help decongest city roads. Also, the segregation of waste should begin from households. The youth of the city must lead the change and contribute in the development of the city, he added.
"Citizen Participation and engagement in policy and decision making processes will make a key characteristic going forward. Our aim is to make Chandigarh a citizen Centric City where they not only share their views / suggestions / expertize in planning but also contribute in implementation of projects," said Mr Moudgil.
Mr Sumant Sinha, Chairman, CII Northern Region and Chairman & CEO, ReNew Power Ventures Pvt Ltd, said, "Chandigarh is the country's first planned city. In fact, BBC has gone ahead and termed it as the "Perfect City" in the world. Mr Sinha shared 3 key points which are critical to make Chandigarh an aspirational destination. First is the vision to make Chandigarh a Model Solar City in Northern India; second is to promote Chandigarh as an economically viable city and third to endorse Chandigarh as a hub for Entrepreneurship and Startups."
Mr Sachit Jain, Deputy Chairman, CII Northern Region and Vice Chairman & Managing Director, Vardhman Special Steels Ltd, said, "Chandigarh is the only city in India chosen to be visited among the top 52 destinations in the world from Bolivia to Bhutan by New York Times. It is the first planned city of modern India with each sector being self-sufficient with a mix of land uses."