newznew (Chandigarh) : A four day Annual Sports Meet is being organised by CRB Public School of Sector 7 B, Chandigarh with great zeal and fervor.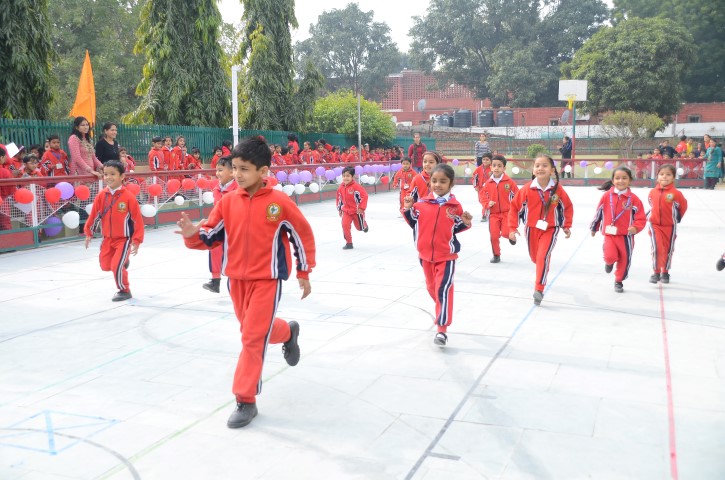 The tiny tots enthusiastically participated in various events viz Hop race, Ribbon race, Collecting objects, Hurdle race, Frog race, Picking the straw, Balancing the ball etc during the days. The meet also comprised of Shoe Box race, Relay race, Wheel and Barrow race, Martial arts, Kho-Kho, Basket ball, Skating, Long jump and Shot Put for senior classes. A colourful cultural display of reverberant events by the students marked the closing ceremony.
The winners of respective events were honoured with medals and trophies by our honourable principal Mrs. Sangeeta Mittal and Director Mr. Naveen Mittal. Principal Mrs. Sangeeta Mittal while addressing the school students emphasized on the importance of sports in the student's life for physical and mental fitness along with the all round development.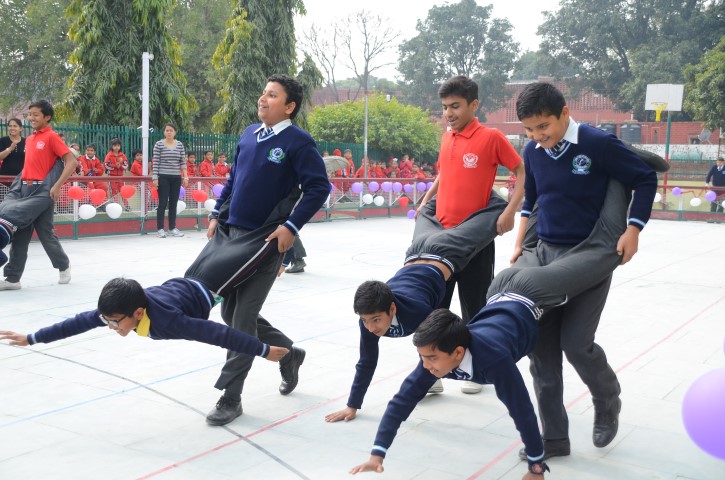 The most regular students for the year 2016-2017 were also awarded. The programme ended with the National Anthem.
Results of Annual sports meet:-
Shoe socks Race
Manas Pandiri (1st)
Sameer Chand Ramola(2nd)
Yogesh Lamba (3rd)
Handi Race
Mananya Arora ( 1st)
Jasmeen (2nd)
Tamanna Mittal (3rd)
Basket Ball (Girls)
Garima Kanojia
Mananya Arora
Muskaan
Jyoti
Jasmeen
Table Soccer
Gurkirat Singh, Navpreet (1st)
Parveen Singh, Arnav Nag (2nd)
Madhavi Sharma, Lavish Kumar (3rd)
Skating
Rohit (1st)
      2.Harshit Verma (2nd)
Anushka Yadav (3rd)
Long Jump (Girls)
Twinkle(1st)
Nitika Devi(2nd)
Manjeet kaur(3rd)
Wheel and Barrow
Tushar, Prabhnoor Singh(1st)
      2. Jatin Singh, Gurkanwal Singh(2nd)
Aditya Chauhan , Sachin Panday(3rd)
Result of Kindergarten
Playway
(Pick the Object) Boys                                  (Pick the Object) Girls
Abhinav                                                 1. Parishi
Rushank                                                2. Aradhya Gaur
Pawandeep                                           3. Smridhi
Nursery A
(Hurdle Race) Boys                                       (Hurdle Race) Girls
Arnav Ghai                                                  1. Khushi
Harman Chaudhary                                  2. Mansweeni
Rehatbir Singh                                           3. Nimrat Kaur Dhillon
Nursery B
(Pick the ribbon race ) Boys             (Pick the ribbon race ) Girls
Khushdeep                                          1. Shivanshi Nautyal
Devyansh Chauhan                           2. Minkal
Paras kalia                                          3. Pragya
LKG A
(Frog Race) Boys                                           (Frog Race) Girls
Nimanpreet Singh                         1. Tanisha
      2.Tanish Rawat                                   2. Mannat Aditya
Navraj Singh Mann                       3. Arhita Mahajan
LKG B
(Pick the Straws) Boys                                  (Pick the Straws) Girls
Gurpartap Singh Chahal                             1. Khwaish Shekhawat
       2.Ayan Khan                                                     2. Kanika
Arshpreet Singh                                           3. Arshia Goyal
UKG A
(Duck Walk) Boys                                         (Duck Walk) Girls
Shivam                                                        1. Aanchal Kaushal
      2.Tanish Tiwari                                             2. Mansi Bhardwaj
Aayush Kumar                                           3. Akshita
UKG B
(Block Jump) Boys                                        (Block Jump) Girls
Aadit Giri                                                      1. Sejal
      2.Mohit                                                              2. Avneet Kaur
Muktesh Sharma                                         3. Pranzal Thakur