Creative Vibrant yet Subtle looks for XMas and New Year Eve Cleopatra: Someone has accurately said that beauty is when you appreciate yourself and eulogize it with all the bliss. And what better days to applaud one's beauty than festivals like Christmas and New Year, a festival celebrated by everyone around the country.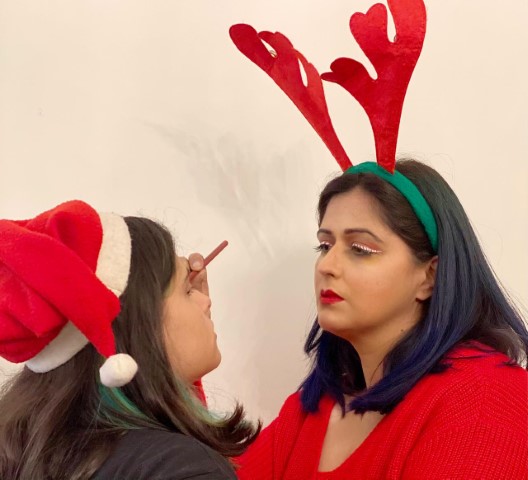 Festivals like Christmas and New Year have a very special place in women's lives, as they get an auspicious occasion to get dolled up and celebrate. Just like metropolitan cities women in tier 2 cities are all psyched to acknowledge the witching week AKA last week of December with all enthusiasm. 
According to them, even in times of Covid -19, women can glam it up and relish the time of partying and celebration by following certain measures. With each passing year, the vibrancy and ethnicity in the makeup and hairstyles of women in tier 2 cities are evolving and paving the way for fresh trends and looks. Just like women of metropolitan cities, girls and women in Tri-City are also framing new horizons in style trends.
Beauty experts are incorporating global beauty trends in traditional makeovers and in the past women in Chandigarh, Panchkula and Mohali have remained bourgeois about their looks but this year they want to experiment and want to try new fusion looks, According to information shared by Richa Aggarwal, Beauty Expert, Cleopatra Salon & Makeovers " Believe me if I tell you that starting from new year party to in the year 2021 women and girls are going to try the most vibrant hues of looks shades of blues, yellows, poppy orange, dark greens and would go all out to experiment with a rainbow of colors.
They are going in a happy mode and cheery spirit and that's going to be reflected through their makeovers. 
When Charlotte Tilbury said, "Beauty is power, and makeup is something that enhances that; it's a woman's secret". Every woman felt that. But there is a thing about Makeup styles, it never remains constant, one has to put an extra effort to look preeminent. Hence experimenting with your style to remain fashionable comes as an obvious choice for women of Tri-City and breaking the mold during this festival season High on Persona has rounded up some fresh looks all of you can try for the Xmas and New year party. 
1. The rainbow eye look
It is rightly said that your eye makeup asserts a lot about your individuality. It has been a norm to add bling to your makeup in the season,  but you can go for rainbow eye makeup and go subtle on the bling part, play with colors on eyes and ooze the vibrant spirit. You can pick multi-shades in matte or shimmer finish and apply with a shading brush and blur the colors into a soft and seamless gradient.
This is going to suit any kind of dress you opt to wear western attire or Indo western look. This eye makeup will give you an edge over the others and will let your eyes create a proclamation on their own. In addition to different shades, you can also do a little experiment of your own with this eye look by adding white eyeliner to it, and to give it a more culminated look, add mascara if you want to jazz up your eyes further.
2. The pop-of-color look
Colored faux eyelashes or colored eyelash extensions, or hues of contrasting eye shadows are the actual secrets in making your eyes pop.  Also this mermaid/ pop of color look has already taken the internet by storm, so what is stopping you from trying this funky yet glamorous look this festive season. Be it false eyelashes or real ones you can pull off this pop of color eye look on either of them just by different shades of mascaras. All you have to do is opt for any color of your preference and select two or three more colors and you will be good to slay!
With the right trend of makeup, one should also be well aware of what products they are using, with hard times like Covid- 19 one needs to be fully conscious of the products and techniques of using it. So we have further elaborated a few products and techniques one can go for-
Airbrush for smooth base 
With the high amount of sanitization happening one needs to be sure of the brushes as well that whether they are being properly sanitized or not. So to fix the problem of sanitizing the brush every time one can easily go for an airbrush, it will not only fix the problem but is also very easy to use. Now that technology has taken over the makeup industry as well, why not take advantage of it.
Fusion hair braids
You can accentuate your Beauty by complementing these looks with some very ethereal yet fancy hairdos, however, you may choose to go minimalist or go extreme. Going for a western hairdo with traditional makeup is another way to don the appearance of millennial women, achieve the look with a french twisted ponytail, fishtail braid, puff fishtail braid, side-parted bun, or simply a messy boho braid, don't forget to add a touch of glitter to any hairstyle you go for.