Dabur Enters the Cooling Oil Category with 'Dabur Cool King Thanda Tel': Dabur India Ltd., India's most trusted and leading Ayurveda Personal Care company, today announced the launch ofDabur Cool King Thanda Tel, marking its entry into the Cooling Oil category.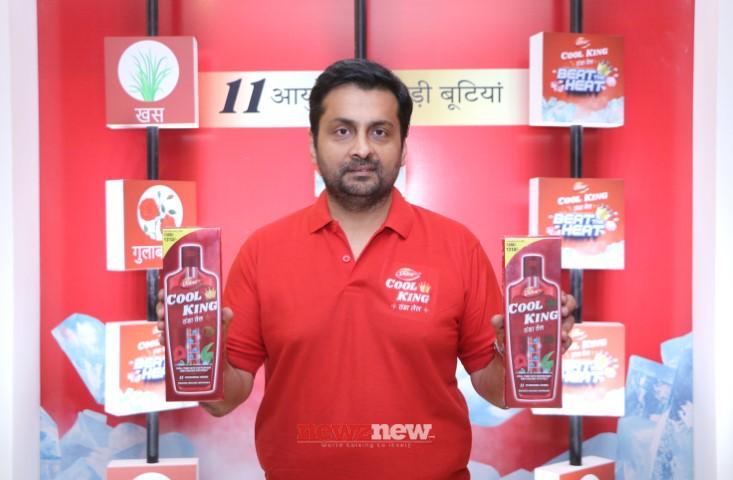 The new Dabur Cool King Thanda Telhas an innovative chill tube with peppermint cooling crystals it isprepared with specially selected 11 Ayurvedic herbsthat are known for their benefits in relieving stress and fatigue.
"We are happy to enter the cooling hair oil category with the launch of Dabur Cool King Thanda Tel. Dabur Cool King Thanda Tel is a one-of-its kind innovative product. It has a specially designed chill tube. Inside the chill tube are peppermint cooling crystals.The peppermint cooling crystals along with the 11 Ayurvedic Herbs will deliver an unparalleled cooling experience.It also helps in providing relief from symptoms of daily mental and physical stress. We believe that our consumers will love the cooling sensation and benefits of this hair oil,"Dabur India Limited Marketing Head- Hair CareMr. Ankur Kumarsaid. 
Dabur Cool KingOil is available in6 SKUs with special introductory offers: 2.5ml pack is priced at INR 1,42ml pack is available at an introductory price ofRs. 20 (MRP Rs. 30); 87ml pack is available at an introductory price ofRs. 75 (MRP Rs. 85); 187ml is available at an introductory price of Rs. 140 (MRP Rs. 160); 270ml pack is available at an introductory price of Rs. 190 (MRP Rs. 225); 470ml pack is available at an introductory price at Rs. 310 (MRP Rs. 330).
A new 360-degree campaign, encompassing television, print and digital media, will soon be launched to communicate the new product and its benefits."Dabur Cool King Thanda Tel has been developed after extensive R&D, and helps in relief, relaxation, and refreshment. It is enriched with 11 Ayurvedic Herbs like Brahmi, Amla, Harad, Camphor, KapurKachri, GulabPhool, Baheda, Almond, Khas, Shikakai, Jabaphool which will helps relieve from headache, stressand sleeplessness,"Mr. Kumaradded. 
About Dabur India Ltd: Dabur India Ltd is one of India's leading FMCG Companies. Building on a legacy of quality and experience for 139 years, Dabur is today India's most trusted name and the world's largest Ayurvedic and Natural Health Care Company. Dabur India's FMCG portfolio includes nine Power Brands – Dabur Amla, Dabur Red Paste and Vatika for Personal Care; Dabur Chyawanprash, Dabur Honey, Dabur Honitus, Dabur Pudin Hara and Dabur Lal Tail in the Healthcare space; and Réal in the Foods category.