Deepavali light-up and celebrations in Little India, Singapore: Although present-day celebrations, family visits and out-of-home travel seem difficult, it is in keeping with its long-term practice of continuing its engagement with enthusiastic tourists of India and celebrating the rich culture of India, Singapore lights up its Little India district on the occasion of Diwali.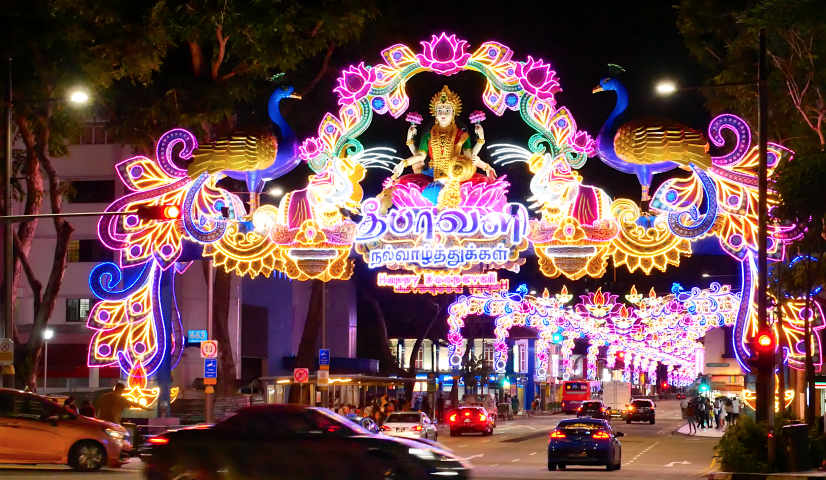 Known as the Dipotsav, a symbol of the triumph of light over darkness, this festival of Deepawali is one of the largest cultural festivals of Indian origin and is also an indication of the strong cultural ties between India and Singapore. Like every year, this year too, enthusiastic culture-lovers will be seen glimmering in the Little India lights, whose Rangoli decorations will entice you immensely and you will be able to enjoy the delicious cuisine of India

This year's theme is 'Devi Mahalakshmi', which is revered in Indian mythology as the goddess of wealth. An idol of Goddess Mahalakshmi is installed at the main archway of Serangoon Road with Mata Lakshmi sitting on a lotus and two gajarajas bathing them with water. There are other cultural symbols around Vaibhav Lakshmi, such as peacocks, diyas and colorful rangoli.
This sparkle of light will continue to shine till 7 pm on December 6, 2020 from midnight. The Little India Shopkeepers and Heritage Associations (LISHA), like other years, has officially organized the festival in collaboration with the Hindu Endowments Board (HEB).