A cascade of devotees flooded Ground No.8 at Burari Road Delhi today during the last ceremonies of Nirankari Mata Savinder Hardev Ji. Hands joined in prayers as lakhs of devotees rendered their heartfelt reverence to Mata Ji while bidding a final adieu to her in physical form.   This ceremony included Hundreds of Sewadal Members and thousands of devotees from Chandigarh, Mohali, Panchkula Manimajra.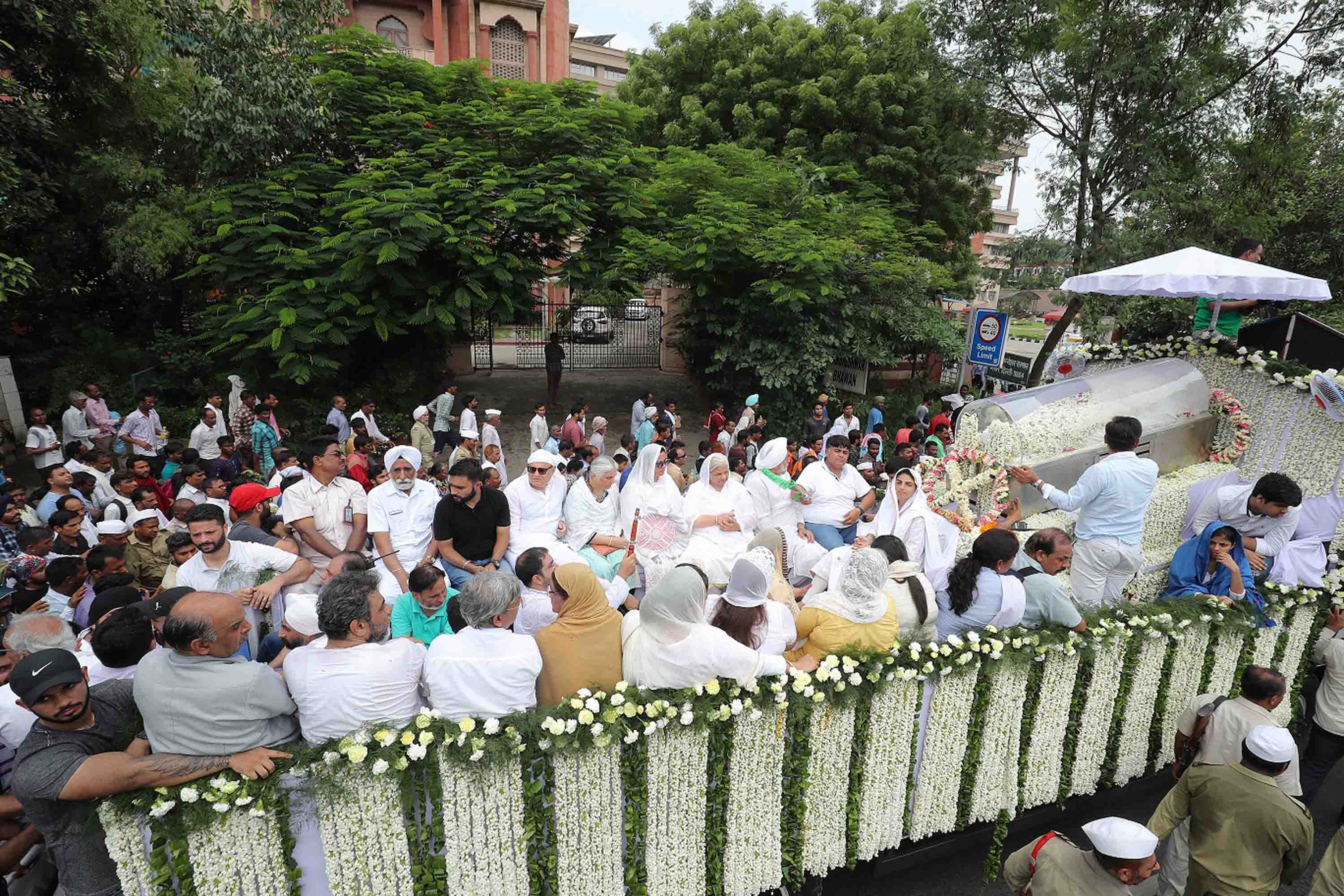 The holy family and members of the Central Planning and Advisory Board and Executive Committee of the Sant Nirankari Mandal paid the last tribute to Mata Savinder Hardev Ji who took her last breath on Sunday, August 5. Satguru Mata Sudiksha Ji and two other daughters of Mata Savinder Hardev Ji presented shawls as their last respect to Mata Ji. Other members of the holy family also presented shawls. President Sant Nirankari Mandal, Shri Gobind Singh Ji along with senior dignitaries including Pracharaks and Prabandhaks from India and abroad, too, presented shawls and bouquets of flowers as a token of respect.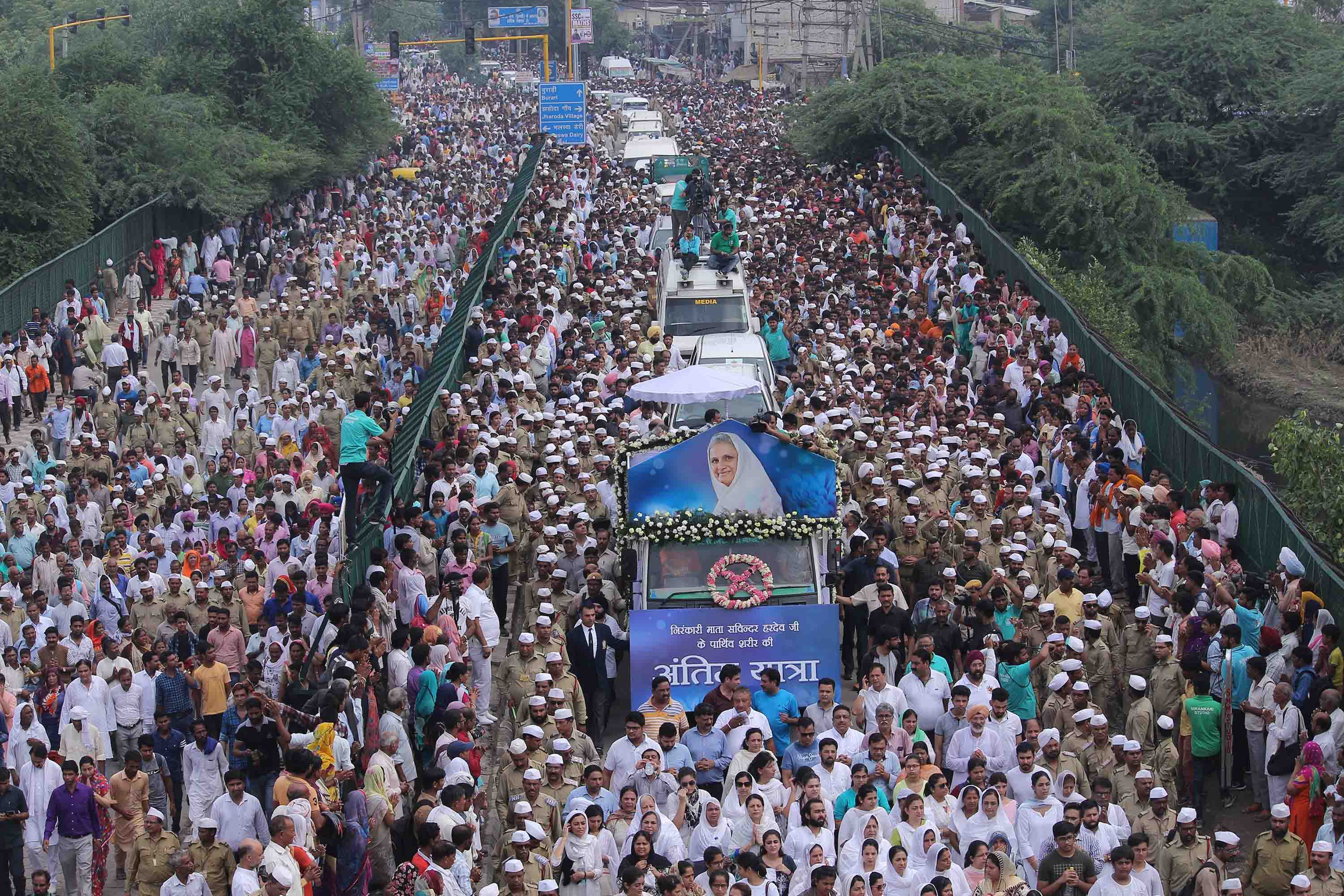 The last journey began from Ground No. 8 at 9:30 am and reached the CNG Crematorium, Nigam Bodh Ghat at around 1pm. Mata Ji was taken in an open vehicle bedecked with flowers to Nigam Bodh Ghat with Satguru Mata Sudiksha Ji and her two holy sisters along with other family members seated by the side of the body.
In continuation with Sant Nirankari Mission's tradition, the 10 km procession was led by Sewadal members from India and abroad followed by senior Pracharaks and Prabandaks from across the world. Devotees in large number were seen along the roads on the entire route.
The last ceremonies were performed by Hardik Ji, son of Mata Ji's daughter Samta Ji, in the presence of Satguru Mata Sudiksha Ji and other family members in the cremation hall.
Dr. Harsh Vardhan, Union Minister for Science & Technology and Environment paid his last respect at Nigam Bodh Ghat.
 Mata Savinder Hardev Ji relinquished her spiritual powers as Nirankari Satguru on July 16, 2018 and declared. Rev Sudiksha Ji as the Spiritual Head of the Mission from that day. The formal ceremony took place at a special congregation held in Ground No.8 in Delhi on July 17. Mata Savinder Hardev Ji applied the traditional sacred mark (Tilak) on the forehead of Sudiksha Ji, offered the sacred seat of Satguru and put the white scarf (dupatta), a symbol of Nirankari Satguru's spiritual powers, round her neck.
To take inspiration from the life and teachings of Mata Savinder Hardev Ji, a special congregation is being held in Ground No. 8 today in the evening. It's being presided over by Satguru Mata Sudiksha Ji.