NewZNew (Chandigarh) : Steelbird Entertainment's first song was "Aankha da Khumar", which was sung by terrific singer Rajeev Kapur ft. Sweety Kapur. And after that, they launched the grooviest song "Sharabi Anthem" of the year 2015. The track is titled "Paapi" is believed to be a passionate expression that literally captures the huge sense of excitement. In both the tracks, Rajeev And Sweety Kapoor was best.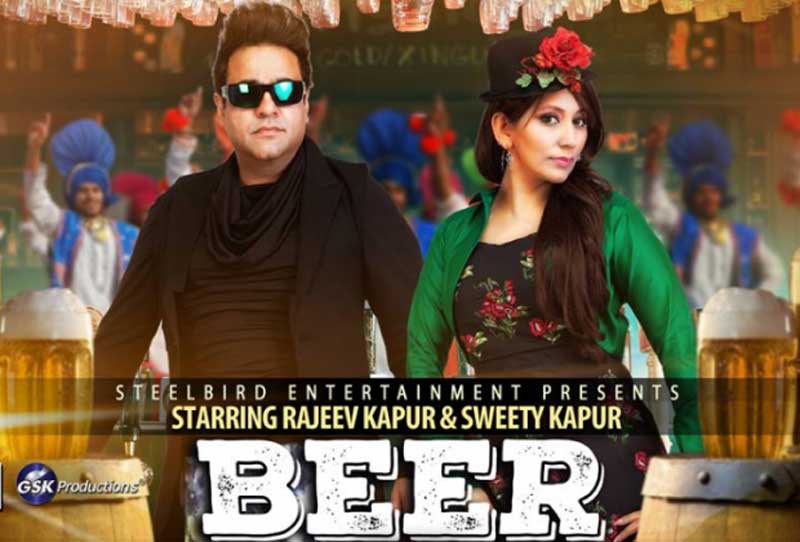 Rajeev Kapur back With Beer – The Fever Of Booze Song
Now the Steelbird Group has launched a brand new song "Beer-The Fever of Booze" sung by Rajeev Kapur featuring his wife Sweety Kapoor.
"Beer-The Fever of Booze" video has been produced under the banner of Steelbird Entertainment, available on YouTube, "Beer-The Fever of Booze" song is getting viral on all social media & getting thousands of page views on youtube.
The song is produced by Steelbird Entertainment or Co-Produced By Steelbird Helmets While the lyrics are penned by Devotees Insanos and music is composed by Devotees Insanos Mix & Mastered By Devotees Insanos Studios and the  Choreographed By Aryan Tongariyan & Suman Tongariyan
Apart from this Rajeev Kapur, the man who is generally known for his corporate boardroom persona at the helm of affairs in Steelbird Helmets, and now he is exploring his talent by launching this "Beer-The Fever of Booze" song.
Sweety Kapur, who is also featured in this video, has been a strong source of support for her husband and has been the perfect partner for pulling off this musical venture with elan.