NewZNew (Patiala) : Finolex Industries Ltd. India's largest PVC manufacturer and second largest PVC resin manufacturer today signed a Memorandum of Understanding with Govt. Industrial Training Institute, Patiala. Under the MoU, Finolex Pipes will now provide course literature and material for efficient training of the student registered for the Plumbing and Sanitation course in the college.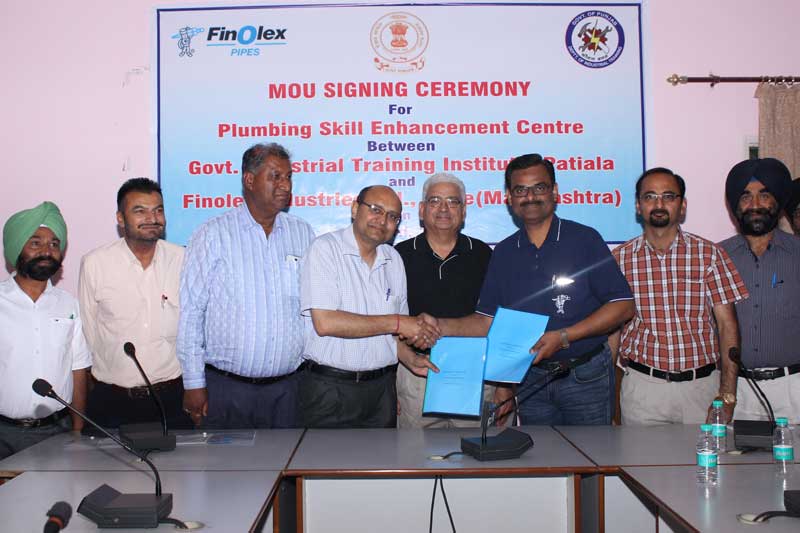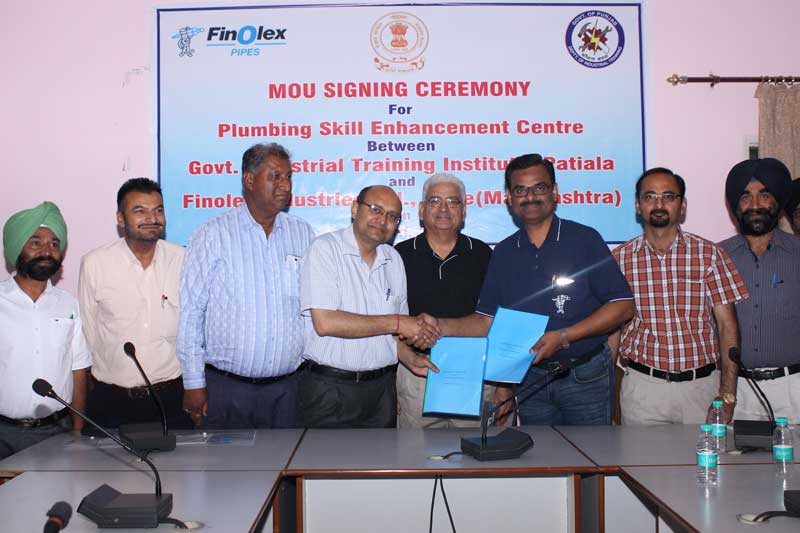 Through this MoU, students at ITI Patiala will get access to latest and up to date technical knowledge in the field of plumbing.With their superior product knowledge, market intelligence and product range, the company aims to provide ITI Patiala with best in class knowledge by providing them aspects such as:
a) Classroom/Practical training by Industry Experts and senior company employees
b) Product training using real time Finolex manufactured quality products
c) Product Literature in the form of catalogues, leaflets and description boards
Mr. V.K. Bansal, Principal ITI Patiala said on the association, "ITIis committed to provide the best of solution to its student. As the field matures, our emphasis is shifting towards best-in-class education for quality assurance. It is our objective to become the leading academic provider in the field of technical training. We are happy to tie up with a company like Finolex Industries. Through this tie-up we aim to provide students with practical learning knowledge and also ensure that they get trained by the very best known company in this field."He further added, "With the growing network of ITI, we aim to disseminate knowledge and skill development training through our vocational training courses to an increasingly broader audience."
Mr. Ali Siddiqui, AGM Marketing,Finolex Pipes said, "Finolex Pipes is strongly committed to the cause of Skill Development in the country. We are glad to be imparting quality training through ITI to the students enrolled for Plumbing & Sanitation course here. Efficient training and skill development is the need of the hour. With the focus of the government towards agriculture and development of smart cities in India, the need for superior plumbing and sanitation solution is expected to grow considerably. We wish to prepare the future workforce in a manner where they are ready for the modern workplace."
Finolex Industries has also tied up with Kushal CREDAI Pune Metro to provide training to almost 100,000 plumbers and construction workers in the course offive to seven years. The company kick started the training program on March 11th 2016 on the occasion of the World Plumbing day and will train a batch of 500plumbers as the first leg of the program. Finolex Pipes has also launched a Plumbing Trade Film Video which will be an integral part of the training program. The 20 minute video training module will teach construction workers and unskilled plumbers the basic do's and don'ts of plumbing; provide information on plumbing essentials like safety guidelines, sewerage systems, drainage Systems, septic pipes and the know-how of this industry. A textbook (handbook for plumbers and trainers) was also released during this event.