A new zone or a destination for the society folks to forget the regular life and get into the darkness of yourself to enjoy at the best of the times.
newznew (Chandigarh) : "ALMAS" Is a Arabic Word which means 'Diamond' a Royal Jewel,  isn't just a club; it's completely a lounge-club-bar, it's a hard-core night club, experience that doesn't have to wait until the sun goes down. With features and amenities that elevate it to much more than just the better club in Zirakpur.
It is a hub for new entertainment, venture of Lights, Music, interior, foodies and quality drinks at ALMAS. The good news is the launch of the club will be done by one of the renowned and much loved DJ, yes you guessed it right, and it's none other than DJ AQEEL ALI.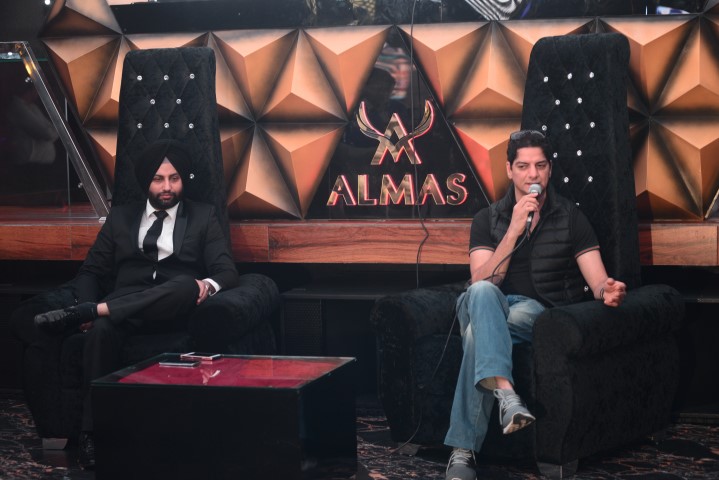 Almas is designed on International standards of clubbing, with a very different and unique concept. The owners of the club namely Mr. Maninder Singh , Mr.Karandeep Singh & Mr. Channpreet Singh, who has been themselves quiet a party animal and after seeing parties in Delhi, Mumbai and Dubai, they have brought this concept.
Mr. Maninder Singh, hails from Ludhiana whereas Channpreet Singh hails from Sangrur (Dhuri) says, "ALMAS welcomes you, we dreamed about entertainment every-day to rest out of our regular life. We are bringing you new age entertainment with all new features added furnished with different flavours to relax out. As I use to go clubbing at different places as a customer I noticed many things surrounding and I used that experience at ALMAS to make out that, the better way. We tried at our best to make it better. We consider each and every thing we can arrange over here."
The light system is bought from Europe, the final programming is done by foreign team. Almas is an entertainment sanctuary that attracts top-flight DJs and partygoers from around the world for the most extravagant events that the industry has to offer. With a plenty of hanging LED Pixels, LEDS, Co2 Canons, DJ Lasers controlled by "MADRIX", world renowned only company for programing of Lights. Almas Features world's renowned DJ's electrifying events and an effective staff to shape your night into an unforgettable experience.
With the in house DJ (DJ Surya) driving the people crazy with different genres like EDM, BDM and much more, the security is also taken care off with 10 teams of bouncers and only couple entries to be permitted.
ALMAS is beautifully designed over 6000 sq. ft. plus in area, one of the largest in the city beautiful. It has the capacity of around 250 people and a VIP Lounge with a lavishing Sofa chairs and round table in the colour combination of black and redish maroon. Diamonds are the inspiration, as everything from the interiors to the wall of the club is in the shape of diamond.
Mr. Karandeep Singh is also running a marriage resort and holding experience in hotel and hospitality industry. He is also a renowned jeweller of Malwa area in Punjab. Mr. Karandeep Singh says, "Welcome to ALMAS, we are here starting a new place for your entertainment to give you the better experience of life. We collected many different gems to found out a complete package of entertainment for society. We researched out many ways to make one special for you. The architecture of ALMAS is all unique, we worked over quality. We believe in quality and ALMAS is what will give you the experience of quality in entertainment world. The ALMAS team worked hard to get our dream converted into reality of what we want to make".
Special care has been taken of the crockery as well, glasses with unique design, height and weight will steal your heart and give you a royal feel. It is also a home to the city's finest cuisine with wide range of Scotches & Wines.  Also one can experience new foodies, drinks and beverage (Mock-Tails Cocktails) with quality and taste as you prefer. The uniqueness of the menu is, it consists of party snacks unlike other clubs where lunch & dinners are also a part of the night club.
To round out the altar of ALMAS Club, the facility opens play host to some of the most exclusive private parties and custom tailored events. In short ALMAS is biggest hard-core club for night party lovers in Chandigarh and surroundings.
ALMAS is introducing "Royal Entertainment Zone", "Muzikkk Shower" & "Better of Foodies", so come and enjoy every bit of it.